Crypto Platform Bitso to Service El Salvador's Bitcoin Wallet
This article from Bloomberg may be of interest to subscribers. Here is a section:
Bitso will work with the U.S. federally regulated Silvergate Bank to facilitate transactions in U.S. dollars, according to a statement from the company. Bitso bills itself as Latin America's fastest growing crypto platform with over 2.75 million users.

Chivo -- a vernacular local term for "cool" -- is intended to serve like a mobile payments app, enabling payments in Bitcoin or dollars between individuals and businesses. Bitso said it will offer custody and exchange services to Chivo, and provide back-end technology.

"We're committed to making crypto useful for the country's citizens," Santiago Alvarado, vice president of Bitso for Business, said in emailed comments, adding it wants to help "transform payment structures that can increase financial inclusion."

El Salvador's passage of the Bitcoin law has been a subject of fascination, praise and criticism. A recent local poll found a majority of people preferred to use U.S. dollars. Observers will be watching to see if many people start using Bitcoin, and whether that brings benefits to the violent, impoverished nation.
The world of finance is seldom referred to as cool. When it is, that's usually a sign of a frothy environment. The logic of assisting people receive remittances without needing to pay fees is sound. Why that has to be achieved with bitcoin and rolling out digital wallets to everyone is less clear. The size of today's downward moves suggests many of the people who received gifts of bitcoin chose to sell.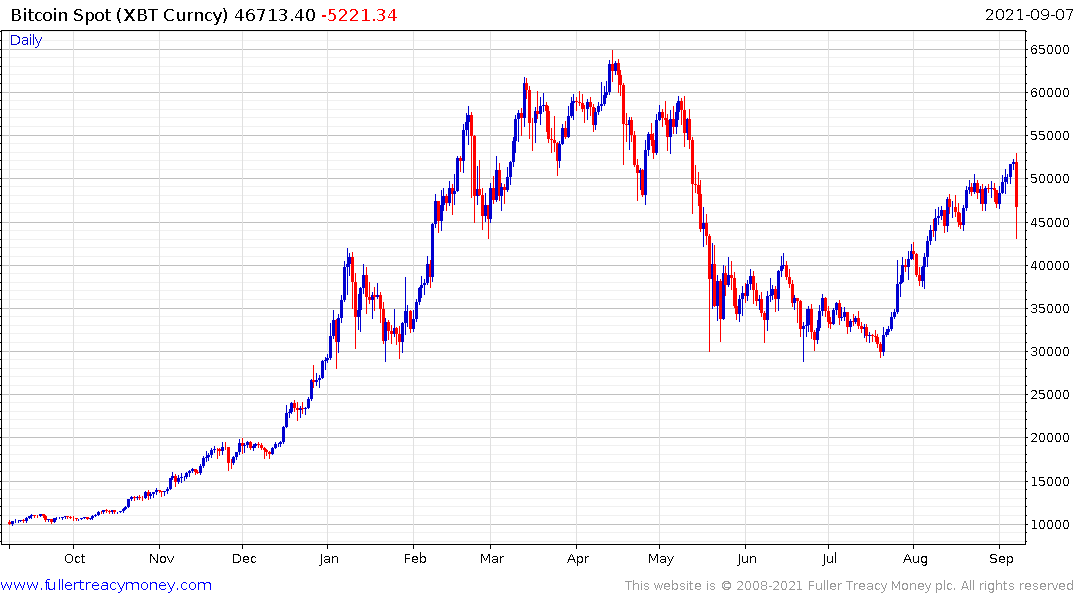 The question for investors is whether this event represents a peak on a "buy the rumour, sell the news" basis. The price of bitcoin cleared the psychological $50,000 level in a dynamic manner over the weekend and came back down with a thump today. That downside key reversal stands out on the chart and likely signals a peak of at least near-term significance. Downside follow through tomorrow would confirm that hypothesis.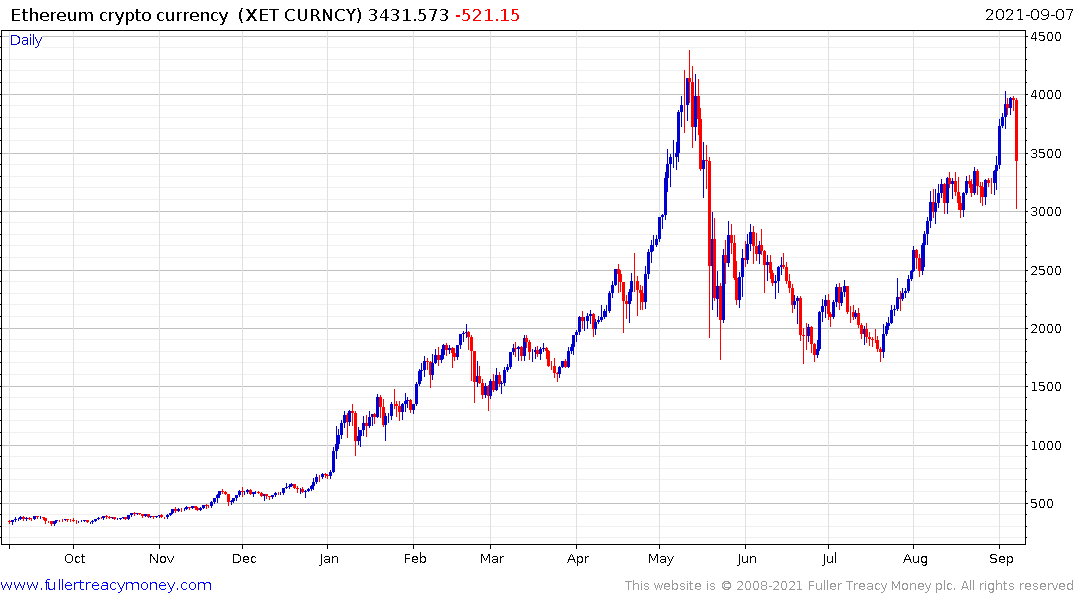 Ethereum pulled back sharply from the psychological $4000 area and also rebounded from the initial low. Downside follow through tomorrow will be required to confirm a short-term peak.
Back to top