Crypto Game Axie Infinity Has Generated $84.9M in One Month
This article from Decrypt.co may be of interest to subscribers. Here is a section:
Axie Infinity is tapping into the growing play-to-earn trend, which essentially means making money to play games. But instead of high-fidelity esports tournaments and multi-million-dollar Twitch live streams, the economics of Axie is built into the game.

Each Axie, for example, is worth real money. Same for the AXS token and the Smooth Love Potion (SLP) token, which you also need to breed more Axies. Essentially, every in-game earnable can be resold for cash, and all you need to do to pick up said earnables is simply play the game.

The money earned is sometimes enough to pay the bills too, with many players in the Philippines effectively able to make a living wage from playing the game. And as the protocol's mounting treasury shows, these same players are also keeping Axie Infinity afloat during this summer's bearish crypto slump.
I pay attention to computer gaming business models because they represent a window into how the emerging sector sees value creation. The free to play model has been around for a while not and sale of downloadable content and "skins" has exploded. Axie Infinity is a significant iteration of that model.
My daughter is very active on Toyhouse.se. It's a venue that allows users to create characters, write narratives and imagine worlds for them. It's a visual and literary forum without being a computer game. Some characters are part of closed species which one needs to buy access to. Access can range from free to several hundred dollars for a single character. I believe the record for a single character sale is somewhere around $30,000.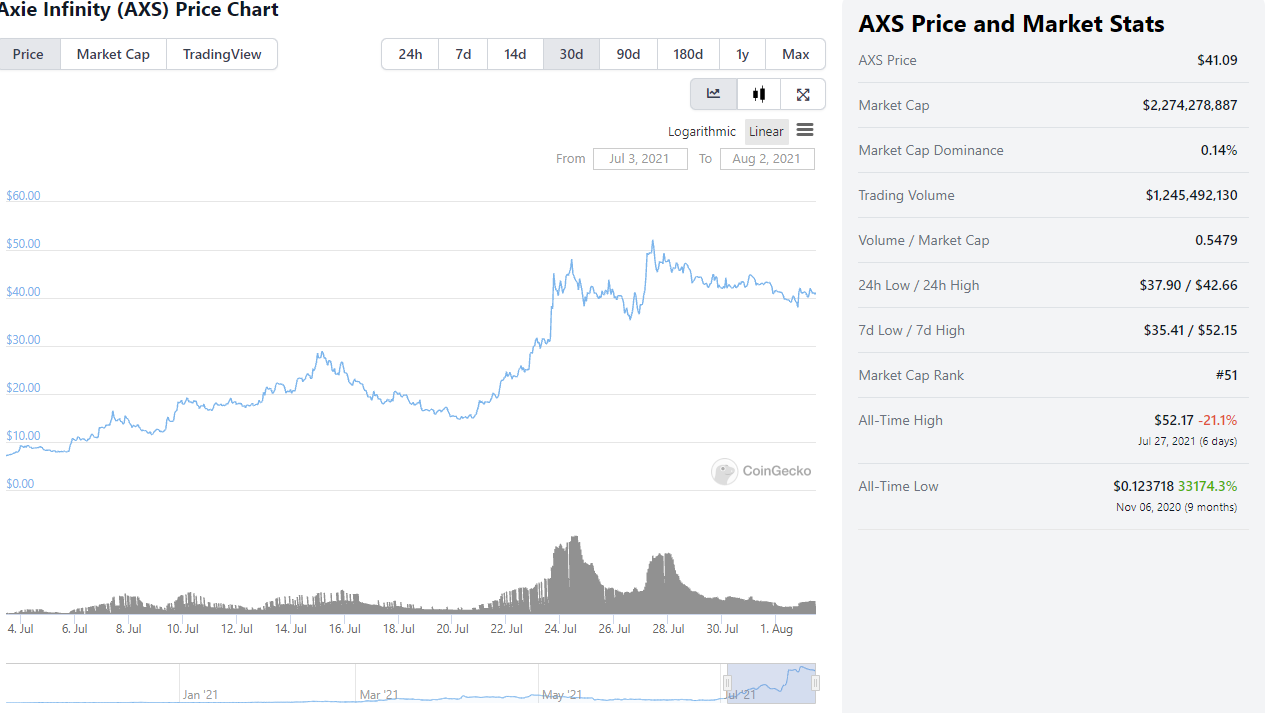 Axie has taken this business model and turned into a game. Users buy their character and initial additional bonuses. By playing the game they can also earn Ethereum. That helps to support the value of the characters and world and creates the perception of group ownership.
The ability to pay Ethereum dividends is entirely based on supplementing the game with new people willing to buy an initial character. The perception is this is like digital farming but it is also akin to a ponzi scheme. Every kind of collectible goes through mania cycles and there is no reason to believe digital versions will be any different.
Farming and digital reward games work. That has helped to fuel Axie's advance since its initial coin offering in November. At a market cap of $2.5 billion it is now one of the larger game companies. The basis for the game's value is fun and the prospect of real-world rewards. The team have successfully gamified the non-fungible token (NFT) market and have done so in an extremely short timeframe. That's truly admirable but the token's value is totally dependent on engagement and continued growth.
The Axie price chart accelerated to its July 23rd peak and failed to sustain the breakout to a new high on the 27th., It is now back testing the $40 and has posted a lower low. If the trend is going to be reasserted on the upside, it will need to bounce soon.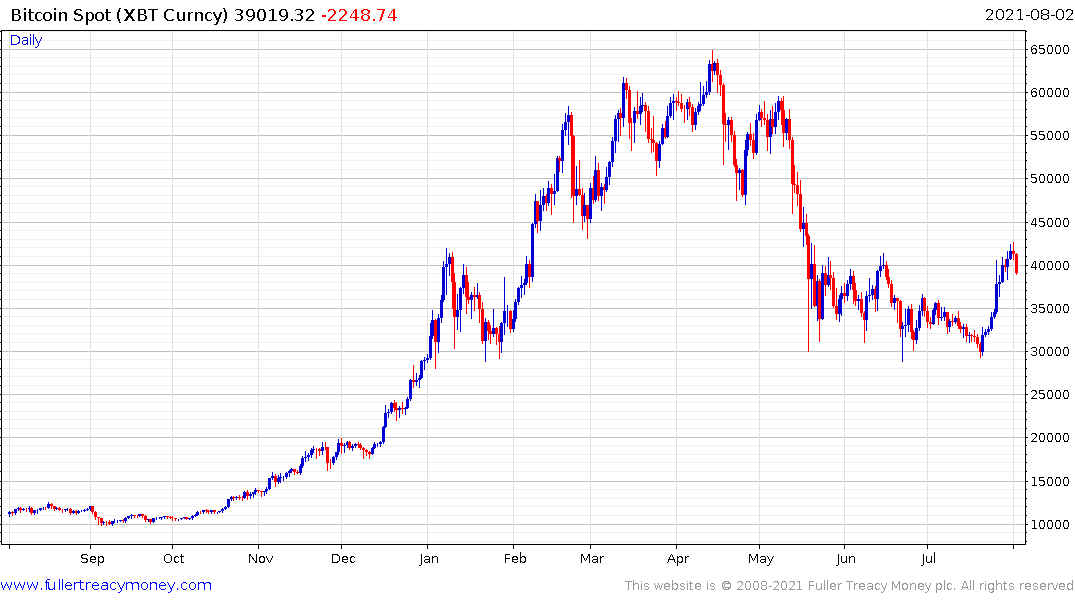 Meanwhile bitcoin continues to pause around the $40,000 area.
Back to top