Crypto Boom Shaken as Bitcoin Plunges Along With Other Coins
This article by Eric Lam and Todd White for Bloomberg may be of interest to subscribers. Here is a section:
The sell-off gathered pace late Wednesday after Coinbase Inc. Chief Executive Officer Brian Armstrong tweeted about speculation the U.S. is considering new rules that would undermine anonymity in digital transactions.

"News that the Trump administration may clamp down on crypto might have been a trigger for the drop," said Antoni Trenchev, managing partner of Nexo in London, which bills itself as the world's biggest digital-coin lender. "But any asset that rallies 75% in 2 months and 260% from the March lows is allowed to undergo a correction."

Other coins including XRP tumbled as much as 27%, according to prices compiled by Bloomberg.
After garnering more support from Wall Street money managers and fund providers, the rally in cryptocurrencies had looked over-heated. The fierce retreat could stir yet another debate over their value in diversifying portfolios.
At its peak there was a question whether bitcoin would consolidate like any other asset or would its momentum take it immediately on to new highs. The answer was delivered late Wednesday with a clear downward dynamic which checked momentum. The threat of regulatory intervention in the cryptocurrency market is always a risk unfortunately.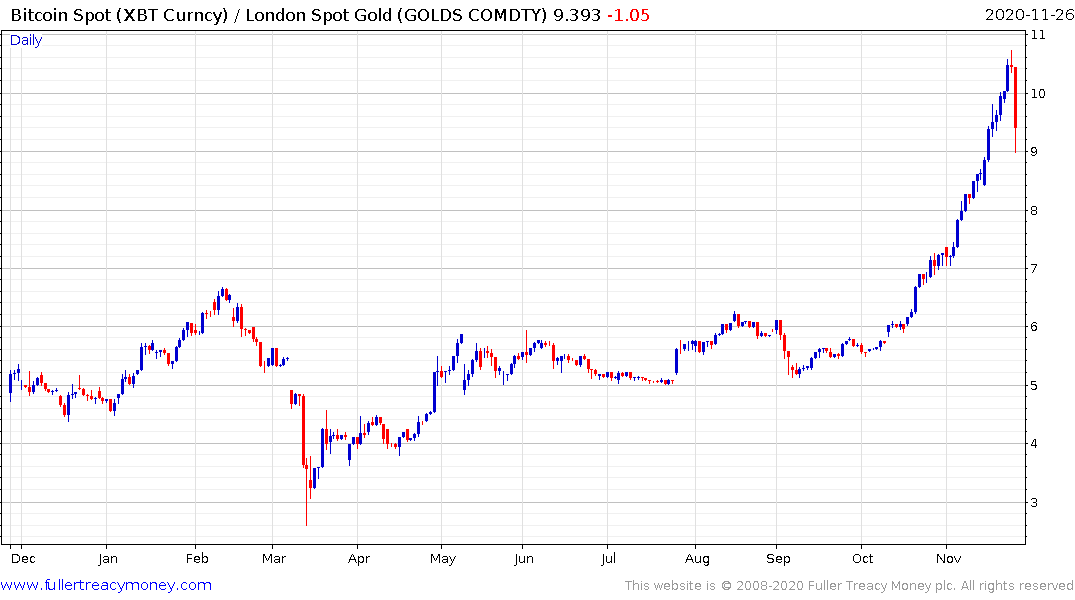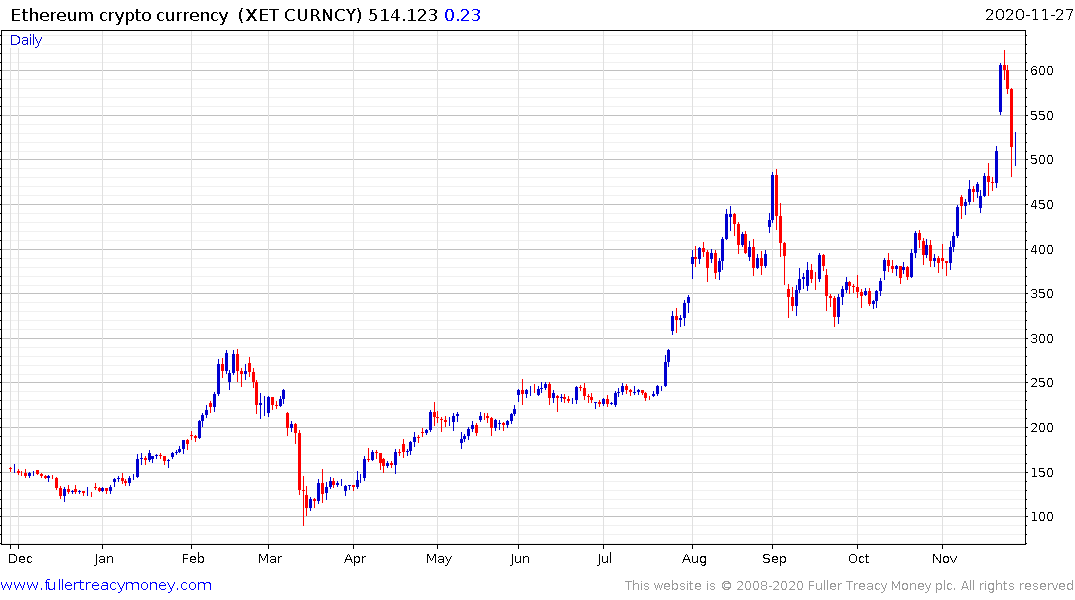 We should ask how high a priority does the cryptocurrency sector play in the calculations of a current US administration in the throes of a major transition? Perhaps more importantly, how much can they do to control or deter interest beyond tinkering at the edges. Efforts to take back the monopoly on currency/value creation is not a one-month job it will require a significant concerted effort. Therefore, what we are seeing at present is likely a consolidation. Nevertheless, I have introduced a stop on my trading position in Ethereum.
Back to top