Crucial Pension Overhaul Stalls in Brazil as Vote Postponed
This article by Samy Adghirni for Bloomberg may be of interest to subscribers. Here is a section:
President Michel Temer's efforts to overhaul Brazil's unsustainable pension system has dominated political debate in Latin America's largest economy throughout the year. With pressure mounting to pass the unpopular measure before lawmakers start concentrating on 2018 elections, negotiations between the presidential palace and congress reached fever pitch in recent days. The government's plans started falling apart this week as several policy makers contradicted themselves on the potential vote date while Temer was hospitalized for a surgery.

"We don't have all the votes now and we'll have to keep on working," Maia told reporters after a meeting with government allies in Brasilia. "I'm sure we'll have the votes in February."

Maia added that he's confident the government will obtain 320-330 votes in favor of the bill, which is more than the 308 needed to secure its approval in the lower house. The legislation would also require Senate backing.

Many observers are skeptical it will pass in 2018. "It's very hard, if they weren't able to do it this year, the chances fall significantly," said Juliano Griebeler, a political analyst at Barral M. Jorge consultancy. "Leaving it until next year creates a bad situation for the government as it will have to push back other important issues, like tax reform."
Governance is Everything. Brazil has been laboring under the constant flood of corruption allegations against just about all politicians and that represents a headwind to getting meaningful legislation passed. It is almost too much to hope that a new reform minded administration which also takes a tough stance on graft is going to be elected so Brazil has challenges.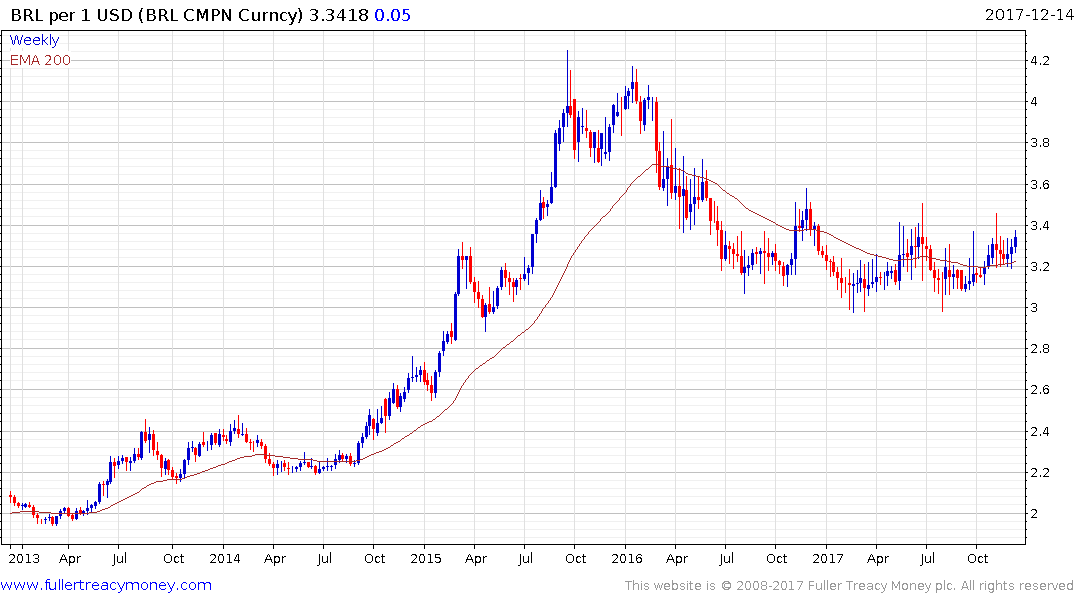 The Dollar is firming against the Real and is now testing its highs for the year. This graphic highlights how Brazilian inflation has been falling which reduces pressure to raise rates and represents a headwind for the Real.

The UK listed, Pound denominated iShares MSCI Brazil ETF dropped below the trend mean this week and will need to rally soon if its upward bias is to be sustained.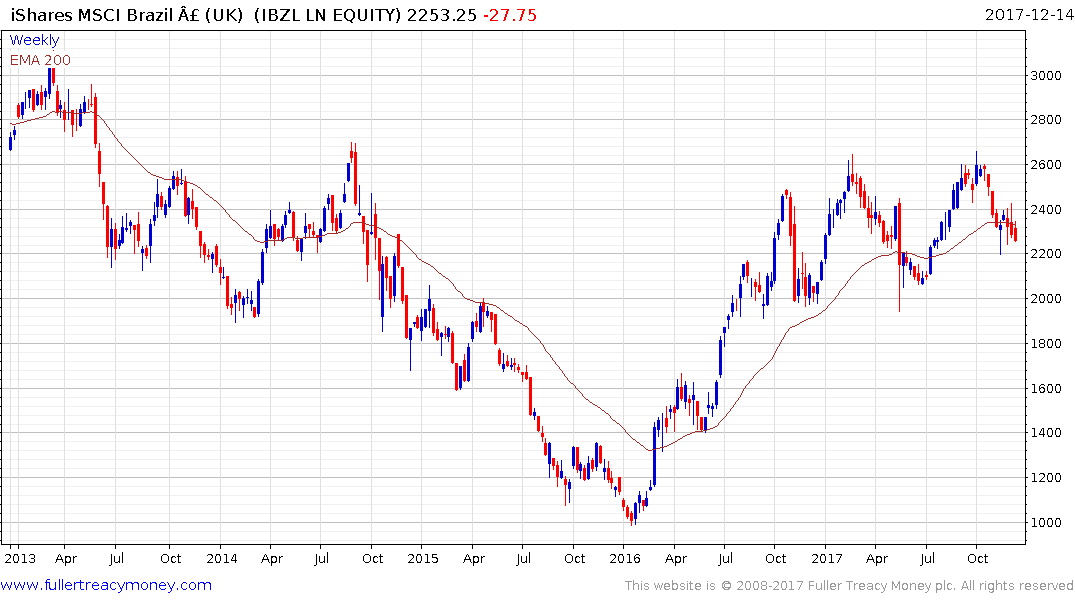 Back to top