Crocs Shares Rise as Blackstone Makes $200 Million Investment
This article by Dave McCombs for Bloomberg may be of interest to subscribers. Here is a section:
The shoemaker said in a statement yesterday that it will use the funds from Blackstone's investment in convertible preferred stock to increase share repurchases to $350 million. McCarvel will step down on or about April 30.

"We've been unable to repurchase stock while negotiating this transaction, but we now expect to do so beginning in the first quarter of 2014," Chief Financial Officer Jeff Lasher said in the statement. The buybacks will reduce publicly traded common stock by about 30 percent, Lasher said.

Blackstone, based in New York, will be restricted from acquiring more than 25 percent of Crocs common shares until a time frame expires for appointing board directors, the shoe manufacturer said in a filing. Crocs said it will pay $2 million as a closing fee and reimburse as much as $4 million of Blackstone?¡¥s transaction fees and expenses once the preferred-stock sale is concluded.
The Treacy family availed of Crocs' buy one get the second half price sale to purchase four pairs of their clogs at the weekend so this article caught my attention. Crocs is another company relying on share buybacks to improve share performance but will need to improve topline growth if it is to prosper beyond the era of cheap funding.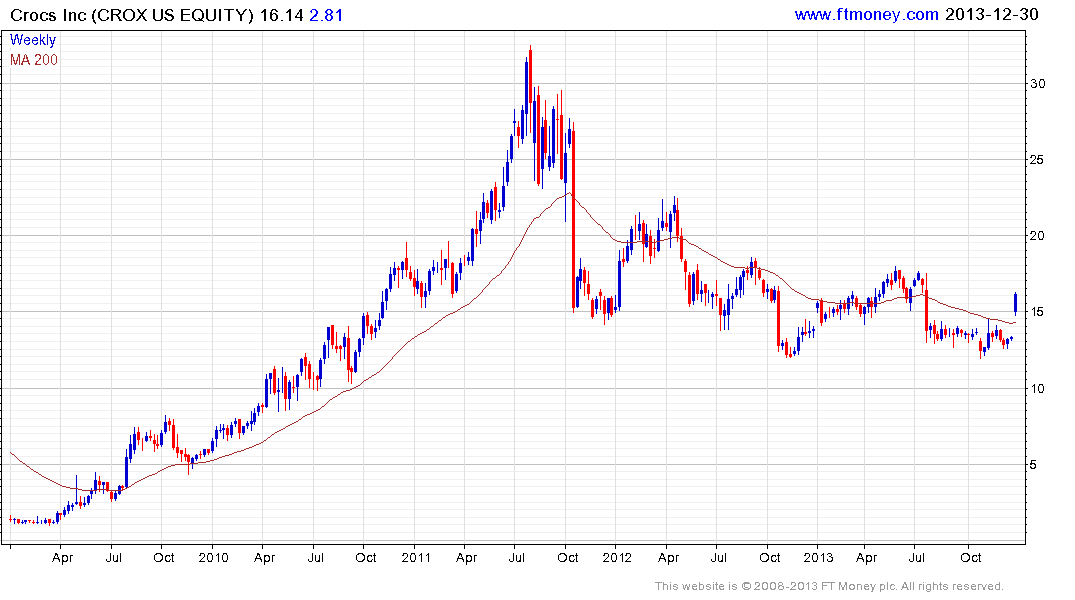 Following an impressive rebound from the 2008 lows, the share fell to trade mostly above $11.50 by late 2012. Today¡¯s rally is a positive development but a sustained move above $20 would be required to break the medium-term progression of lower rally highs and suggest a return to demand dominance beyond the short term.
Back to top