Crisis Seen Lasting Until Tuesday
This note may be of interest. Here it is in full:
It will likely be Monday or Tuesday before the larger weather pattern that is pumping the smoke south from Canada starts to break up, according to Zack Taylor, a senior branch forecaster with the US Weather Prediction Center. There could be some minor improvement in New York Thursday as the worst of the smoke drifts more to the west.

The plume itself covers most of North America. In the long-term, the only real solution will be if the fires in Canada are brought under control.
In my time living in Los Angeles we were mostly lucky that the smoke from wildfires mostly blew out to sea. There was one occasion when a fire in the San Fernando valley blew smoke in our direction for a few days. I was left coughing for months afterwards.
It's an inconvenience to cancel plans to go outdoors, but when the air is that bad it is really better to stay inside with an air purifier or at least having the air conditioning on. Having a good quality mask on when going outside is a very good idea.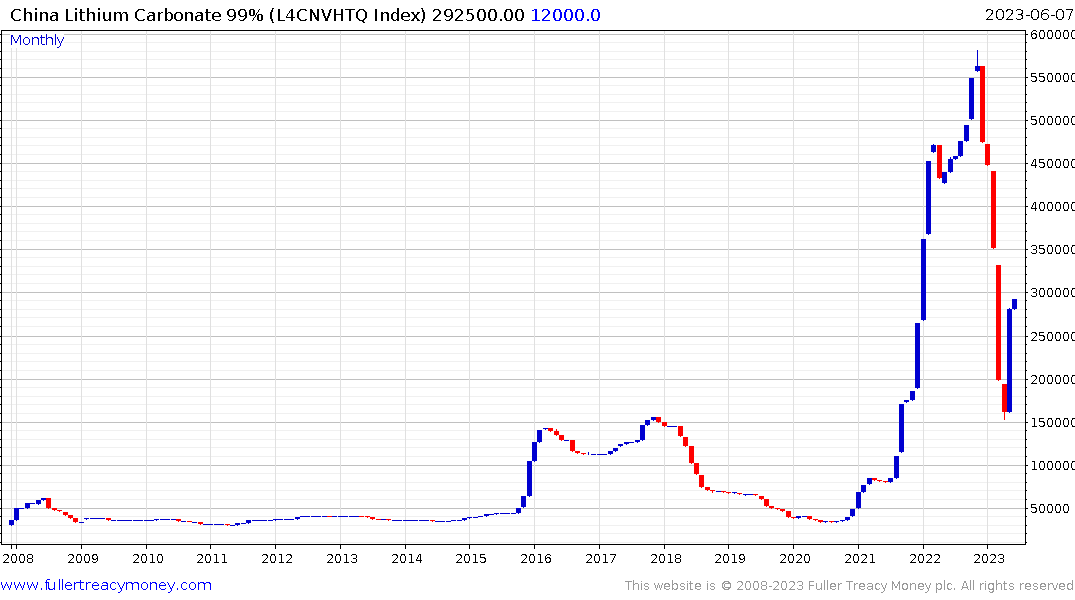 The bigger picture is these kinds of events tend to revitalize interest in zero emissions rhetoric and renewable energy. Lithium carbonate prices appear to have bottomed in China. That suggests a higher plateau for prices is being put in with support being found at the upper side of the underlying base formation.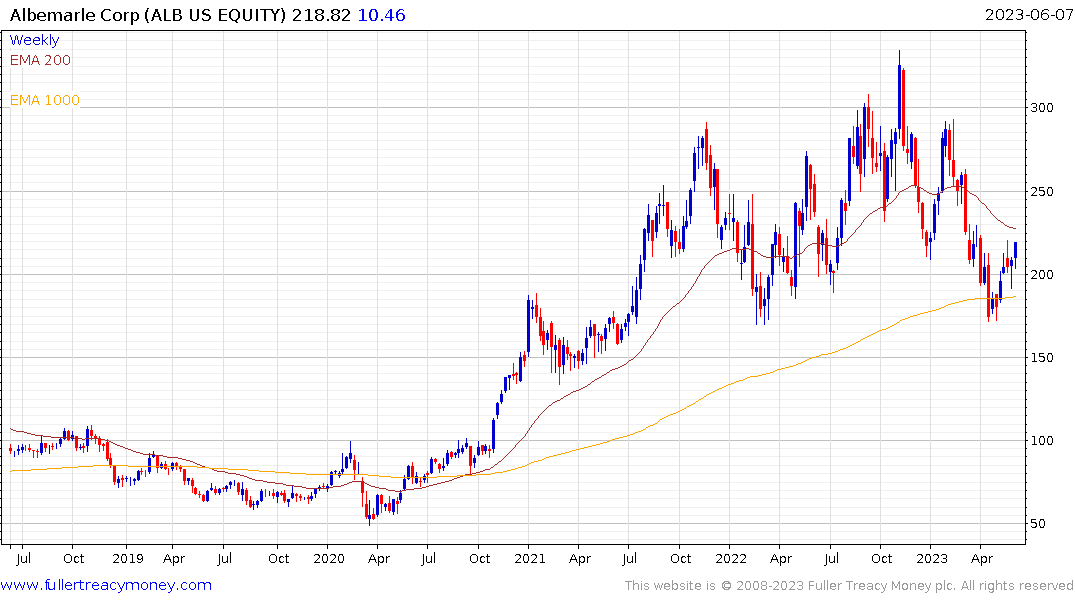 Albemarle is bouncing from the region of the 1000-day MA.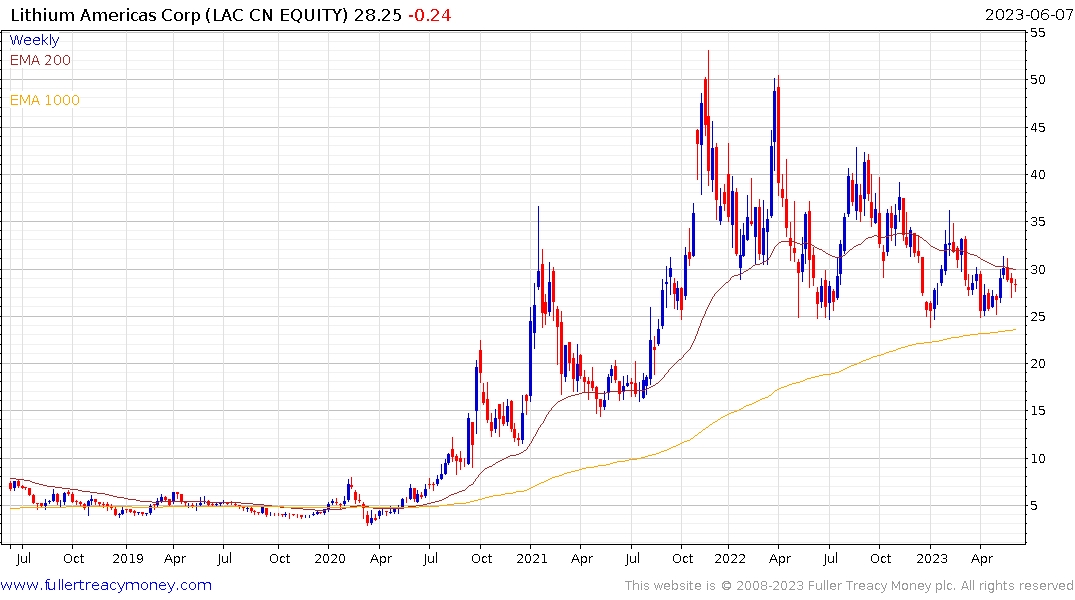 Lithium Americas Corp is splitting up in a US and Argentinean version in an attempt to unlock direct US government investment to build the Thacker Pass mine. The share is firming from the region of the 1000-day MA.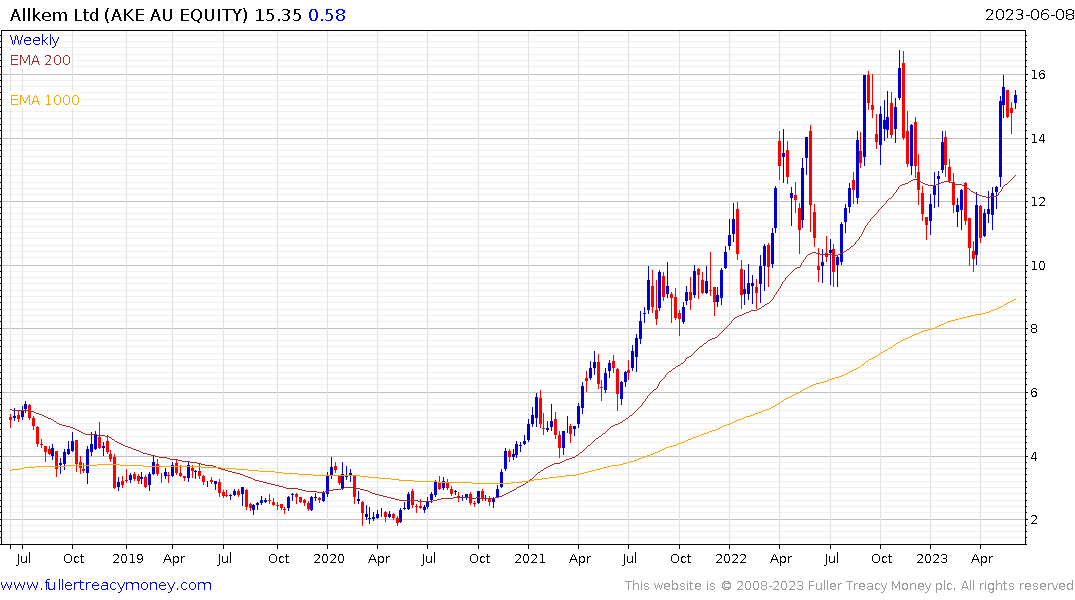 Allkem surged last month to retest its peak and is now firming in that area.
However bad the air gets during forest fires it is still nowhere near as dire as the air in Chinese or India cities. This helps to highlight the public health ramifications of economic growth built on burning coal. As living standards improve consumers naturally demand better conditions. That is by far the biggest contributor to cleaner air.
Back to top