Corporate America From GE to Apple Puts $2 Trillion Cash to Work
This article by Richard Clough for Bloomberg may be of interest to subscribers. Here is a section:
"Corporations are flush with cash and are beginning to pick up M&A activity as well as share buybacks and dividend increases," said Eric Teal, who helps oversee $3.5 billion as chief investment officer of First Citizens BancShares Inc. in Raleigh, North Carolina. "These activities will continue."

The cash pile reached $2.02 trillion in the latest quarterly filings of 2,300 non-financial companies in the Russell 3000 Index, according to the data compiled by Bloomberg as of April 21. The total rose about 13 percent from a year earlier in each of the two latest quarters, the fastest six- month gain since mid-2011. For comparison, Russia's annual gross domestic product was about $2.01 trillion last year.
The USA is the only country where taxation becomes a topic of conversation at The Chart Seminar not least because of the significant implications of realising paper profits on one's tax liability. Companies have the same concerns, which is part of the reason they are so slow to repatriate profits.

Against this background Europe is still recovering from a low base, perceptions of further upside potential are improving and valuations are reasonably attractive; particularly on a relative basis. The potential for additional merger and acquisition activity could act as a tailwind for the wider European markets.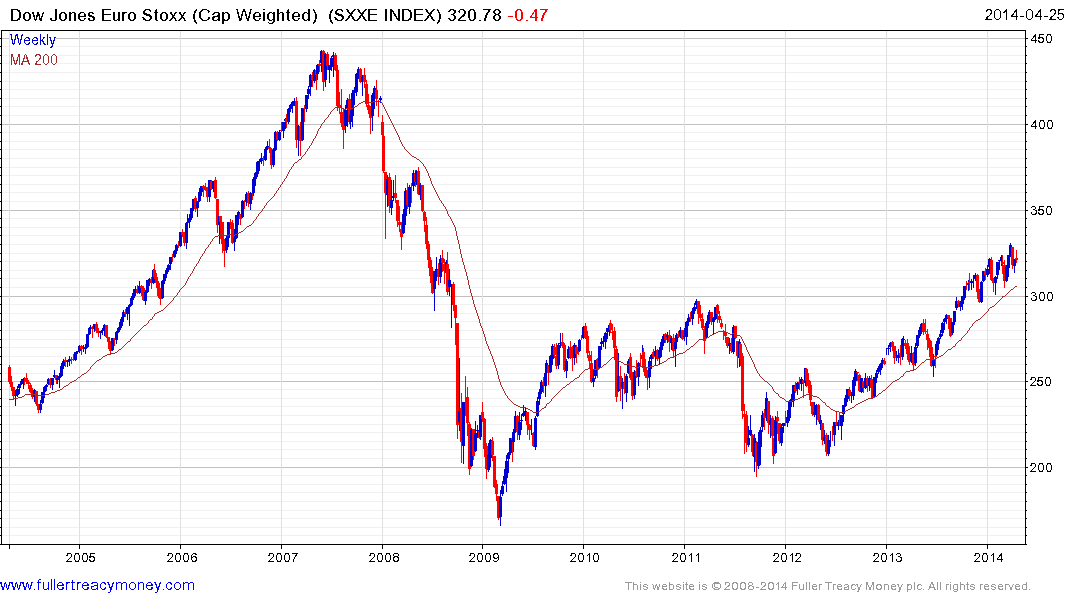 The Euro Stoxx Index broke successfully above the 300 level in December and continues to hold a progression of higher reaction lows. A sustained move below 300 would be required to begin to question recovery potential. The Euro Stoxx Banks Index also continues to hold a progression of higher reaction lows.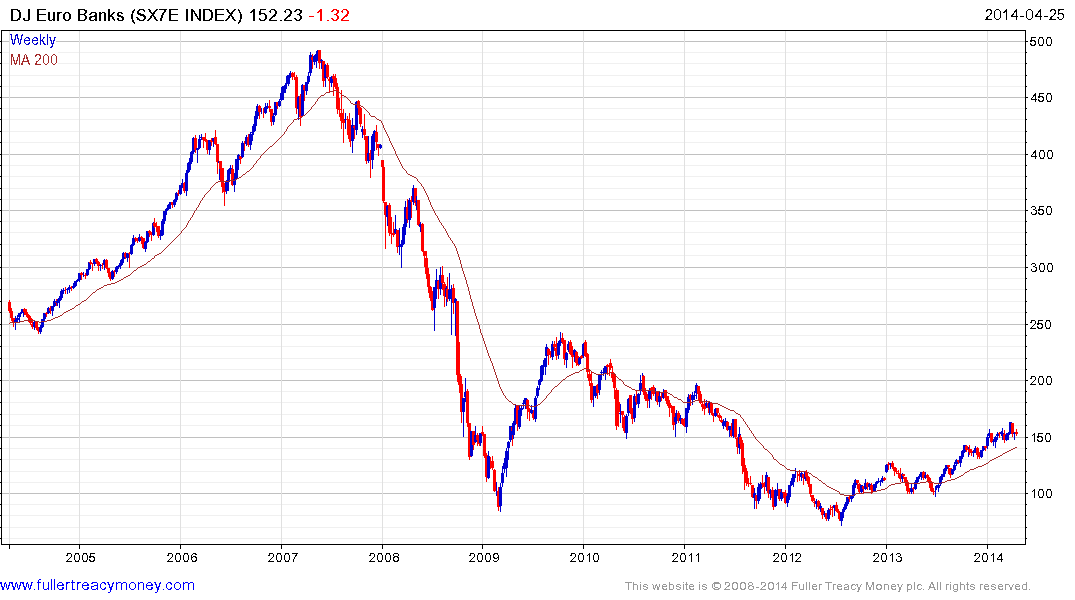 In its attempt to purchase Alstom, GE is at least attempting to purchase at a relatively attractive level since the share has been declining for a number of years. This move also further emphasises the company's desire to return to its industrial base following the difficulties experienced with its finance arm during the credit crisis.
Back to top