Coronavirus Stimulus Plan Splits Senate Republicans
This article from the Wall Street Journal may be to interest to subscribers. Here is a section:
The stimulus debate pits the GOP's political pragmatists against its spending hawks, with the fate of swing-state incumbents hanging in the balance: At-risk Republican senators don't want to return to the campaign trail during the August recess empty-handed, while fiscal conservatives recoil at any plan that they see as ballooning the deficit and conditioning the public to expect broader government assistance once the pandemic is over.

At stake could be control of the Senate and White House, some Republicans warn. The nonpartisan Cook Political Report last week released a new analysis of key Senate races that for the first time this cycle favored Democrats to take back the chamber.

Democrats already control the House and are expected to keep or expand their majority in November, making the GOP-held Senate a critical bulwark against total Democratic control of the legislature next year. Democrats need to flip three seats from red to blue to seize control of the chamber in November, or four if President Trump wins re-election.
The massive stimulus introduced during the initial lockdown with $1200 for the majority of adults and $600 a week for millions of unemployed people plugged a significant hole in consumer spending potential. It also allowed ecommerce businesses to flourish and gain market share.
The big question with the new stimulus package, which will in all likelihood be agreed before the weekend, is how the money will be targeted. If benefits are going to be cut, that will mean less consumer spending. However, the $1 trillion in additional support will show up somewhere, so the complexion of the package is likely to represent rotation risk in the stock market.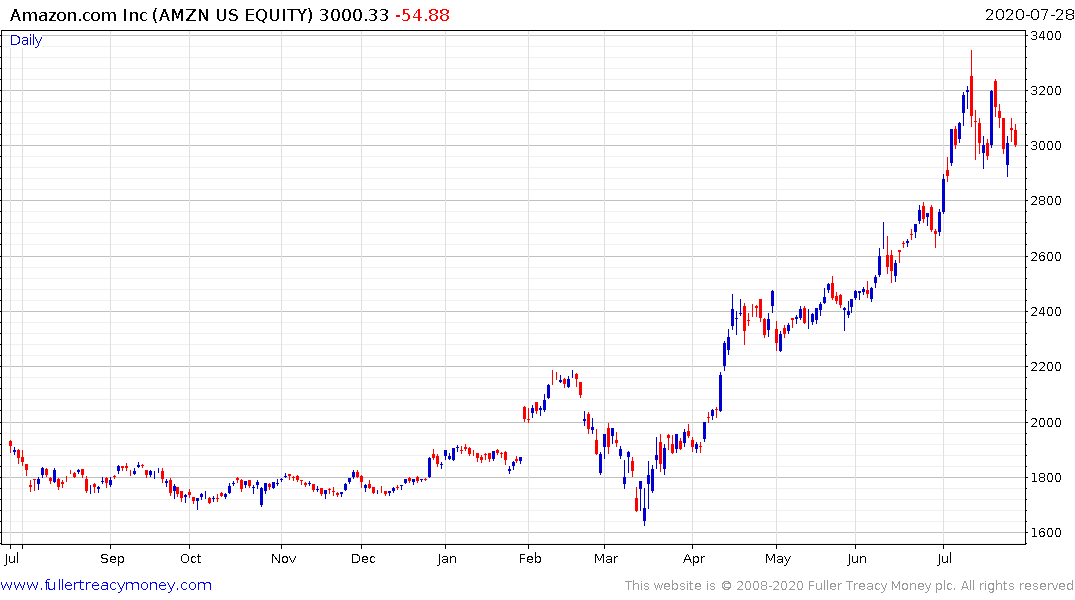 Amazon is currently pausing near the psychological $3000 as it unwinds the short-term overbought condition. It posted a large downside key reversal on the 13th and has held a mild downward bias since. The share has a tendency to pause near big round numbers, so a sustained move below the trend mean would be required to question uptrend consistency.
Shopify, Etsy and MercadoLibre have all also paused.
Back to top