Coronavirus: Government throwing 'lit match into a haystack' by discharging Covid patients to care homes
This article from the Independent may be of interest to subscribers. Here is a section:
The government has been warned it is throwing "a lit match into a haystack" by discharging Covid-positive patients to care homes, with politicians demanding that the safety of residents and staff is guaranteed under the new policy.

During the first wave of the pandemic, approximately 25,000 hospital patients were sent to care homes – many of whom were not tested – which helped spread the virus among residents. Around 16,000 care home deaths have been linked to Covid-19 since the start of the crisis.

The strategy was one of the government's "biggest and most devastating mistakes" of the crisis, says Amnesty International, and questions have been raised over the decision to introduce a similar policy as the UK's second wave intensifies.

As part of the 2020 adult social care winter plan, the government has called on local authorities and care providers to establish "stand-alone units" – so-called 'hot homes' – that would be able to receive and treat Covid hospital patients while they recover from the disease.

There is also an expectation that, due to housing pressures and a shortage of suitable facilities, some patients may be discharged to "zoned accommodation" within a home, before being allowed to return to normal living settings once they test negative for the virus.

Councils have been told to start identifying and notifying the Care Quality Commission of appropriate accommodation, and to ensure high infection prevention standards are met.
Battling the pandemic is as much about public relations as it is about medicine. Everyone knows elderly sick people are by far the most at-risk group. Stuffing elder care homes with people who may still be infectious is a recipe for another public relations disaster.
The only figure anyone seems to pay attention to is cases, but death rates are now also rising. The only way to get that latter figure down is to prevent the most at-risk groups from contracting the disease. Expressing the intention to create isolation wards is not enough. The time to do that was a couple of months ago. If 25% of people are being discharged from hospital, without a confirming test they are no longer infectious, it is the kind of event that will lead to a spike in deaths with no change in the underlying threat from the virus.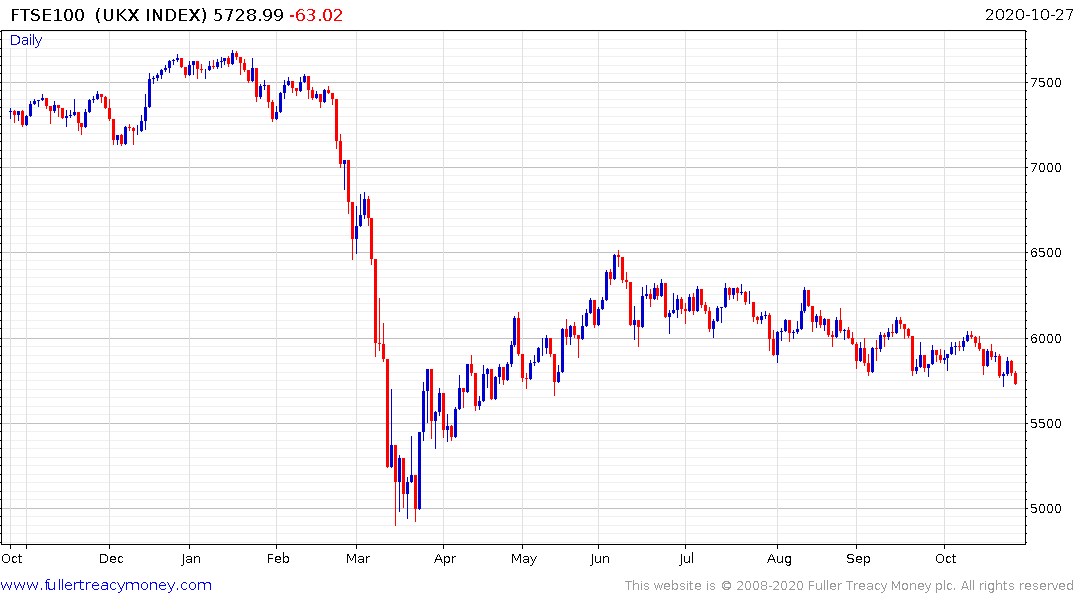 The FTSE-100 continues to trend lower and has held a sequence of lower rally highs since June.
Back to top