Corbyn's Plan to Stop a No-Deal Brexit Is Dead
This article by Therese Raphael for Bloomberg may be of interest to subscribers. Here is a section:
That puts paid to the idea of a national unity government for now, unless Corbyn were to back down and accept another figure in charge (pigs will fly first). The various other blocking options, detailed in a column earlier this week, offer little confidence to those wanting to stop no deal either. Probably the best chance, short of a change of government, is for the opposition to force through legislation that requires an extension of the deadline. House of Commons Speaker John Bercow would be instrumental in this and he seems to be bullish.

"I will fight with every breath in my body to stop that happening. We cannot have a situation in which parliament is shut down. We are a democratic society and parliament will be heard," he told an Edinburgh festival audience this week.

Binary choices in politics are like truth serum. Theresa May offered her deal or said the country would head toward a no-deal exit. Lawmakers refused her deal. Offered the prospect of Johnson's no-deal exit or Jeremy Corbyn in Downing Street, they again took a pass at the alternative. Perhaps they still believe a no-deal Brexit can be averted through other means, or else they are willing to accept it and go to an election laying the blame elsewhere (the government, parliament, the EU). Either way, it's not very reassuring.
It's hard not to be disillusioned by the UK's political impasse. If nothing else it highlights in bold terms that politicians are concerned about holding onto their jobs above all over factors. The best course of action in negotiating its exit from the EU was to push a Hard Brexit. It's difficult to accept that so many politicians still cannot bring themselves to accept that fact even if they have no intention of following through on it.
The market, however, is beginning to price in the real potential for a no deal scenario and the Pound is back testing its 2016 lows against the Dollar. Some steadying around this level is underway but it is hard to see the Pound rallying meaningfully while there is so much uncertainty surrounding the Brexit question and the economy.
The UK economy contracted in the last quarter and the yield curve spread has inverted. The spread might not have much of a predicative record for the UK but an inversion is certainly evidence of tightening credit and bad news for the banking sector.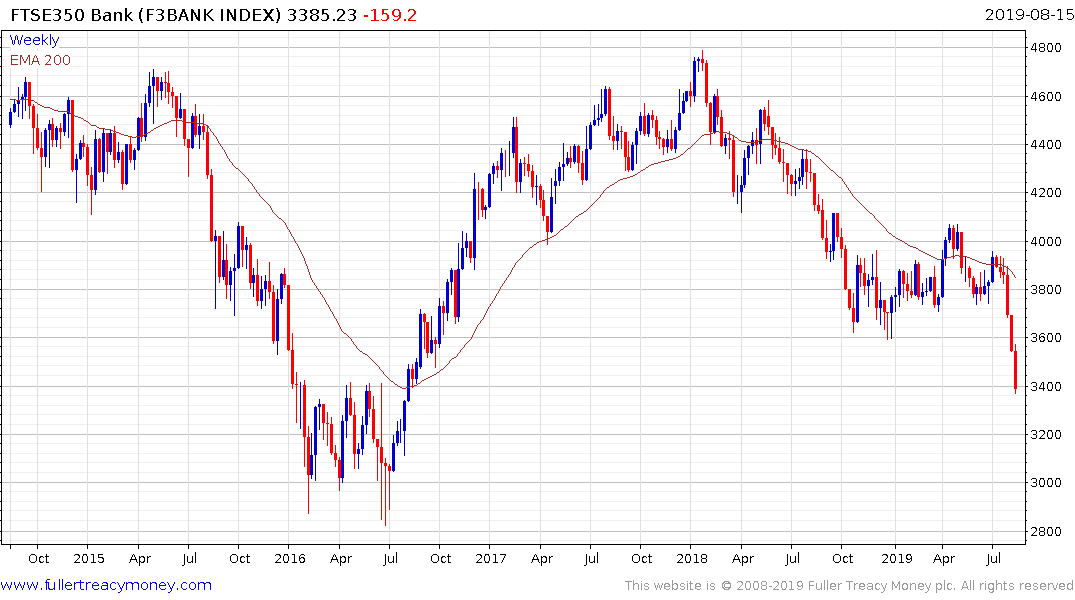 The FTSE350 Banks Index has been falling for consecutive weeks and moved to a new reaction low today. The odds are increasing the UK is about to follow the Eurozone into recession.
That is likely to spur the Bank of England to cut rates and suggests Boris Johnson's ambitious fiscal stimulus is more likely to be implemented.
Back to top