Controversial New Milk Shakes Up Big Dairy
This article by Mike Cherny for the Wall Street Journal may be of interest to subscribers. Here is a section:
Both are following the success of a2 Milk Co., a New Zealand-based company that has found fans in its home country, as well as Australia and China, and has recently entered the U.S. market. The company's revenue is expected to grow some 70% in the year ending in June, according to S&P Global Market Intelligence. It already has more than 10% of the milk market in Australia. A similar share in the U.S. would be about $1.5 billion in annual sales, according to Euromonitor International.

A2 milk differs from regular milk because the latter contains both A1 and A2 proteins. Supporters of A2 milk contend it is the A1 protein that causes indigestion for many people, a problem that lactose-free milk won't solve. Skeptics say there hasn't been enough independent research to show there is any real benefit to A2 milk, which is naturally produced by cows with a particular set of genes. A DNA test can determine which cows in a herd produce A2-only milk.

Although the science behind so-called A2 milk remains disputed, the entry of big companies into the market shows how changing consumer preferences create new opportunities that dairy giants can't afford to ignore—especially as profits have been eroded in recent years by everything from almond milk to dairy-free ice cream. In the U.S., traditional milk sales have fallen about 7% annually on average over the last four years, according to the most recent data from Nielsen.
A2 Milk is a remarkable success story and it represented part of the discussion at the recent Melbourne venue for The Chart Seminar. There is evidence of a clear acceleration for what has already been an impressive trend and the share has now posted its largest reaction to date.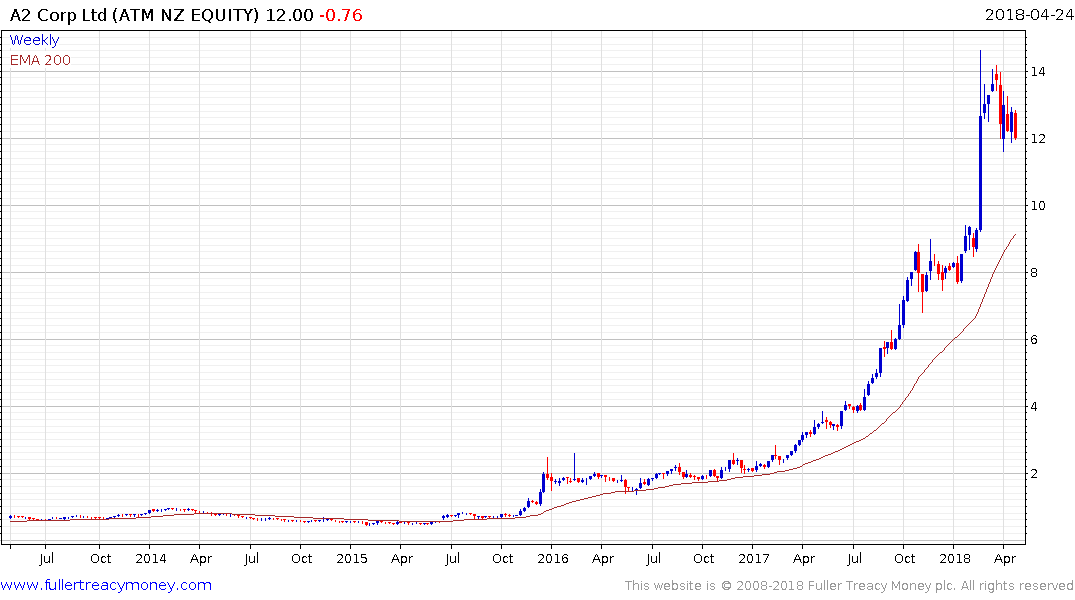 An advance of this magnitude encourages competition and with Fonterra, Nestle and others now moving in the company may be on the cusp of experiencing real competition for the first time. That represents a significant risk considering the company is trading on a forward multiple of 41.
Back to top