Coking coal price correction turns into rout
This article by Frik Els for Mining.com may be of interest to subscribers. Here is a section:
It's only the 5th, but the year to date fall in the price of coking coal has already reached 8%. The steelmaking raw material is also a round $100 below its multi-year high of $308.80 per tonne (Australia free-on-board premium hard coking coal tracked by the Steel Index) hit in November.

On Thursday the price dropped another 4.5% to $208.10 a tonne, the lowest since September 29 and one of the biggest declines (for the spot price) on record. In 2011 floods in key export region in Queensland saw the coking coal price briefly trade at an all-time high $335 a tonne.
With demand both more diverse and less predictable, the increasingly widespread transition towards market-based pricing couldn't be more timely

Still, metallurgical coal is up 150% over the past year and averaged $143 a tonne in 2016 (about the same as it did in 2013). There was a more than $100 differential between the spot price average and the fourth quarter contract benchmark.
The oldest adage in the commodity markets is that "the cure of high prices is high prices". There was a temporary dearth of coking coal so prices rose quickly for most of the latter half of 2016. However with new supply coming to market the necessity to pay ever higher prices has been reduced and coking coal has pulled back sharply. A potentially lengthy period of ranging is likely required before substantially higher prices can be sustained.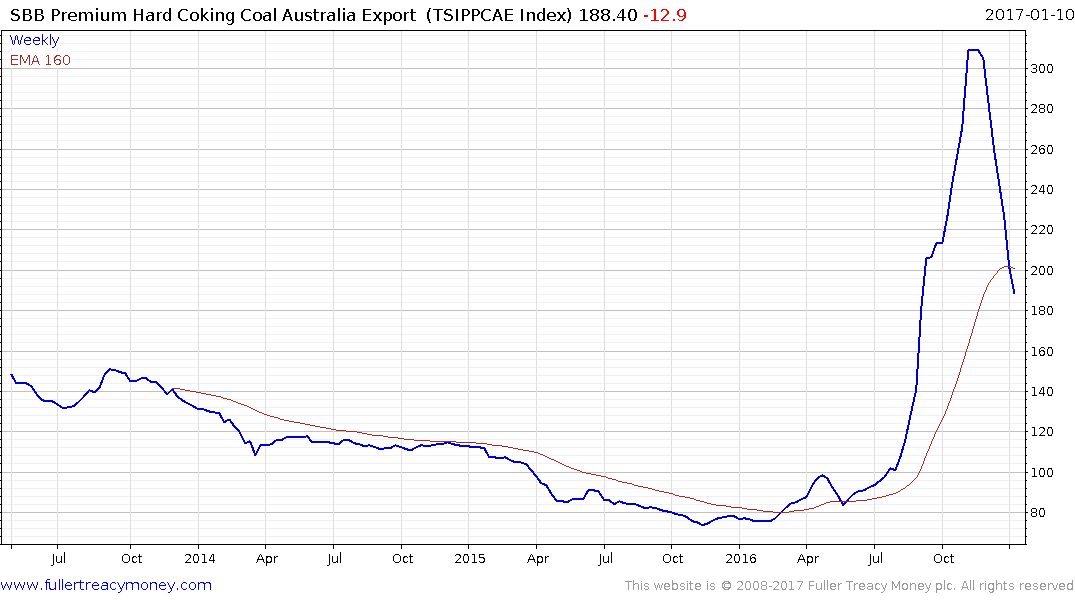 Click HERE to subscribe to Fuller Treacy Money
Back to top