Coinbase Will Be First Major Cryptocurrency Company To Go Public
This article from Investors Business Daily may be of interest to subscribers. Here is a section:
Its first-quarter results passed all of 2020. Coinbase reported revenue of $1.8 billion in the quarter, with net income of approximately $730 million to $800 million, according to the filing. Last year, it brought in $1.3 billion in revenue with a profit of $322 million.

Trading volume topped $335 billion in the quarter. For all of 2020, trading volume was $193 billion.

Total assets on Coinbase's platform increased from $90 billion to $223 billion, a nearly 150% increase.

Its full-year outlook presented a range of possibilities, "given the inherent unpredictability of our business," the company said in its report.

"To state the obvious, our business is hard to forecast," Coinbase Chief Financial Officer Alesia Haas said after the earnings report. That's because it can't predict the prices of Bitcoin and other cryptocurrencies.

About 96% of Coinbase's revenue comes from transaction fees. It has several lines of business in addition to its exchange services. Among them is Coinbase Commerce, which provides online retailers with software that lets them accept cryptocurrency payments.
Unlike many of the IPOs over the last year Coinbase has clear visibility of where it sources revenue and how that is likely to grow over time. It will be one of the few pureplays on the wider cryptocurrency market once it is listed.
The big question for investors is whether this much anticipated IPO will coincide with a significant medium-term peak for the sector. Bitcoin has been ranging for the last six weeks which is a significant loss of momentum. That is despite the continued bullish sentiment being expressed by both retail and institutional investors.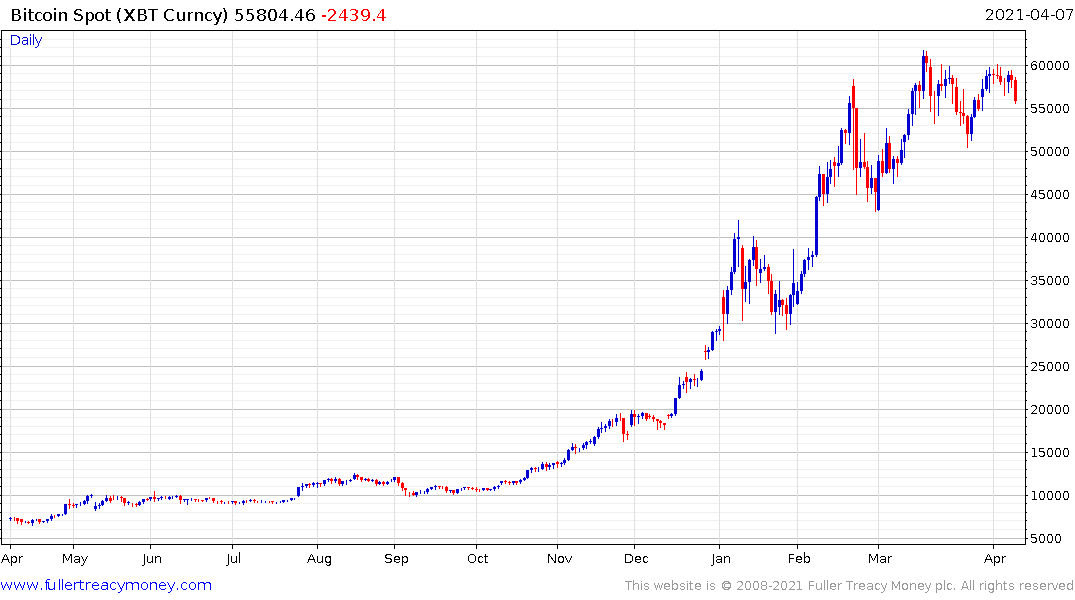 The primary consistency of the trend was that each consolidation was above the last and every breakout was sustained. That is no longer true and the drawdown last month triggered a Midpoint-Danger-Line stop. This trend is no longer consistent. Today's drawdown is further confirmation of rising supply dominance.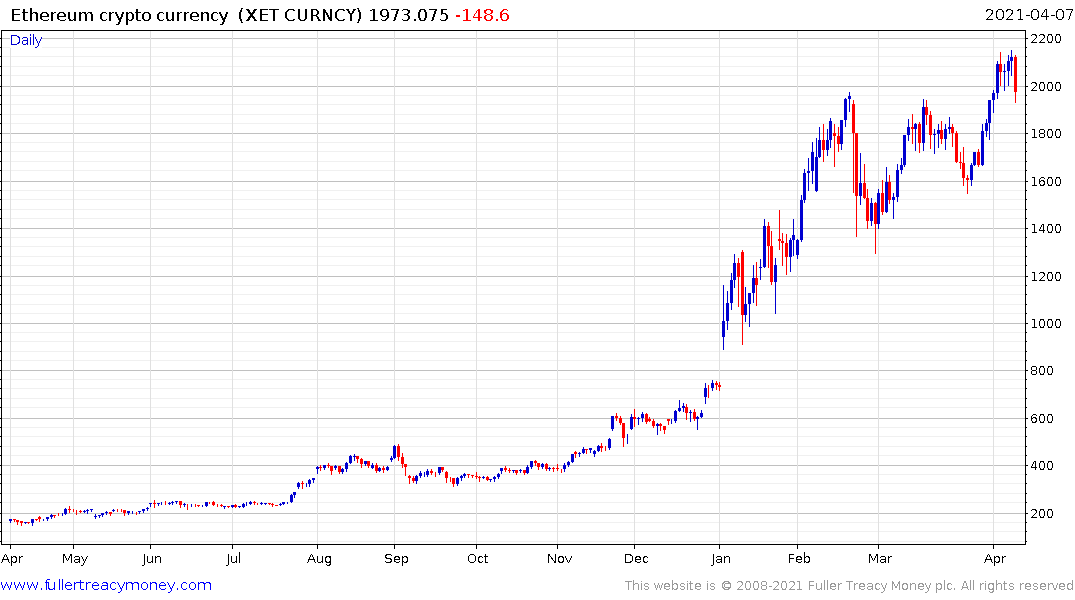 Ethereum is also now trading back below $2000 and the dynamic of the failure is greater than the dynamic of the breakout. Downside follow through tomorrow would confirm the failed upside break and would increase scope for a return to test the lower side of the range near $1500.

As I mentioned in yesterday's copy, Bitcoin is a lightning rod for risk appetite. When it turns lower it is likely to be a lead indicator for at least a reversion towards the mean on Wall Street.
Back to top