Cloudy with a chance of monetization
Thanks to a subscriber for this report from Deutsche Bank which many of interest. Here is a section
US colleagues Karl Keirstead and Ross Sandler describe public cloud services as "the biggest and most disruptive trend impacting the technology industry." DB estimates the total addressable market for cloud to be USD500b. Cloud service providers have captured only a low-single-digit piece of this TAM. In China, the opportunity is even younger and less penetrated. AliCloud is the clear hometown favorite, with 65% of DB survey respondents using its solutions. Alibaba is our preferred play on cloud over Tencent and Baidu, which have much smaller cloud businesses that should also grow appreciably.

China: catching the "growth story" even earlier on; both public and private
The value proposition of the public cloud is simple: enabling deep cost savings and freeing up resources for enterprises to pursue more core business activities. While public cloud revenues at AliCloud and others continue to grow in the triple digits, China is also seeing strong growth in private cloud, as government bureaus, SOE's and large private companies heed government exhortations to reform their hidebound IT regimes behind its "Internet+" initiative. Before the introduction of the cloud, about 70-80% of companies' IT budgets and time were spent on low-value-added areas such as infrastructure maintenance, upgrades and integration. With external cloud operators taking over these burdens, management is able to concentrate on growth-centered initiatives, with cloud assisting in saving time and expense. Some 72% of respondents to our survey indicate that they are reducing significantly their IT spend through the use of cloud computing services. Alibaba Research Institute, for instance, estimates that 70% of computing costs can be saved.

China's CIO speaks: results of DB proprietary survey
As part of our overview of China's nascent cloud industry, we surveyed more than 50 CIO's, CTO's, Directors and VPs of IT. Results revealed cloud computing to be the #1 priority this year, followed by security services at #2, and IT infrastructure and datacenters at #3. These companies expect to spend approximately 27% and 30% on cloud computing services in 2016 and 2017, respectively, compared to 20% in 2015. Over 50% of the respondents stated that they were able to save up to 40% of their IT spending thanks to cloud computing.
Here is a link to the full report.

Making the state owned sector more nimble is a primary policy objective of the Chinese administration. Under Xi Jinping, the desire to have an all-encompassing database, with greater visibility over the affairs of various agencies has reached new heights and the expansion of cloud services gels with that ambition. That's is likely to fuel growth in both the private and public sectors.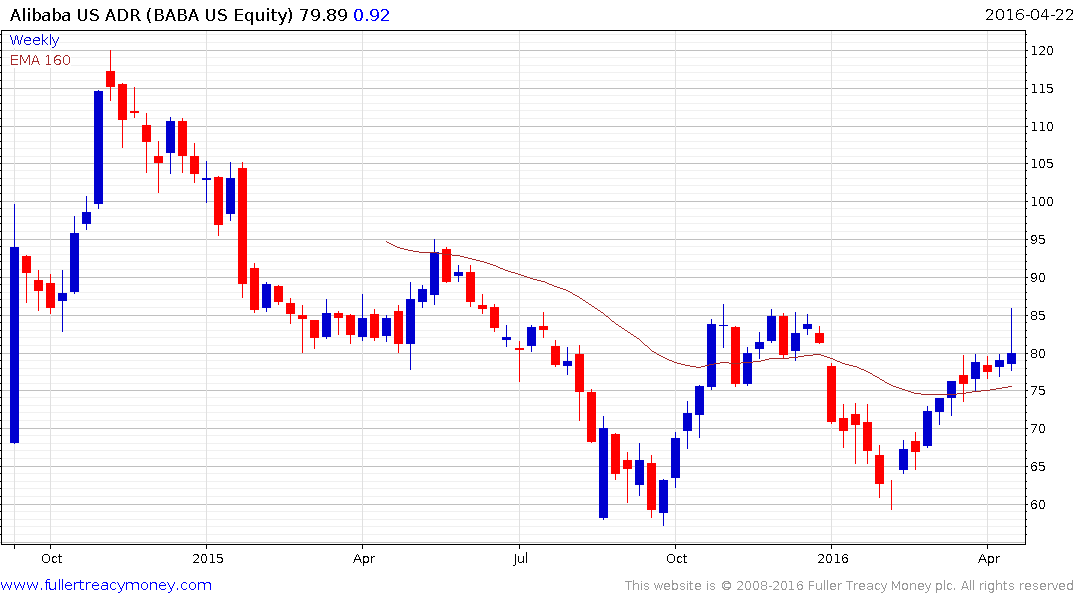 Alibaba is well placed to benefit from this type of growth. The share has held a progression of lower rally highs since shortly after its IPO and needs to sustain a move above $85 to break that sequence.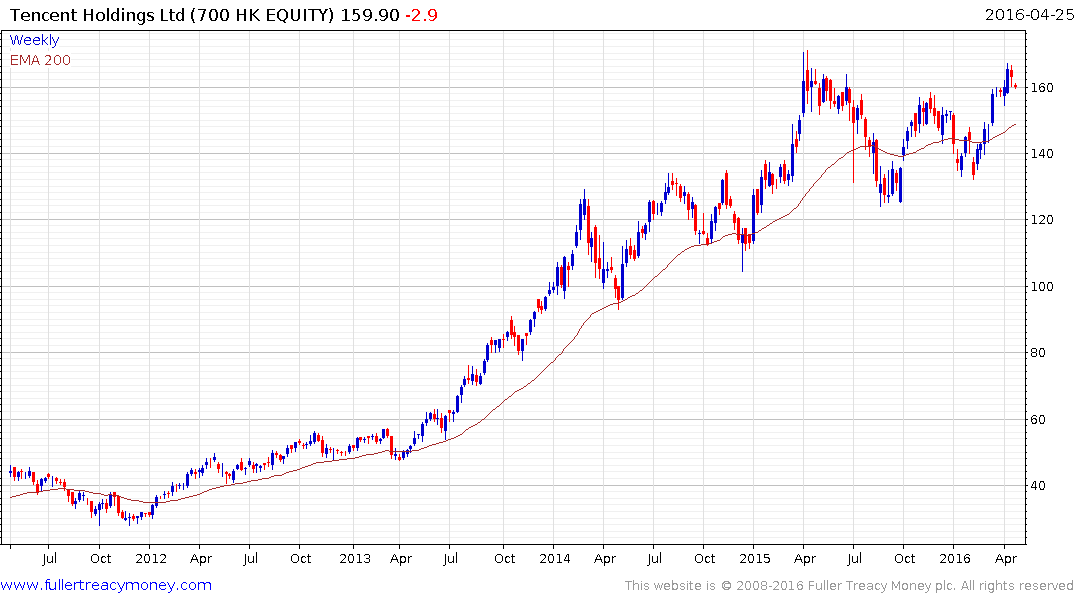 Tencent rebounded impressively from its January nadir to hold the medium-term sequence of higher reaction lows. Some consolidation of recent gains now appears to be underway and a sustained move below HK$10 would be required to question the medium-term uptrend.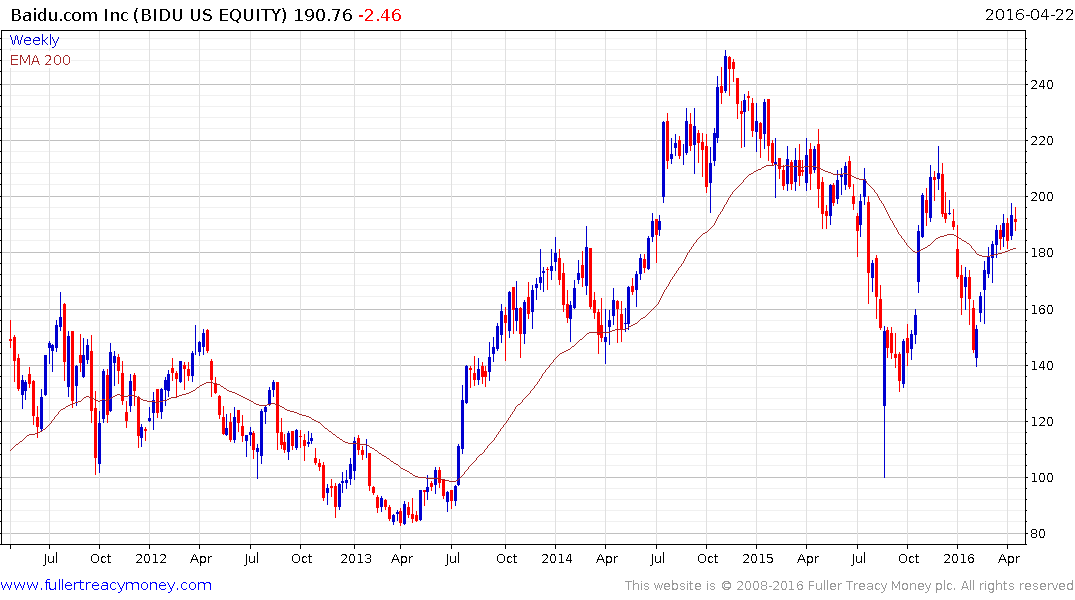 Baidu also rebounded and is now testing the region of the November highs and the psychological $200 level. Some consolidation is also looking likely.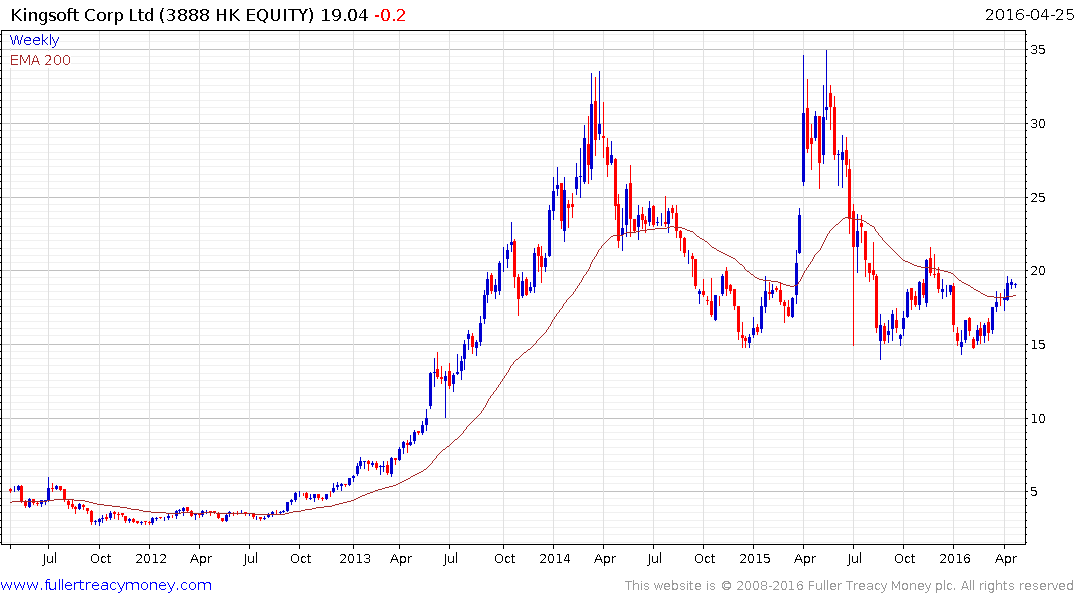 Kingsoft is a much smaller company that the above three. Its share has been ranging mostly above HK$15 since early 2015 and is firming from that area again now. A clear downward dynamic would be required to question potential for additional higher to lateral ranging.
Back to top