Cloud-Software Stocks Tumble From Highs With Salesforce on Deck
This article by Jeran Wittenstein for Bloomberg may be of interest to subscribers. Here it is in full:
The week got off to a rough start for cloud-software companies as some of the highest-profile stocks tumbled from records.

Salesforce.com Inc. fell as much as 5.5 percent on Monday after ending last week at a record $126 billion market valuation. The software maker reports fiscal fourth-quarter earnings this afternoon. Twilio Inc., Splunk Inc. and Zendesk Inc. tumbled more than 7 percent, while ServiceNow Inc. and Workday Inc. both fell more than 5 percent. Atlassian Corp., which also closed at a record Friday, slid as much as 10 percent.

Cloud-software stocks have been among the best performing groups in the post-Christmas rally as investors in search of revenue growth bet that businesses will continue to spend on software services. The S&P 500 software and services group has outperformed the broader index since Dec. 2
Cloud computing, and the savings companies get by outsourcing to remote servers rather than trying to keep their in-house kit up to speed, has been one of the primary drivers of the expansion in technology shares over the last few years. Software as a service is a complimentary theme and has allowed companies to offer all manner of intelligence and analytics on customer and employee action from the data collected from cloud servers.
That theme still looks like it has a lot further to go, not least as companies continue to expand the number of internet-connected devices and the range of services available over them. However, that does not negate the fact that short-term overbought conditions relative to the trend mean are evident and potential for a reversionary move has increased.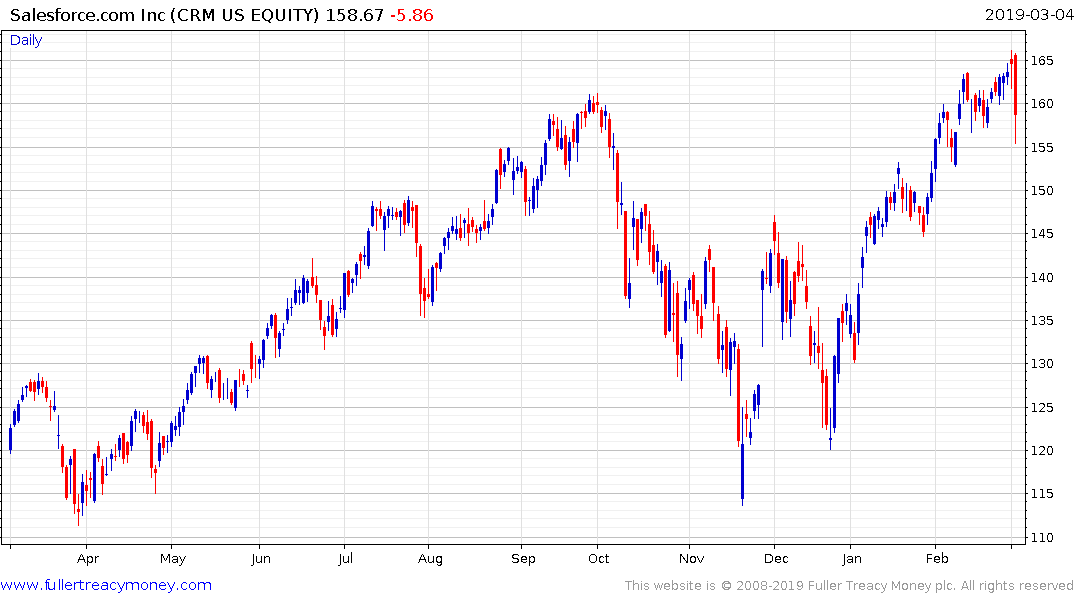 Salesforce's clear downward dynamic today suggests at least some consolidation in the region of the previous peak and potentially a failed upside break if we see downside follow through over the remainder of this week.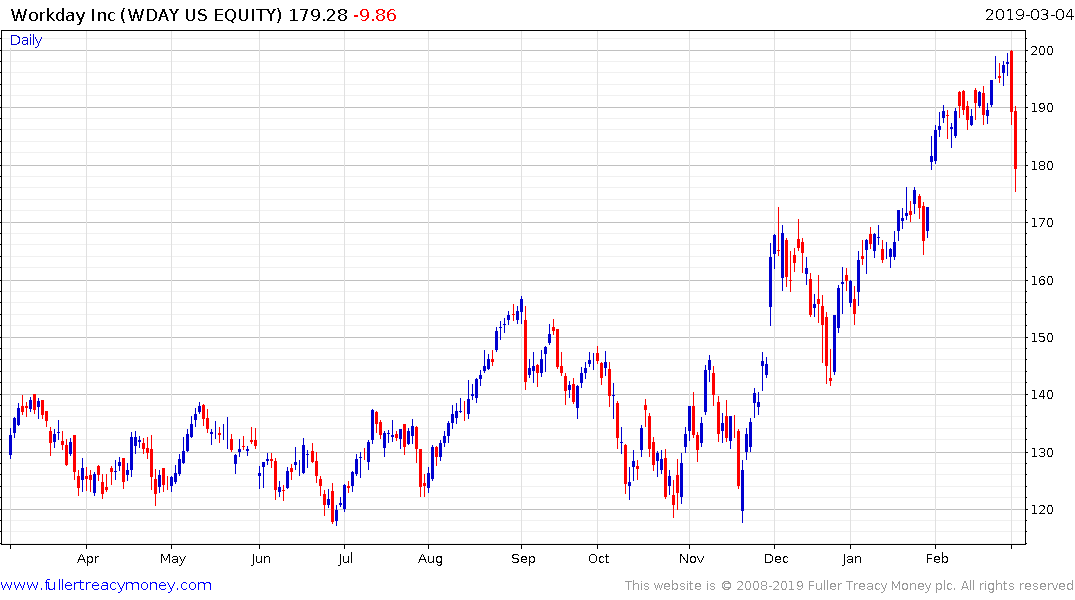 Workday appears likely to unwind is overbought condition relative to the trend mean.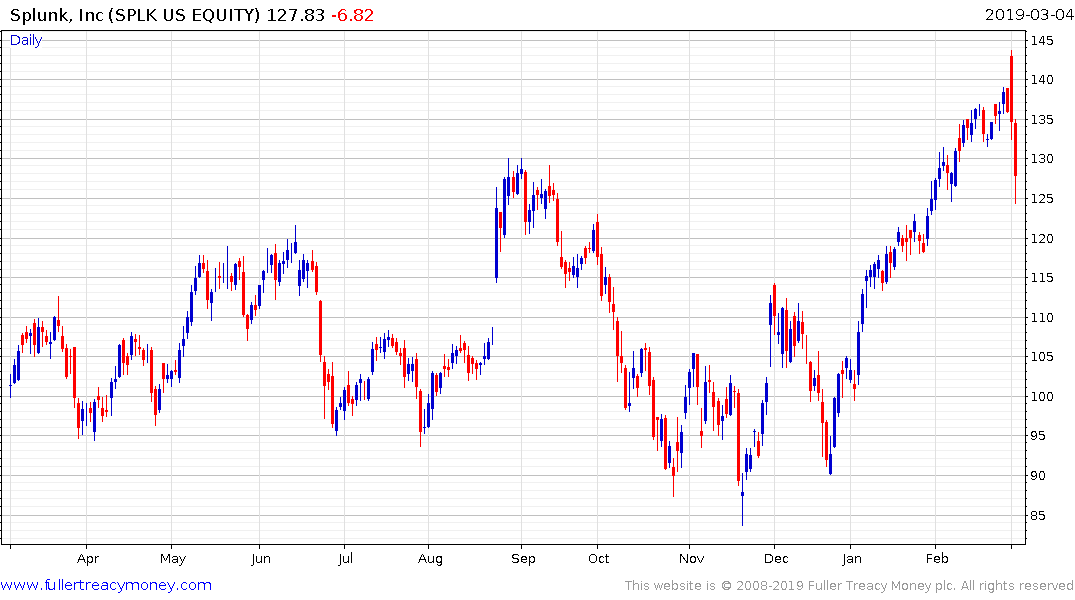 Splunk is also at least consolidating in the region of the prior peak.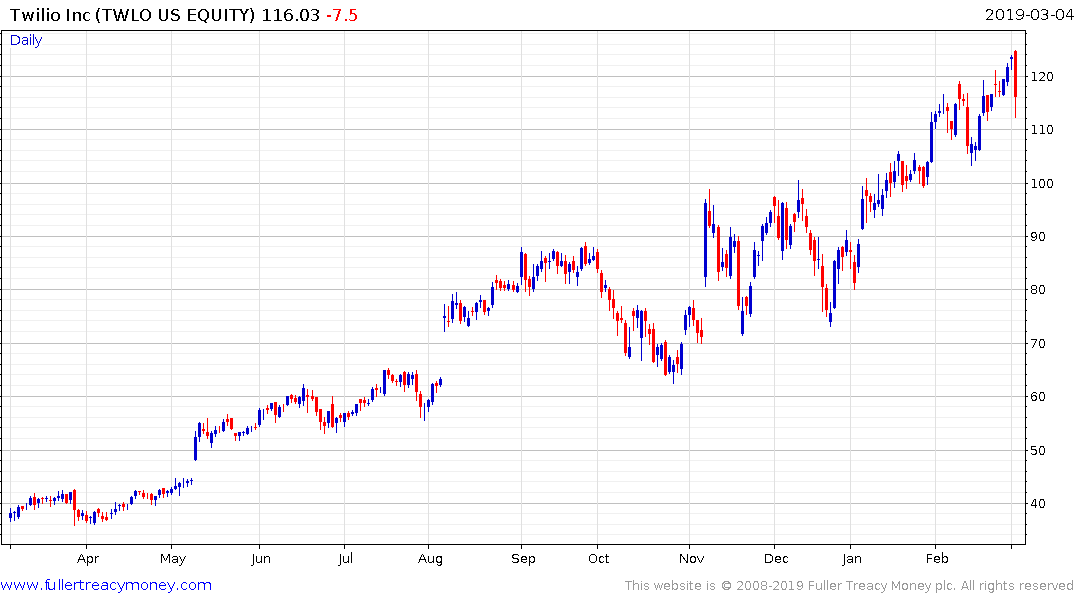 Twilio posted a clear downside key day reversal today and downside follow through tomorrow would confirm a peak of at least near-term significance.
Back to top