Cisco Surges to Highest in 17 Years on Bullish Earnings Outlook
This article by Ian King for Bloomberg may be of interest to subscribers. Here is a section:
Cisco is one of the richest companies in the technology industry. It has more than $70 billion in cash, most of which was earned overseas and parked there. The company will now bring back some of that money and devote an additional $25 billion to buying back stock. Cisco took a charge of $11.1 billion related to new tax laws, leading to a net loss of $1.78 a share in the second quarter. Excluding some items, it reported a profit of 63 cents a share, beating analysts' estimates for 59 cents.

Sales rose for the first time in eight quarters to $11.9 billion in the three months ended Jan. 27, also coming in ahead of estimates.

Robbins is seeking to restore the growth that once made Cisco the biggest company in technology. It's a challenge amid a fundamental change in the networking industry that's forcing Cisco to acquire new skills and adapt its business model. The technology of networks is increasingly shifting to software control and security of data flow and away from fixed-purpose hardware. At the same time, some of the largest buyers of gear -- owners of data centers such as Amazon.com Inc.'s Amazon Web Services and Microsoft Corp.'s Azure -- are increasingly designing their own hardware forcing Cisco to come up with new, cheaper and more flexible products that might interest them.
A $25 billion buyback program is enough to move the needle for the majority of shares and Cisco extended the breakout from its more than decade long base formation.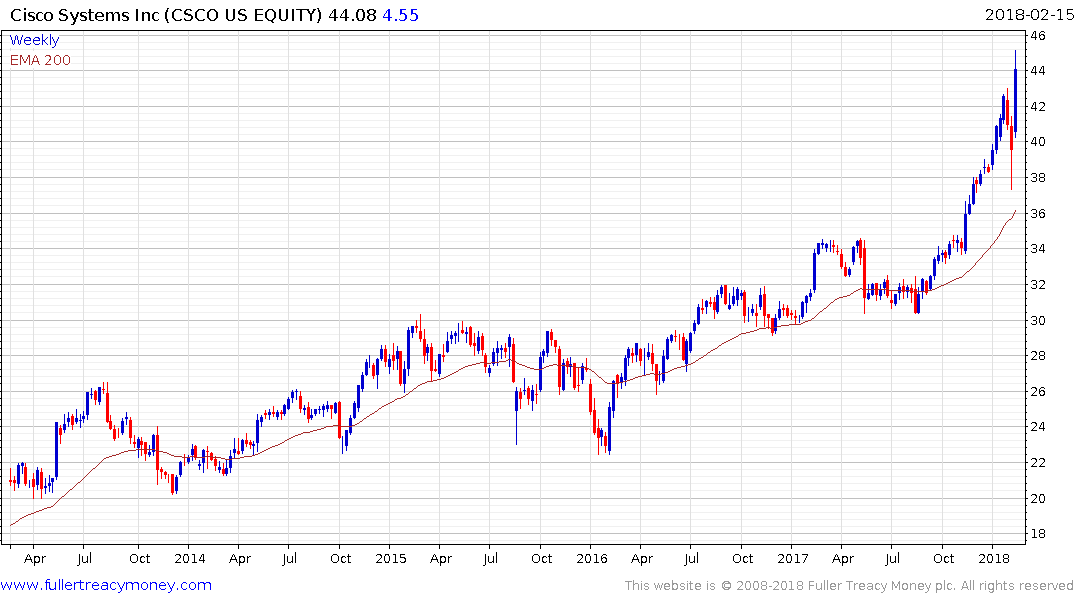 While the opportunity to bring its overseas cash hoard is welcome, it is the adoption of a subscription-based business model that is helping to generate growth and reliable income streams for the company after a long sojourn in the wilderness. There is a high degree of commonality in the shares of major companies that have adopted subscription models such as Adobe, Microsoft, Autodesk, Amazon and Dassault Systems. However, it is also worth highlighting that upstarts trying to muscle in on the grocery or fashion retail sector like Blue Apron or Stitch Fix respectively have not yet been as successful.
The evolution of the subscription model also has broader implications for the composition of sector indices since the smoothing out of cashflows means that previously highly cyclical businesses are now more like consumer staples.
Back to top