CIO Insights Reflections: A deeper look, demystifying Distributed Ledger Technology
Thanks to a subscriber for this report from Deutsche Bank focusing on Blockchain. Here is a section:
Blockchains and connected cryptocurrencies are probably the inventions with the most disruptive potential for the finance sector and the public since the invention of the internet.

Blockchains could revolutionize industries from the bottom-up and create new business models around a peer-to-peer community.

Bitcoin, Ethereum et al are only the first pioneer projects, whose success or failure depends on several factors like technical security, regulations and also their political impact.

As a new asset class, and one which is getting a lot of attention nowadays, Crypto Assets could be an interesting alternative to diversify portfolios. But there is an appreciable risk of major losses. Crypto Assets are in our opinion a highly speculative investment.

Economists have long been interested in the origins and uses of money, from Adam Smith, through Ludwig von Mises and on to the present day: they will now need to explore new aspects of it.

If blockchain can win trust in professional services, then it could sharply reduce the need for lawyers, accountants and so on in these traditional public or private sector functions: in other words, artificial intelligence is not the only threat to white-collar jobs.
Here is a link to the full report.

I was chatting with a successful patent lawyer last week who had worked on some of the suits Samsung brought against Apple for using the finger pinch technology it developed to zoom in on photos without permission. He also related how he had spent a great deal of time working with computer game companies comparing lengthy lines of code to decipher whether a new game was patentable.
The law profession is full of this kind of grunt work that commands very high fees and which could be completed by a computer in no time at all. Additionally, when we think about the scope of what could be outsourced to the blockchain in terms of contracts and agreements then the only logical conclusion is the law profession is ripe for further disruption.
In the past I've compared Bitcoin to Netscape. It is the first imperfect iteration of what has the potential to be an abiding contributor to the global financial architecture once the initial and considerable obstacles to expansion and acceptance are overcome.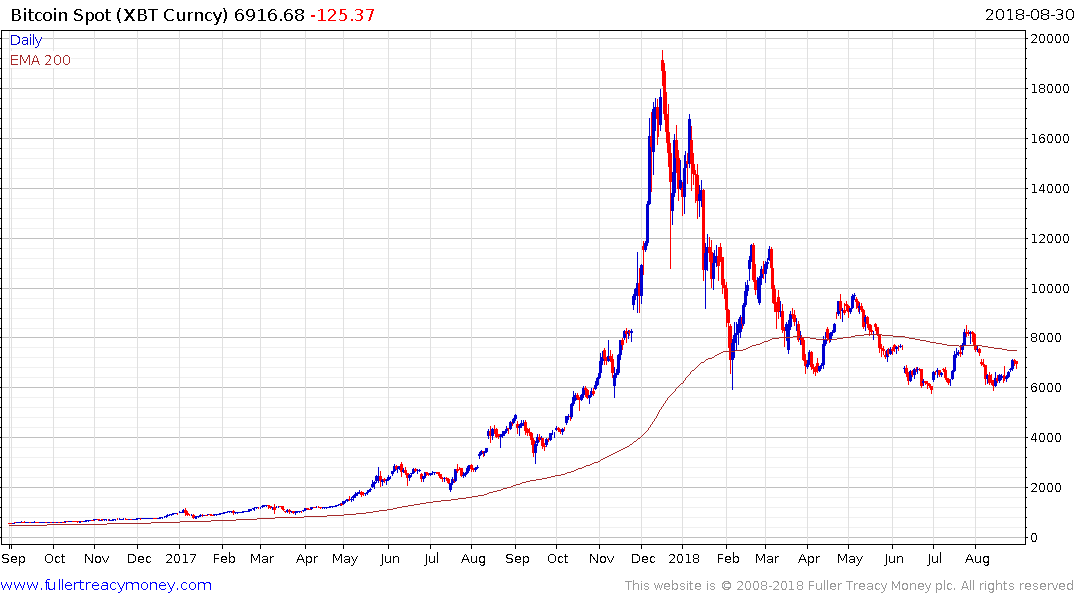 Bitcoin continues to exhibit a consistent progression of lower major rally highs and would need to sustain a move above $8000 to question the downward bias.
Back to top