Chris Wood On India's Property Cycle, Capex And Risks Facing Stock Market
This article from Bloomberg may be of interest to subscribers. Here is a section:
The structural bull story of the Indian markets, Wood said, remains in place with growing evidence that a new residential property cycle has commenced after a seven-year downturn despite the setback triggered by the delta Covid-19 wave.

"Pre-sales across the top seven cities rose 23% month-on-month and 41% year-on-year in July. Property registrations, indicating completed transactions, for July-September were up 45% in Mumbai and 56% in Delhi compared with the levels prevailing in 2019," he said.

Also, unsold inventory is coming down sharply. "The inventory level in the National Capital Region, after stripping out stalled projects, has declined from a peak of 50 months of sales in October 2017 to 33 months."

Affordability, according to him, too, remains at historically attractive levels. The housing affordability ratio, measured as home loan payment as a percentage of income, declined from 53% in FY12 to a record low of 27% in FY21, the report said. "This is clearly very different from, say, China."

Greed & Fear has a 17% allocation to the property sector in the Indian long-only portfolio, while it "resists for now the temptation of putting any China developers into the China long-only portfolio".
India's home finance and property development sector went through a painful restructuring process three years ago and it is still ongoing for smaller companies. The reason for the decline was much tighter regulation of how property developers funded themselves.
Most particularly the new regulations banned companies from using deposits as working capital. The companies that had relied on that practice came under extraordinary pressure and many went bust. Meanwhile it is exactly that practice which has brought down China Evergrande. Meanwhile, the affordability of Chinese property is close to the worst in the world relative to incomes.
India meanwhile appears to be at the beginning of a new credit cycle which should help to spur investment in everything from property to industry over the coming decade. That should help to deliver the infrastructure and export potential necessary to achieve the outsized growth demanded by the young population.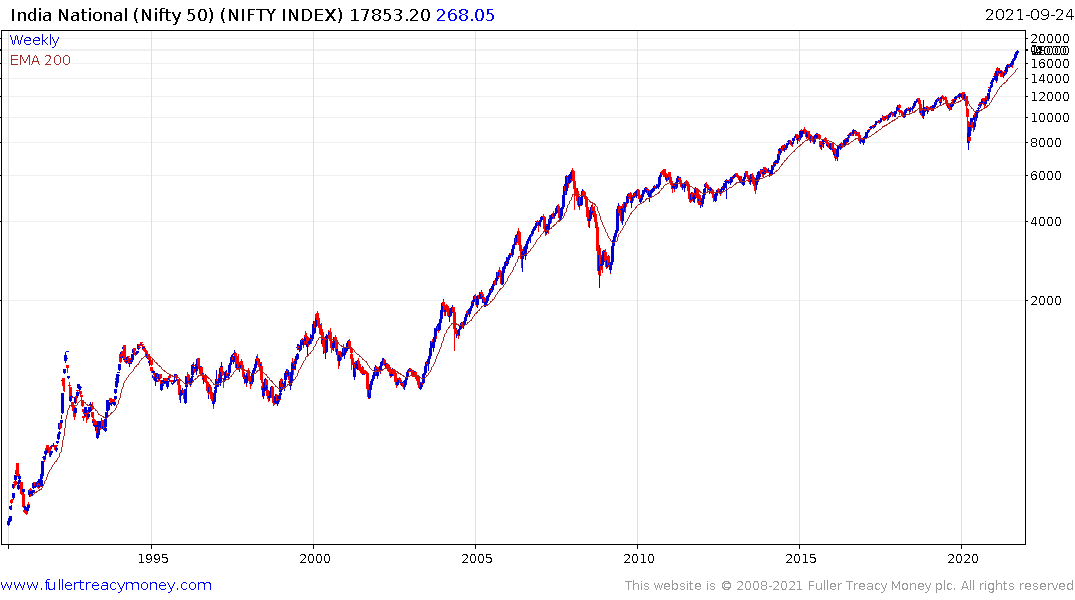 The Nifty Index remains in a medium-term uptrend and is best bought following occasional medium-term corrections.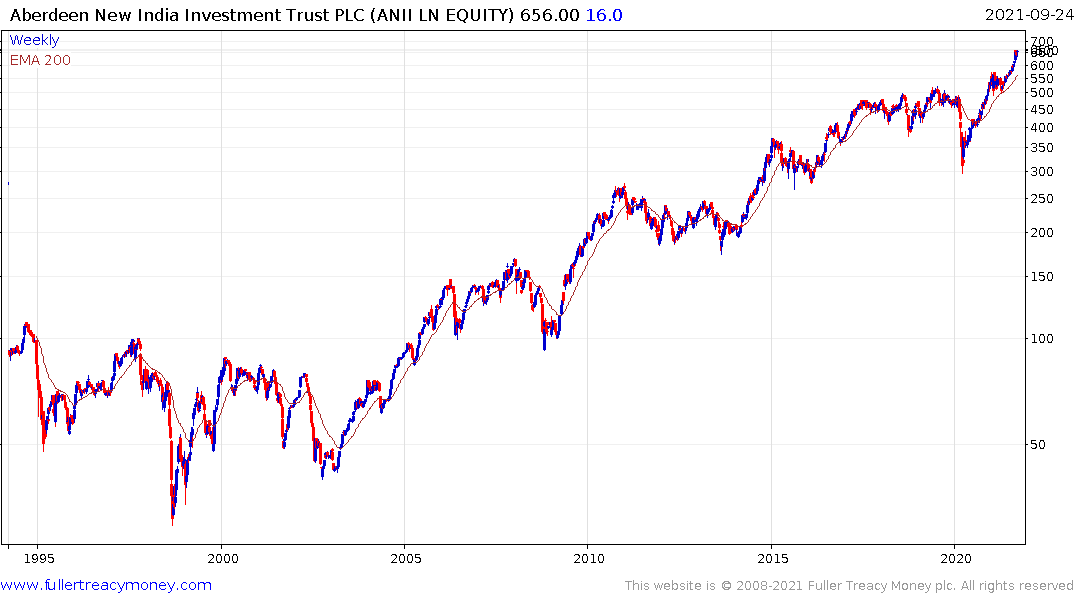 The Aberdeen New India Investment Trust is currently trading at a discount of 13% which is wider than the average of the last decade despite its uptrend.
Back to top