Chinese Stocks Advance Amid Speculation of State Share Purchases
This article by Weiyi Lim and Kana Nishizawa for Bloomberg may be of interest to subscribers. Here is a section:
China's stocks rose, with a gauge of mainland shares traded in Hong Kong climbing the most in a week, as speculation that state-linked investors are buying equities overshadowed concern that the economy is slowing.

And

"The stock market is approaching the level which the government can't tolerate," said Cai Feng, a strategist at Guoyuan Securities Co. in Shanghai. "The level of 2,000 is more crucial. The government will use tactics including policies, public opinion and funds. In terms of injection of funds, it will increase holdings of big state-owned companies and buy index ETFs."
The Chinese administration is leaning on the property sector and has so far refused to relent on its tightening policy. This has put pressure on the banking sector because no one knows just how large the problem with bad loans is likely to be. As a result, even though China has some of the most attractive valuations of any stock market, investors have been slow to commit funds. A catalyst is required to reignite investor appetite.
By 2005, the Chinese stock market had been the world's worst performer for two consecutive years. In addition to being a public embarrassment, the underperformance was contributing to negative perceptions of the economy's growth potential. The announcement that the government was stepping in create a floor for prices initiated a powerful momentum move as everyone got the message that prices would not be allowed to fall any further.
The situation is equally debilitating today as sentiment remains pressured after a lengthy period of underperformance. More substantive statements that the nation's sovereign wealth funds are willing to defend the 2000 level would be a powerful tailwind for the market.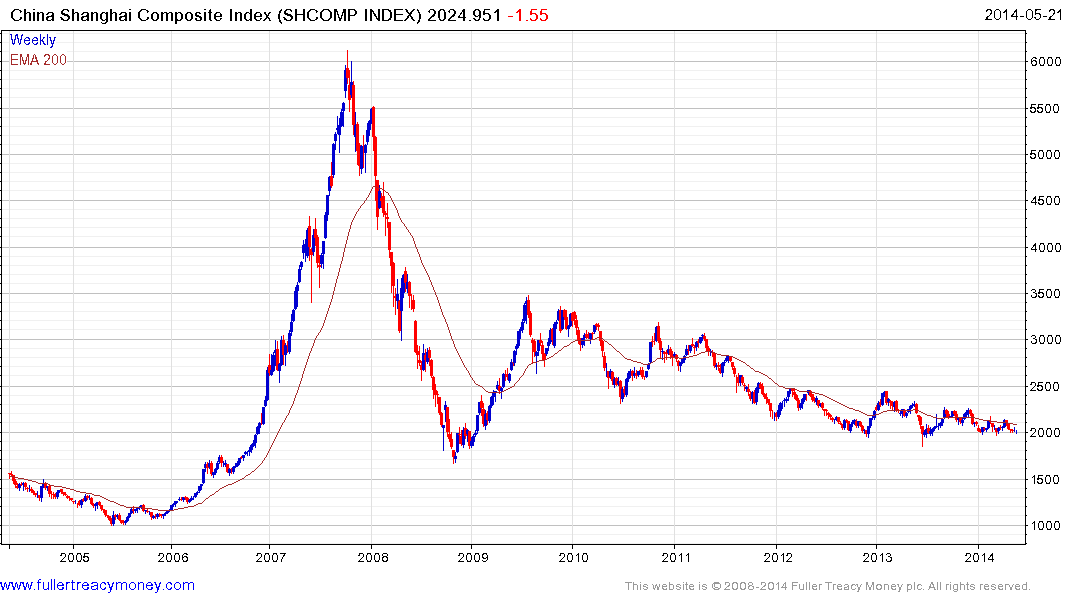 The Shanghai Composite (P/E 9.38, DY 3.01%) posted an upside key day reversal today, having earlier dipped below 2000. While the medium-term progression of lower rally highs remains in place, this level has been an area of support on a number of occasions since late 2012. A sustained move above 2100 would begin to confirm a return to demand dominance beyond short-term scope for an additional bounce.
Back to top