Chinese Nuclear Stockpile Clouds Prospects for U.S.-Russia Deal
This article by David Wainer for Bloomberg may be of interest to subscribers. Here is a section:
Russian officials say they want the current agreement extended for the allowed five years beyond its 2021 expiration. Foreign Minister Sergey Lavrov told reporters last month that that the U.S. continues to insist China be brought into negotiations, a message he said Secretary of State Michael Pompeo delivered to him at the annual United Nations General Assembly meetings.

But Moscow says time is running out. Negotiations for a new deal would typically take as long as a year. Even settling on an extension would be lengthy.

"We urge our American colleagues not to lose time anymore," Russian Deputy Foreign Minister Sergei Ryabkov said in an interview with Russia's International Affairs journal. "There's almost none left. Simply letting this treaty die would be unforgivable. This will be perceived by the international community as neglecting one of the key pillars of international security."

Despite American efforts, Beijing has so far balked at trilateral talks, arguing it is far behind Moscow and Washington, which together hold more than 90% of the world's nuclear weapons.

"China has no interest in participating in a nuclear-arms-reduction negotiation with the U.S. or Russia, given the huge gap between China's nuclear arsenal and those of the U.S. and Russia," said Fu Cong, director general of the foreign ministry's Arms Control Department. "The U.S. and Russia, as the countries possessing the largest and most advanced nuclear arsenals, bear special and primary responsibilities on nuclear disarmament."
There is a Chinese expression to the effect "when the stork and the clam fight, the fisherman wins". China is content for the USA and Russia to face off against one another in mutual agreements to curtail development of even more powerful nuclear weapons. Meanwhile the hypersonic missiles it is developing and showing off to the world in parades are an alternative first strike weapon where there are no treaties on containment.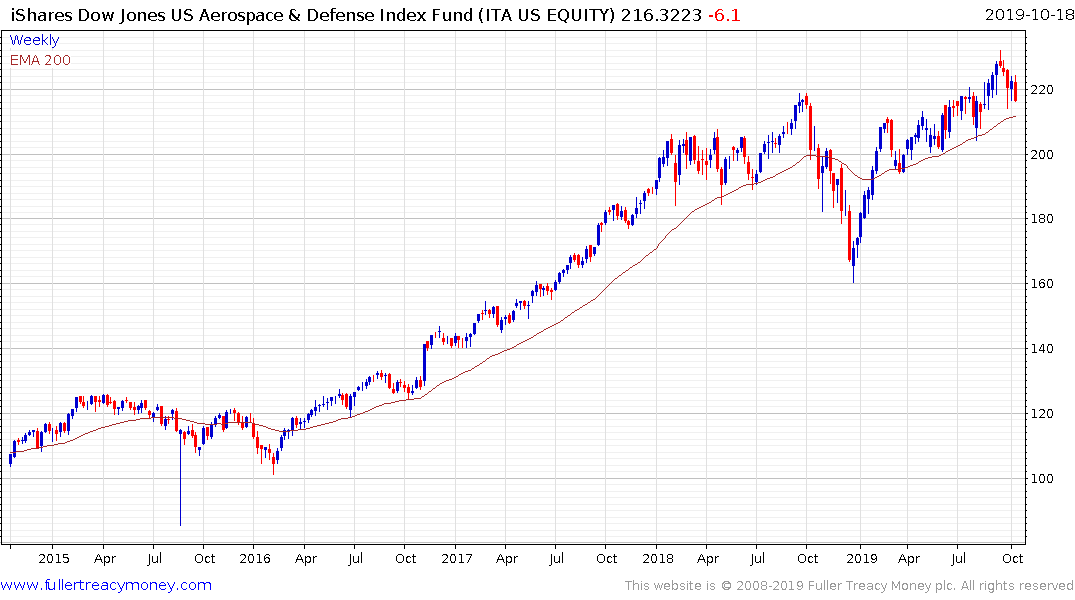 The iShares US Aerospace & Defense ETF is unwinding its overbought condition relative to the trend mean and will need to continue to hold the 200 level if medium-term scope for continued upside is to be given the benefit of the doubt.
Back to top