Chinese Navy Growth: Massive Expansion Of Important Shipyard
This article from Navalnews may be of interest. Here is a section:
The incredible growth of the Chinese Navy has seen several shipyards expanded already. Jiangnan shipyard, which is situated next to the new site, has itself been expanded massively in recent years. Added to this, new facilities to build large numbers of submarines has been set up near Wuhan. And the nuclear submarine facilities at Huludao have also been massively expanded. Now the new work at Jiangnan takes this further still.

The new facilities will dramatically increase capacity at the yard. It is expected to have a basin for fitting out ships and a large multi-berth dry dock.

A Fleet of 6 Aircraft Carriers

The U.S. Navy expects that the Chinese Navy may operate 6 aircraft carriers by 2040. Currently only two are operational, built at Dalian in Northern China. But the third, the improved and enlarged Type-003, is under construction at Jiangnan. It seems likely that one or more of the additional carriers will also be built at Jiangnan.

One hypothesis is that China will build nuclear powered aircraft carriers. These may be even larger still than the Type-003, which is anyway almost the same size as the U.S. Navy's Ford Class. The larger ship, and new technologies involved, may dictate a new construction site. This is one explanation for the new site.
There is an abundance of evidence to suggest we are going to be living in a more volatile geopolitical environment for the foreseeable future.

Defense budgets will be expanded in response and that suggests the defense sector is a potential hedge against inflationary pressures.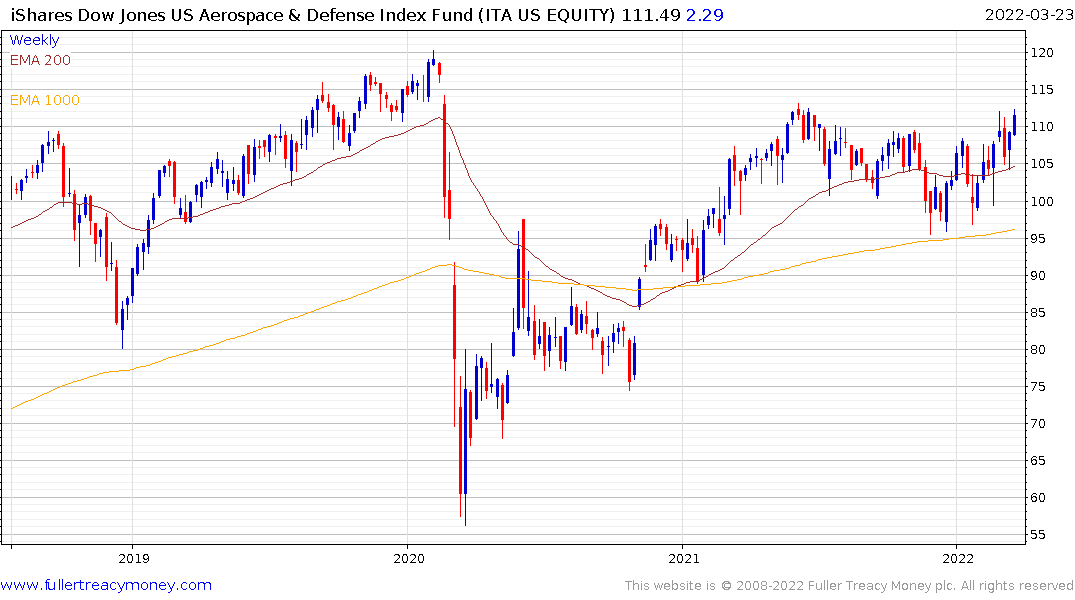 The iShares US Aerospace & Defense ETF continues to firm within a yearlong range below the early 2020 peak.
Back to top