Chinese Military Vehicles Just Entered Hong Kong. Beijing Says There's Nothing to Worry About.
This article from vice.com may be of interest to subscribers. Here is a section:
The official Xinhua News Agency reported that this was the 22nd rotation of the People's Liberation Army's garrison in Hong Kong. The previous one was in August 2018.

However, after each of the last two years' rotations, the PLA stated that the number of troops would remain the same. There was no such statement this year, sparking speculation that China may be planning to increase its military presence on Hong Kong.

Xinhua also reported that the new troops had undergone training "to master military skills and knowledge about the general situation in Hong Kong and relevant laws."

Experts said the unusually early report from the Xinhua News Agency, which was published at 4 a.m. local time, was designed to allay fears of Chinese military intervention and prevent any further instability in Hong Kong.
The timeliness of the Xinhua article served the dual purpose of avoiding panic but also sending a none too subtle message that China has resources that can be brought to bear on the civil unrest if it so wishes.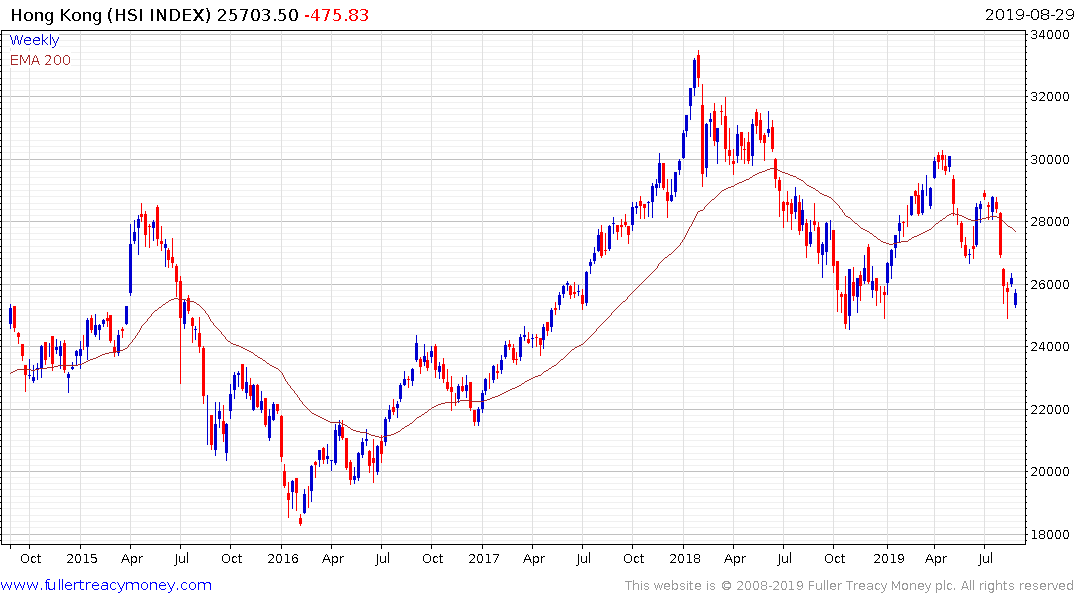 The risk of Chinese military intervention remains elevated in Hong Kong and represents a significant factor in the underperformance of the region's stock markets. Nevertheless, the Hang Seng is at least steadying in the region of the psychological 25000 level. A sustained move below that area would be required to signal a deeper and potentially lengthier corrective phase.
Back to top