Chinese group considers South Africa platinum bids amid strikes
This article by Franz Wild for Bloomberg may be of interest to subscribers. Here is a section:
China's Long March Capital Ltd., which partners with Citic Group Corp., is considering buying South African platinum assets after their value was depressed by strikes, the company's Managing Partner Clement Kwong said.

The company is now reviewing a decision to hold off on purchasing South African platinum assets because of the labor issues, Kwong said in a Feb. 19 interview in Johannesburg. Long March last year partnered with Citic unit Baiyin Non-Ferrous Metal Group Co. Ltd. and China-Africa Development Fund to complete their buy-out of Perth-based Gold One International Ltd. and indirectly acquired a stake in Westonaria, South Africa-based Sibanye Gold Ltd..

?"If the industry survives and makes a profit then that would be a good signal to look at investing," said Kwong, who founded Long March Capital with a partner in 2008. "This last round has repriced these assets down so I think it would be as cheap as it gets."
China has been highly successful in acquiring mining assets at bargain basement prices by following a buy low approach which should be the envy of boardrooms across the mining sector.

The recent expression of interest in platinum assets highlights the fact that China is now the world's largest car market and suggests it may also be interested in lead and other industrial metal assets.

The fact that prices have declined to levels where most of the bad news has already been priced in suggests the stage is set for mergers once investors are convinced commodity prices have stabilised. In the particular case of platinum miners an eventual resolution of the dispute with mining unions is an additional important concern.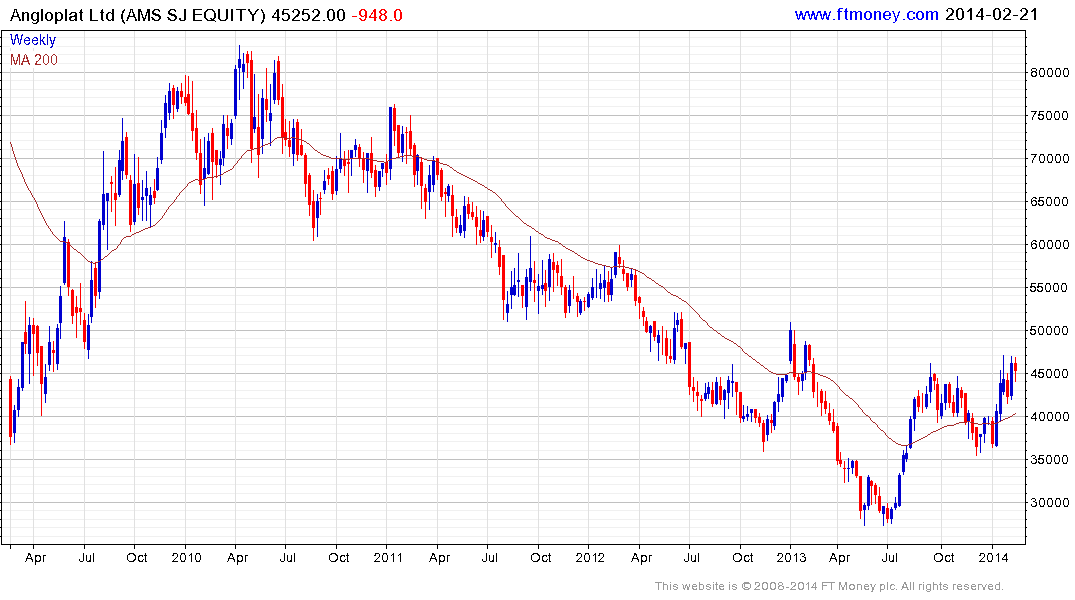 AngloPlatinum appears to be forming a first step above its base formation, while the recent steadying of the Rand in an area of previous support may also be helping improve the country's appeal for foreign investors.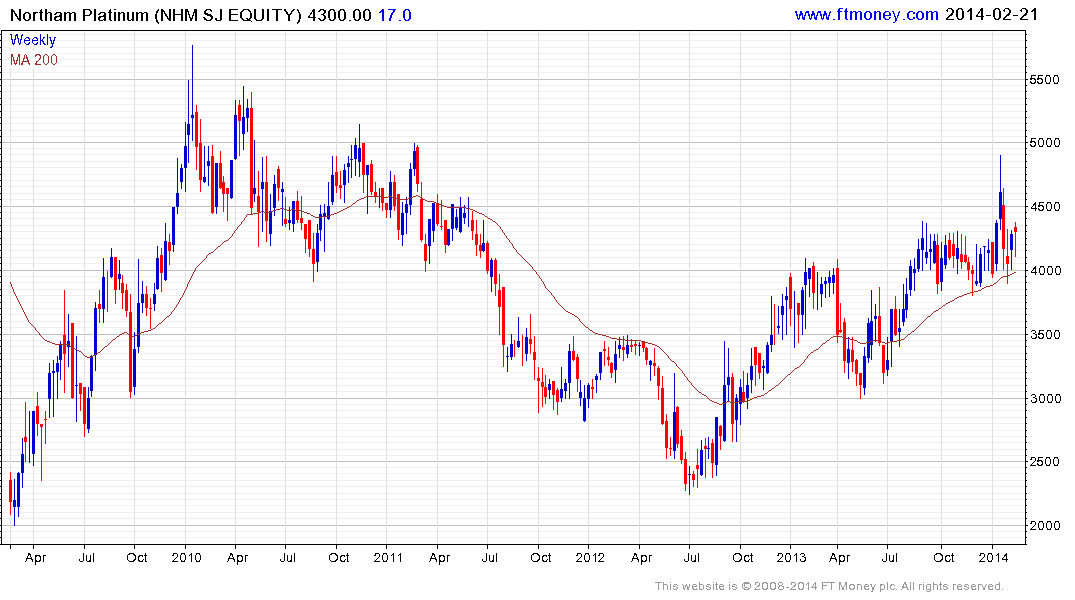 Northham Platium's miners agreed a 9.5% pay rise in late January and are now back at work. The share has been trending higher since 2012 and a sustained move below ZAR4,000 would be required to question medium-term scope for additional upside.

Back to top