Chinese Giant Alibaba Will Go Public, Listing in U.S.
This article by Vindu Goel, Michael J. De La Merced and Neil Gough for the New York Times may be of interest to subscribers. Here is a section:
In the filing, Alibaba said it intended to raise $1 billion in an initial public offering — a figure used to calculate its registration fee. But the company is expected ultimately to raise $15 billion to $20 billion, which would make it the biggest American I.P.O. since Facebook's $16 billion offering in May 2012.

When it makes its debut on the New York Stock Exchange or the Nasdaq market, Alibaba is also expected to have a share price that could value the company at roughly $200 billion — more than the market value of Facebook, Amazon.com or eBay, although still trailing that of Google or Apple.

The immense size of the offering means that Alibaba shares will probably find a home in a broad swath of mutual funds and pension funds — and thus indirectly in the portfolios of small investors around the world.

Wall Street has been eagerly awaiting the Alibaba I.P.O., seeing it as perhaps the best chance yet to buy into China's growth. Online shopping there is expected to grow at an annual rate of 27 percent, according to the iResearch Consulting Group, and Alibaba is the leader in that area.
While Alibaba is best known as a facilitator for wholesalers, factories and as an online retail mall, the company's foray into deposit taking is less remarked upon.

Alibaba is currently enjoying a legal loophole which allows its Alipay arm to take deposits and pay a highly competitive yield in excess of 6%. Due to regulations on deposit rates traditional banks have so far been unable to compete. Liberalising the deposit rate is a key policy objective announced at the recent Party Congress but it may be two years before it is enacted.

Alibaba is a big company with real earnings and profits. It will need to dispel its reputation for helping in the trade of counterfeit goods, clamp down on programmers taking bribes to improve product placement and improve standards of corporate governance if it is to truly challenge companies such as Apple of Google in terms of size and influence.

Considering the size of the IPO and assuming this takes place on Nasdaq, Alibaba would be the third or fourth largest share on the index. Such a large centre of gravity will have a meaningful effect on the performance of the wider market.

Ebay is perhaps the closest company in terms of its business model. The share has experienced a loss of momentum following its impressive advance, failed to sustain the breakout to new all-time highs in February and has now returned to test the lower side of its range. It will need to hold in the $50 if medium-term top formation completion is to be avoided.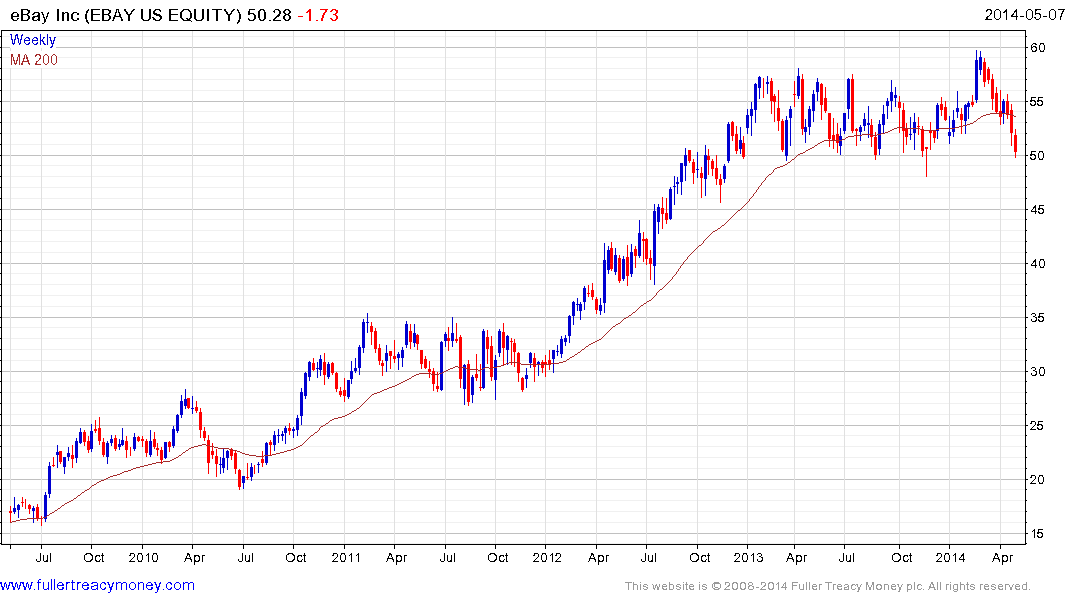 Back to top