Chinese automakers covet FCA
This article by Larry Vellquette for Automotive News may be of interest to subscribers. Here is a section:
Why, after two years on the block, is FCA apparently drawing interest from at least one potential Chinese buyer now?
The answer: FCA's global network and product — specifically Jeep and Ram — fit the requirements the Chinese government has set for attractive acquisitions.

Quality gap
Chinese automakers have openly dreamed of cracking lucrative North America for a decade, spending millions to display their vehicles at high-profile U.S. auto shows. Early efforts showed that Chinese automakers had a long way to go before they were ready to compete here.

But in more recent years — through knowledge and expertise gained via joint ventures with the world's largest and most successful automakers — Chinese companies have closed the quality gap.

And the automakers feel like they finally have closed that gap enough to start selling their products in the U.S., said Michael Dunne, president of Dunne Automotive, a Hong Kong investment advisory company and an expert on the Chinese auto industry.

They also are under pressure from the government to expand beyond China, Dunne said. A government directive dubbed China Outbound pushes Chinese businesses to acquire international assets from their industries and operate them "to make their mark," much as Geely has done since acquiring Volvo in 2010. Bloomberg reported last week that Chinese companies plan to spend $1.5 trillion acquiring overseas companies over the next decade — a 70 percent increase from current levels.
Germanys auto sector has been garnering all the wrong sorts of attention lately with increasingly evidence that the major manufacturers may have colluded in hoodwinking the globe into believing diesel engines are clean. On the other hand, China's auto manufacturers have been among the best performers this year as they have increasingly focused on partnerships with international brands.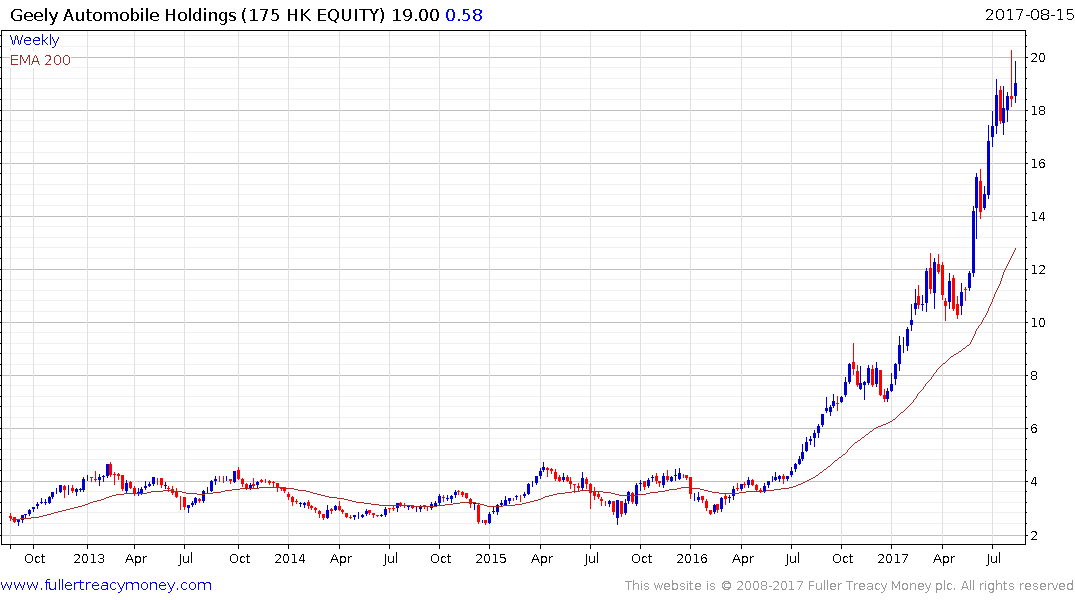 Geely Motors completed its purchase of Volvo in 2010 and the share broke up of a seven-year base last year. During what has been an explosive uptrend, reactions have been limited to pullbacks of approximately HK$2 and until last week breakouts have been sustained. However, there is at least short-term evidence that resistance has been encountered at HK$20 and a sustained move below HK$18 would likely signal the onset of deeper reaction. Interestingly it has partnered with Lynk & Co which is a fledgling pay as you use company to drive its domestic business model.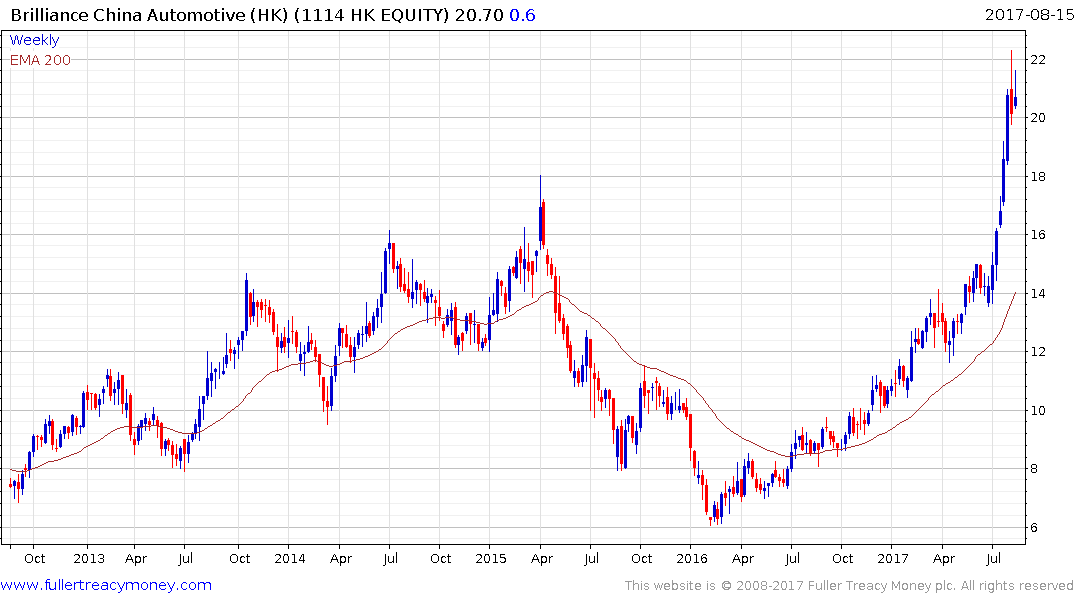 Brilliance has partnered with Renault and BMW and the share has a similar pattern of outperformance this year. It accelerated to its recent peak near HK$22 and a reversion to the mean is looking increasingly likely.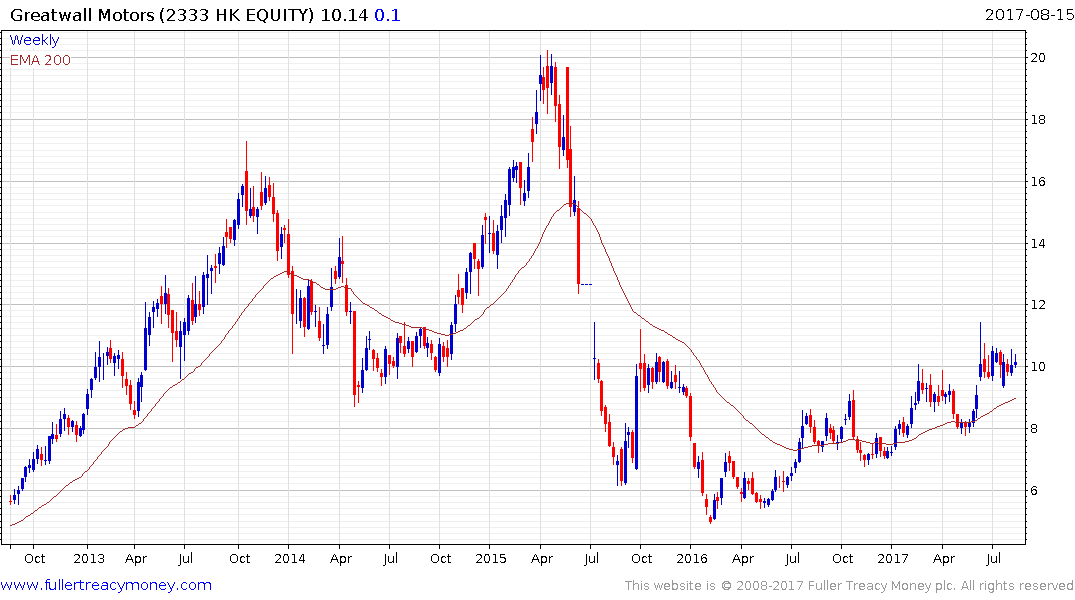 GreatWall Motors, an Autonomy, has been something of a wallflower compared to the above companies but has held a progression of higher reaction lows since early 2016 and bounced from the region of the trend mean four weeks ago. A sustained move below HK$8 would be required to question medium-term upside potential. Among the publicly traded automakers I wonder if GreatWall might not be looking for an international strategy?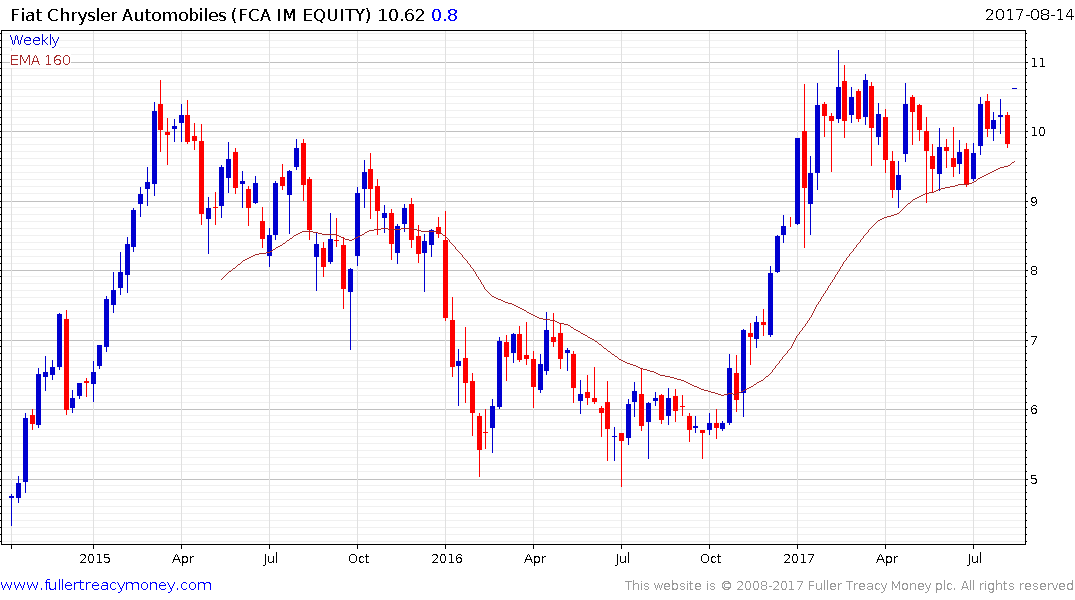 Fiat Chrysler continues to firm from the region of the trend mean and a sustained move below it would be required to question medium-term scope for additional upside.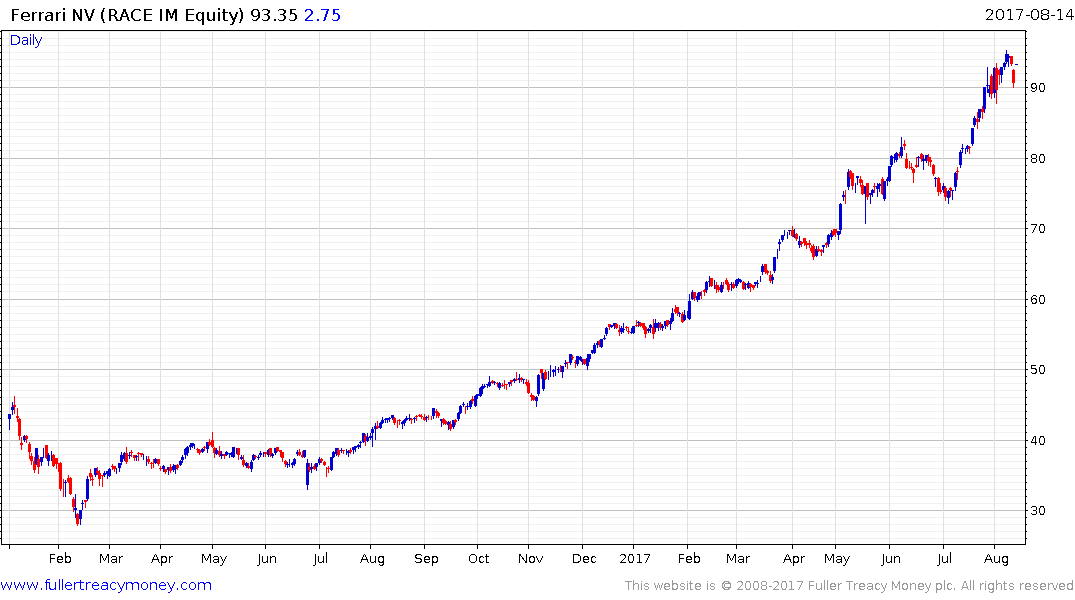 In the event the company is successfully sold, the above article suggests Maserati and Alfa Romeo would be spun off into a separate brand. Considering how well the Ferrari IPO went that is likely to a strategy that will prove attractive to investors.
Back to top