China will scrap limit on presidential terms, meaning Xi Jinping can stay on
Thanks to a subscriber this article from the South China Morning Post which may be of interest. Here is a section:
The party has in recent decades largely observed an unwritten retirement age of 68 for its top leaders, but its charter does not have any limit on terms. That means there are no restrictions on the general secretary position, but the Chinese constitution does limit presidents to a maximum of two five-year terms.

Analysts said ending the two-term limit gives the strongest indication yet that Xi will stay in power longer than his recent predecessors at a time when the leadership was "fixated on stability".

There was intense speculation in the lead-up to the party's five-yearly congress in October over whether Xi would continue to lead the party beyond two terms, with some questioning whether his ambitious plans to "rejuvenate" China could be achieved within 10 years.
Governance is Everything. Does the removal of term limits represent a retrograde step? If we look at the anything beyond the short term then the answer had to be in the affirmative. Absolute power corrupts and the removal of term limits means any semblance of checks and balances will be removed. Xi has been clear that no one is above the law but China does not have an independent judiciary so that statement means nothing.
What appears clear is that China's increasingly assertive position in geopolitics is only the beginning of the country taking back what it sees as its rightful place in global power weightings.


The Hang Seng continues to rebound from its early February lows inline with the global market and a sustained move below the trend mean would be required to question medium-term scope for continued upside.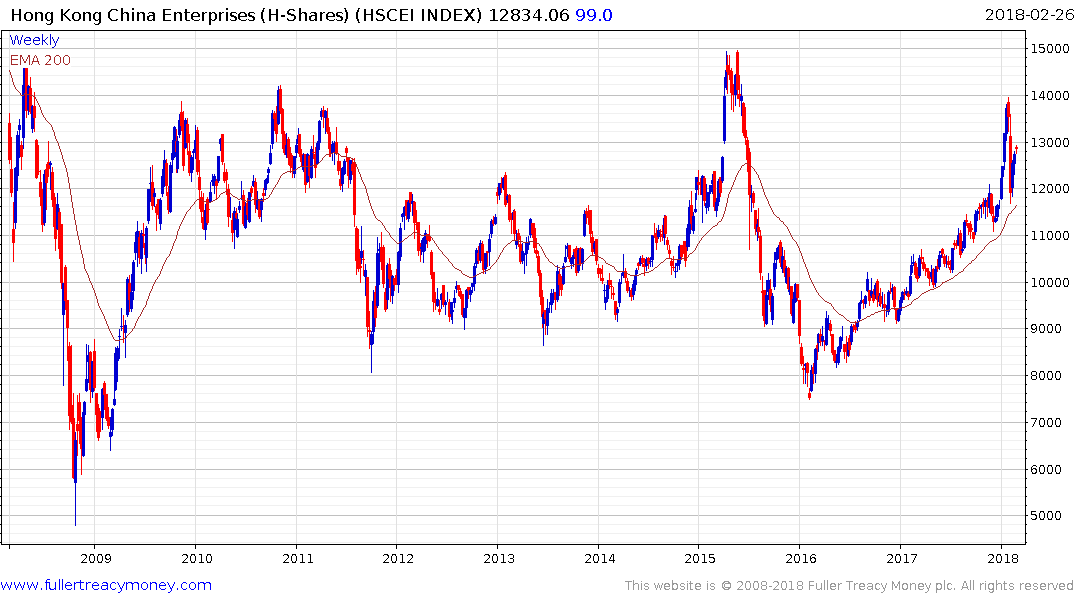 The China Enterprises Index (H-Shares) of Hong Kong listed mainland companies pulled back from the upper side of an evolving 9-year range. It has since bounced from the region of the trend mean and a sustained move below it would be required to question medium-term scope for continued upside.
The reaction of investors to this news has been to reward stability. However, we cannot ignore the fact that the transition from single party to single person rule is likely to contribute to risk.
Back to top