China unveils agenda for comprehensive capital market reform
Thanks to a subscriber for this note from Deutsche Bank which may be of interest. Here is a section:
To develop a multi-layer capital market with proper structure, complete function and effective regulation by 2020, the Guideline highlighted the development of direct financing, which includes three major areas of bond market, equity market and private equity.

On bond market, the Guideline aimed to a) develop a scheme of local government bond issuance; 2) enrich bond products suitable for various investors; 3) develop bond types for SMEs; 4) connect different bond exchanges and 5) improve issuance procedure, rating mechanism as well as 6) promote asset securitization. To develop a multi-layered equity market and cultivate a healthy private equity market are other two major areas in promoting the direct-financing.

In A share stock market, the approval-based stock issuance system will be replaced by a registration-based one, and such move will be accompanied by the new IPOs governing rules published by the Securities Association of China the same day of the Guideline. Regulators will crackdown insider trading, enhance information disclosure, improve delisting regime, and support pension funds investments into capital markets by preferential tax policies.

The State Council also said it will foster the market for private equity funds and venture capital funds. Going forward, the placement of private equity won't be subjected to administrative approval and funds of private equity and venture capital will be encouraged to support SMEs and newly emerging industries.
Developing the capital markets is a major policy goal for the Chinese administration as it seeks to allow the market a greater role in setting prices for financial products. The loophole through which Alipay can offer deposit rates multiples those of the major banks represents an example of how much the regulatory environment still has to evolve.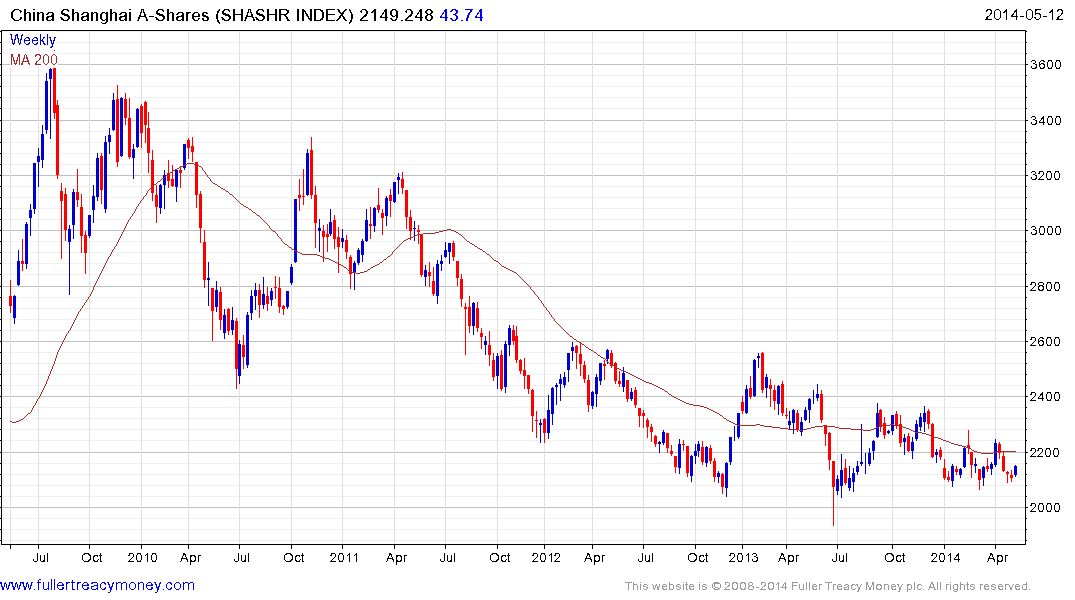 The Shanghai A-shares Index (P/E 9.97, DY 3%) has been ranging above 2000 for nearly two-years and has some of the most attractive valuations in the world for any major market. However it requires a catalyst for investors to begin to believe that value will be realised any time soon. Enhancing governance and cutting the red tape required of foreign investors could both be positive outcomes. Meanwhile the Index rallied from the lower side of a developing range again today and a clear downward dynamic would be required to check current scope for additional higher to lateral ranging.
Back to top