China, Unhampered by Rules, Races Ahead in Gene-Editing Trials
This article by Preetika Rana, Amy Dockser Marcus and Wenxin Fan for the Wall Street Journal may be of interest to subscribers. Here is a section:
In a quirk of the globalized technology arena, Dr. Wu can forge ahead with the tool because he faces few regulatory hurdles to testing it on humans. His hospital's review board took just an afternoon to sign off on his trial. He didn't need national regulators' approval and has few reporting requirements.

Dr. Wu's team at Hangzhou Cancer Hospital has been drawing blood from esophageal-cancer patients, shipping it by high-speed rail to a lab that modifies disease-fighting cells using Crispr-Cas9 by deleting a gene that interferes with the immune system's ability to fight cancer. His team then infuses the cells back into the patients, hoping the reprogrammed DNA will destroy the disease.

In contrast, what's expected to be the first human Crispr trial outside China has yet to begin. The University of Pennsylvania has spent nearly two years addressing federal and other requirements, including numerous safety checks designed to minimize risks to patients. While Penn hasn't received final federal clearance to proceed, "we hope to get clearance soon," a Penn spokeswoman said.
Here is a link to the full article.

Let's for a moment consider that different countries have different ethical priorities. After all, we come from highly varied cultural and religious backgrounds. However, the cold reality is China is the wild west of biomedical experimentation. That virtually ensures there will be a human cost. These might be brushed off, by claiming the patient would have died anyway, but there is no doubt the standard of care and Hippocratic oath do not mean the same in China as it does elsewhere.
CRISPR-Cas9 is a breakthrough tool which reduces the cost and improves the timing of genetic editing. It is already in use in just about every biotechnology lab in the world because it is so easy and cost effective. The battle on which company/research institute owns the intellectual property is still raging but an initial appeal decision is due towards the end of this month while a final decision will likely be issued in June or July.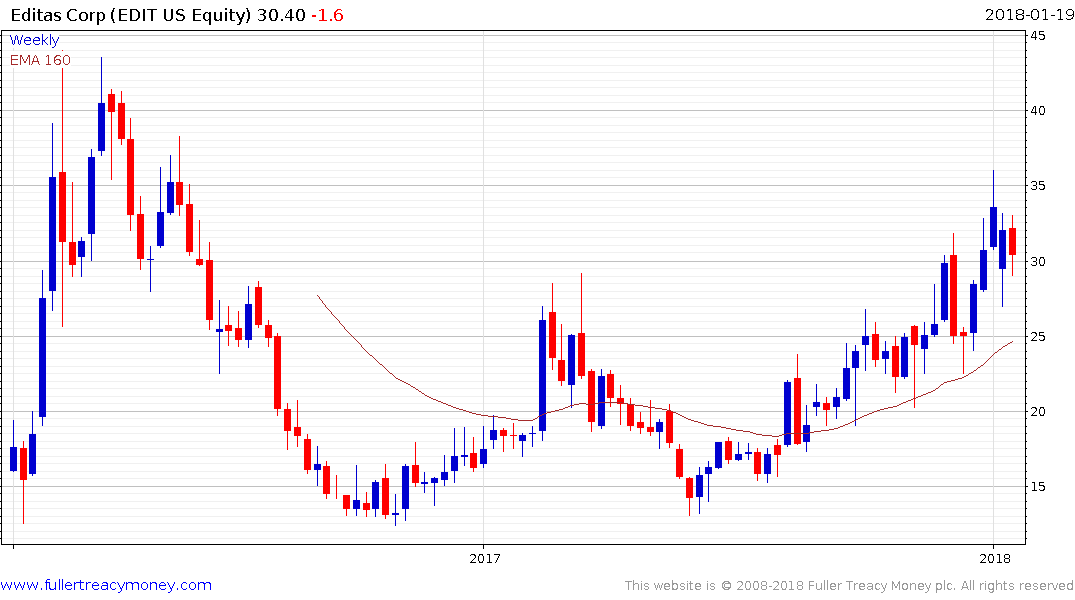 Editas has been trending higher in a jerky manner since June but continues to hold a progression of higher reaction lows as enthusiasm it may be the eventual beneficiary of a positive IP decision mounts.
The broader point of course is that CRISPR is such an innovative tool that it will accelerate the discovery of novel genetic treatments. This is most particularly true for the immuno-oncology sector where customized solutions represent a growth industry.
Celgene's $9 billion acquisition of Juno is the latest example of a large biotech company seeking to secure a foothold in this emerging sector. Gilead's acquisition of Kite Pharma last year was another high-profile acquisition.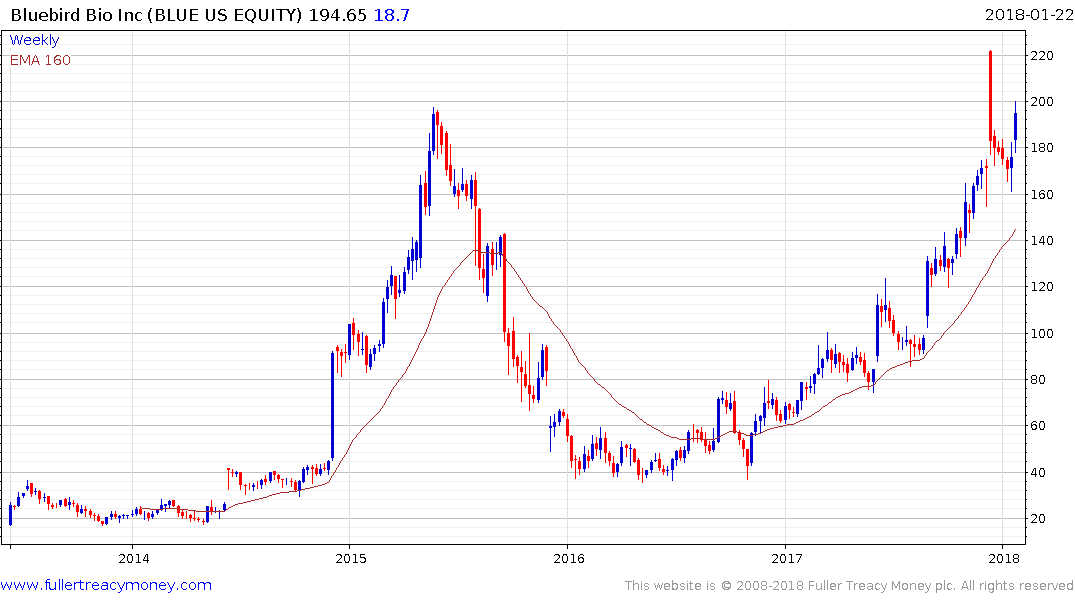 Bluebird is one of the better-known companies that has not yet had a takeover offer. It continues to hold a progression of higher reaction lows as it tests the 2015 peak.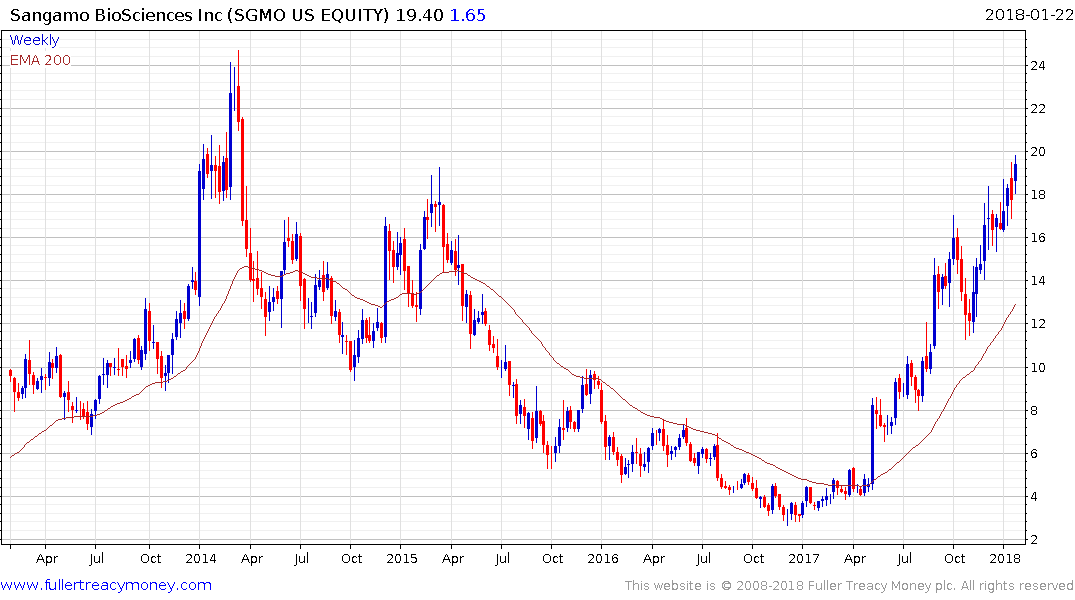 Sangamo Therapeutics is also testing a previous are of resistance near $20.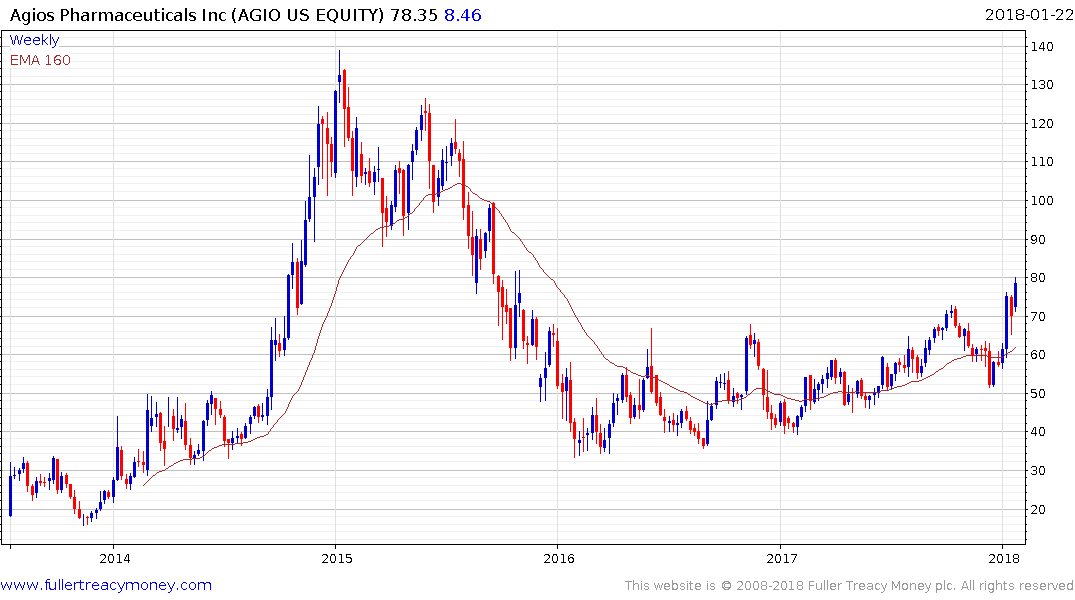 Agios Pharmaceuticals has been ranging with a mild upward bias since early 2016 but broke out to new recovery highs three weeks ago, in a dynamic fashion, and continues to extend the breakout.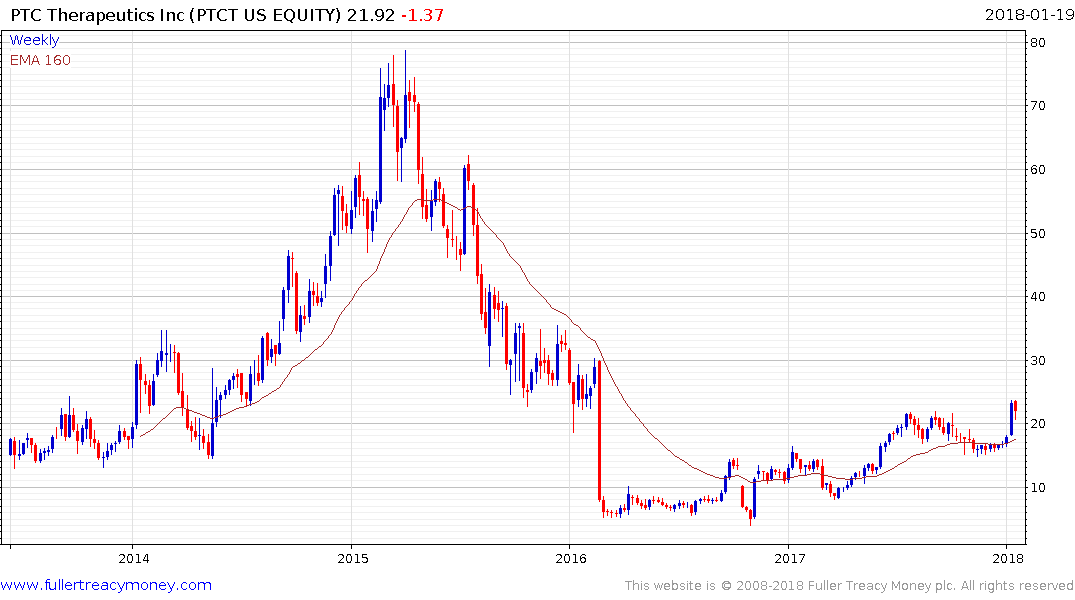 PTC Therapeutics has also held an upward bias and broke out three weeks ago. It is now consolidating in the region of the previous peaks.


Adverum Biotechnologies is a small cap ($225 million market cap) but also has base formation completion characteristics.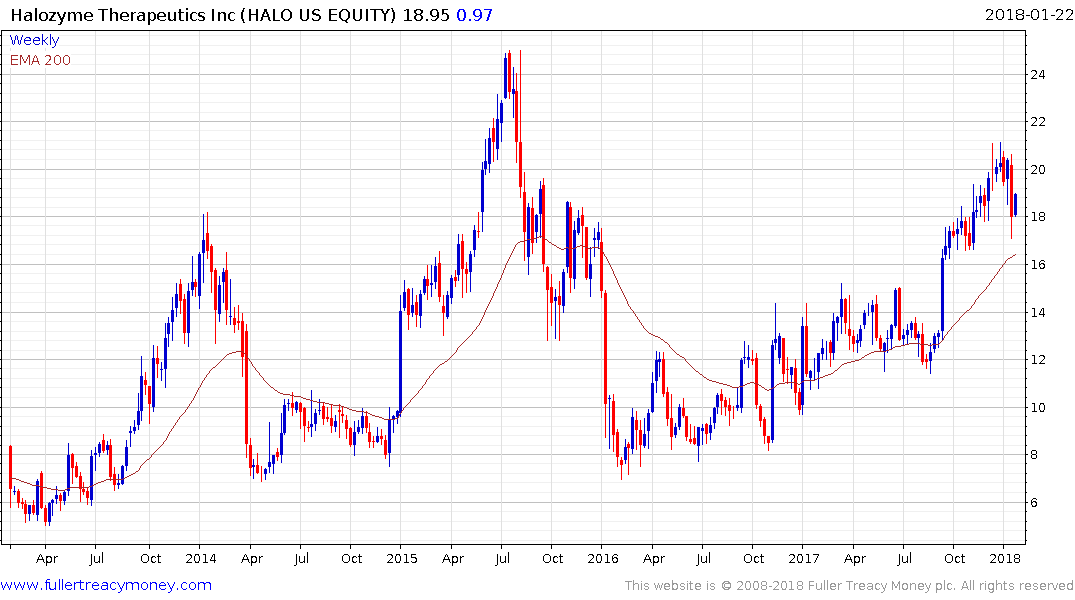 Halozyme Therapeutics pulled back sharply last week but bounced today from the region of the trend mean, where it will need to continue to demonstrate support.
Back to top