China trip report July 2018
This was another highly enjoyable and educative trip to China for the Treacy family. One of the reasons we love visiting Guangzhou is because it is close to the factories Mrs. Treacy deals with but is also the gastronomic capital of China. The city is replete with wonderful dining options and the quality of food on offer is of a high standard. I'll write a separate review of restaurants on another occasion.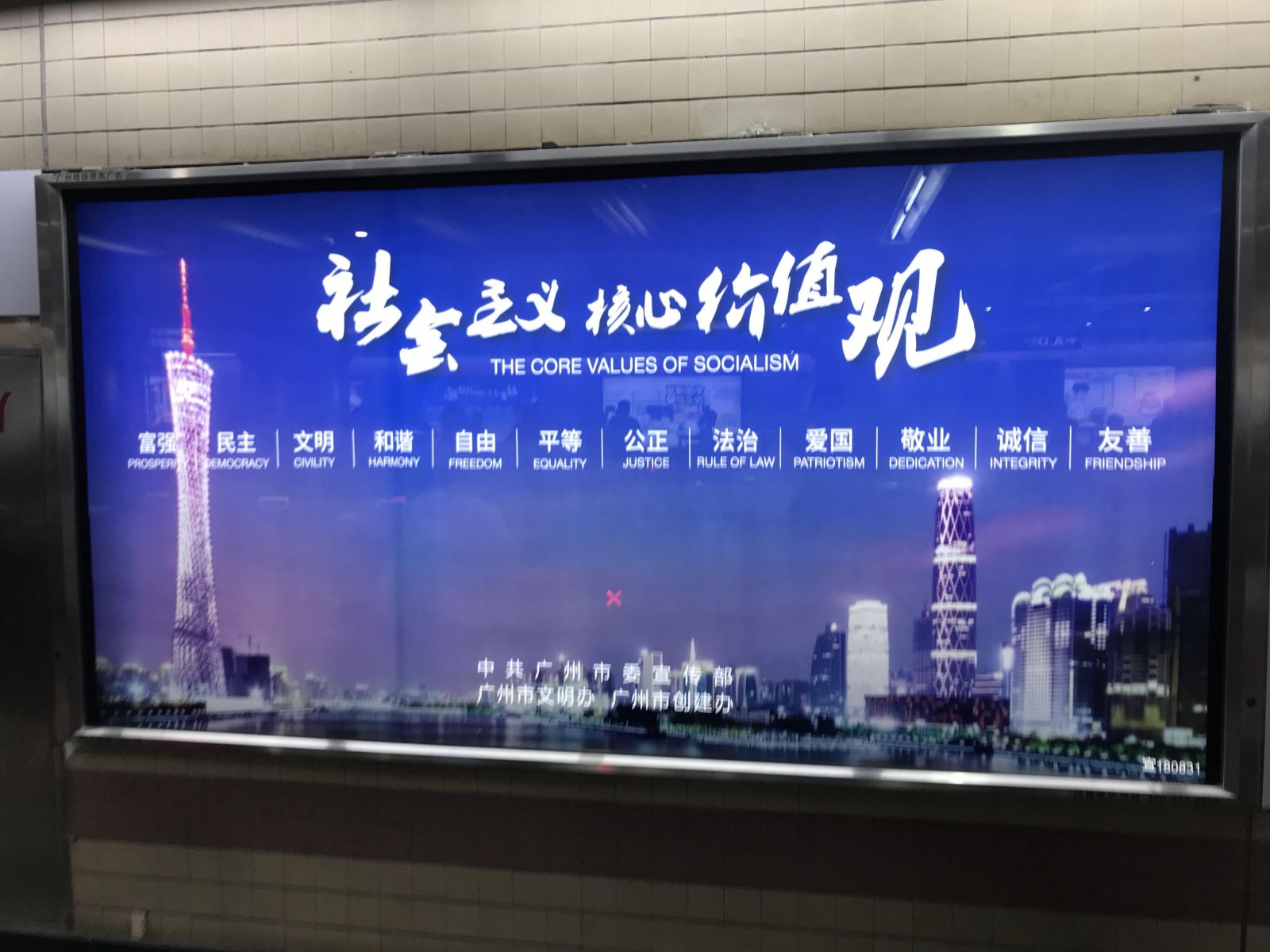 This poster is in just about every public space from railway stations to the tube, to the barriers around building sites in Guangzhou. The first question I asked myself is why it needs to be in English as well as Chinese. Internet searches using English language terms do not return results even if one is using Baidu or other Chinese search engines and the vast majority of the domestic population does not read English. Therefore, the message is meant for a wider audience or the use of English is intended as a form of legitimisation of the ideals expressed.
The core values of socialism; prosperity, socialism, civility, harmony, freedom, equality, justice, rule of law, patriotism, dedication, integrity and friendship are desirable in any nation and are worthy ideals to be pursued everywhere. However as with so much in China the reality goes a lot deeper than the façade.
The Communist Party has concentrated on delivering prosperity and has been highly successful in lifting millions of people out of abject poverty and into the middle classes. The China Dream meme espoused by Xi Jinping immediately after attaining the premiership tied the idea of continued prosperity gains to the legitimacy of the administration's hold on power.
The biggest point of course is that the lack of freedom of expression, free access to opinion, rule of law over everyone and equality of opportunity and equal access to services have been accepted because higher standards of living have been delivered upon. If that ever changes then demands for higher standards of governance are likely, at least in my opinion.
Inequality is a mounting concern just about everywhere and China is not immune. The continued prosperity of luxury brands is contingent on the health of the wealthy class but for hundreds of millions of people the quality of life enjoyed by the monied elite is a distant dream. We spent a few days in Hong Kong on this trip and the queues at Hermes and Gucci were not as long as I remember on my last visit. Wages are rising but they are not keeping pace with property prices.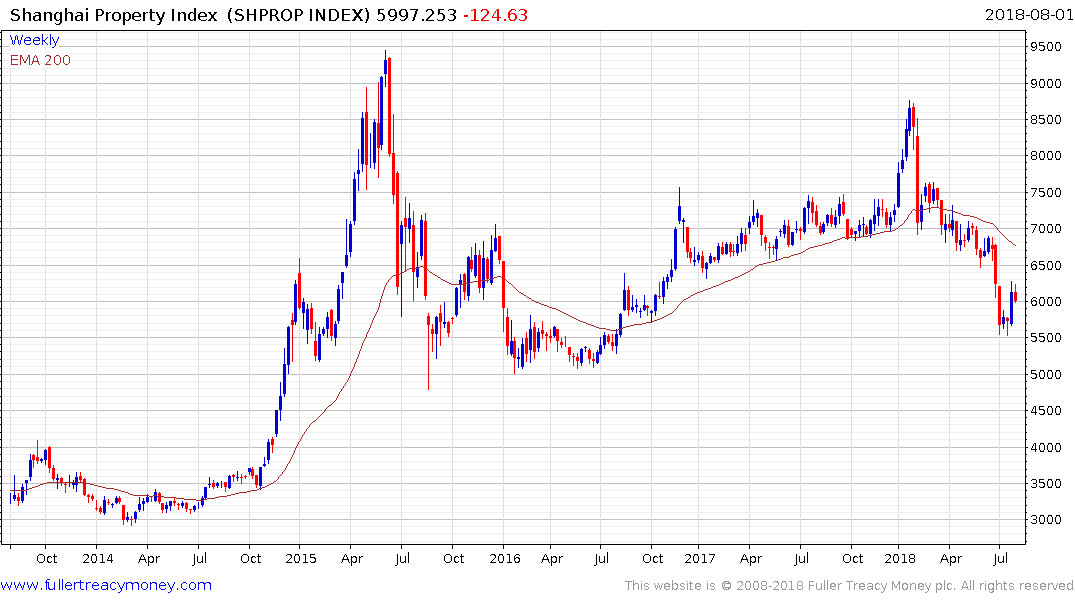 Last week's announcement that the policy of fiscal consolidation and tightening on the shadow banking sector is over acted as a catalyst for a bounce from oversold conditions for the majority of Chinese markets. The Shanghai Property Index has one of the most impressive bounces but has not received any additional upside follow through this week.
I've made the point in a number of videos over the last couple of months that government support for the stock market would be required to stem selling pressure and this announcement has the potential to begin to turn the tide of supply dominance evident since the January peak.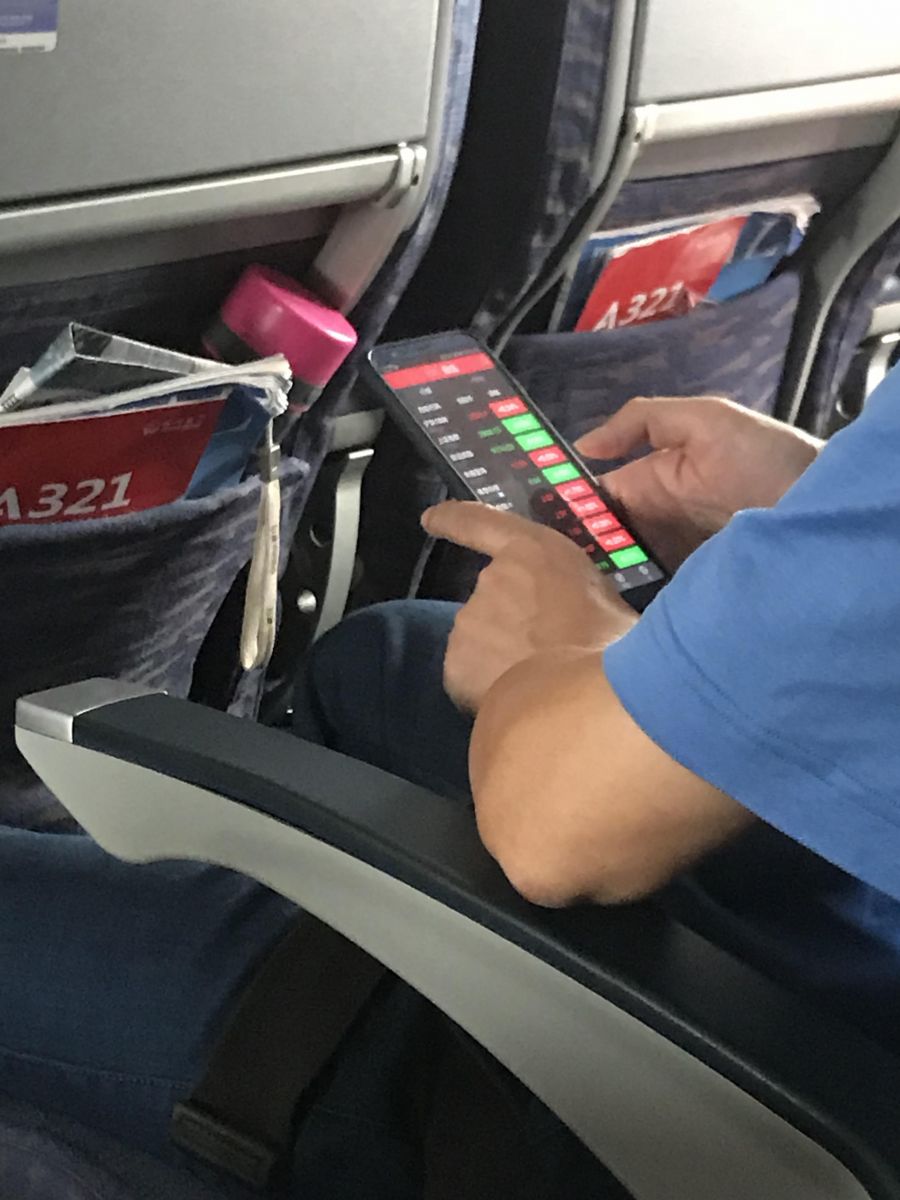 Back when I first visited China in 2005 boiler room trading halls were common. They have largely disappeared but that has not changed the fact that the Chinese stock market is a still heavily influenced by retail traders. I noticed on one of the flights I took that the first app many middle-aged people looked at on their phones when they turned off airplane mode was to check their portfolios.
It's also an idiosyncrasy of the Chinese market that red denotes a positive performance and green negative. In China, the colour red is never allowed to carry a negative connotation.
The big question I think people will be asking is how much progress is likely to be made on the other ideals listed above. I've written before for example that the evolution of the review system has created customer service out of nowhere. I can't tell you how many positive individual experiences of kindness we have experienced on our travels to China over the years but there is no denying that queuing, turn taking, quid pro quo, personal space and patience are alien concepts for many people. Civility, harmony and integrity are difficult to foster when competition for just about everything is so intense.
Consumerism – The Chinese consumer is a major global force and that is a fact only growing in importance. Their demand is helping to shape the kinds of products being produced and how they are marketed everywhere. News before I left on holiday that American Airlines is changing how it lists Hong Kong, Macau and Taiwan in its menus is one example. The constant stream of superhero movies coming out of Hollywood with little dialogue and lots of action, making them easier to translate is another.
How China's automobile market evolves is going to have a considerable knock-on effect for the argument over whether electric cars will eventually prevail. Luxury goods sales are heavily dependent on the continued healthy balance sheets of China's wealthy classes. Access to a massive manufacturing base and abundant reasonably priced labour also means that Chinese consumers have access to an increasingly wide array of products both online and in stores.
The "Amazon-effect" is having a deleterious effect on the fortunes of conventional retailers in the USA not least because the USA has more retail space per head of capita than any other country by a wide margin. That divergence is likely to close as the online market continues to expand. The big difference in Asia is that despite even faster growth rates for online sales, the malls are busy. Part of the reason for that is because housing units are small and air conditioning is expensive. It is more expedient to spend more time outside than at home in places like Japan, Singapore, Hong Kong and China. That helps to drive foot traffic even if the final purchase is made online or stores have to price match with online vendors.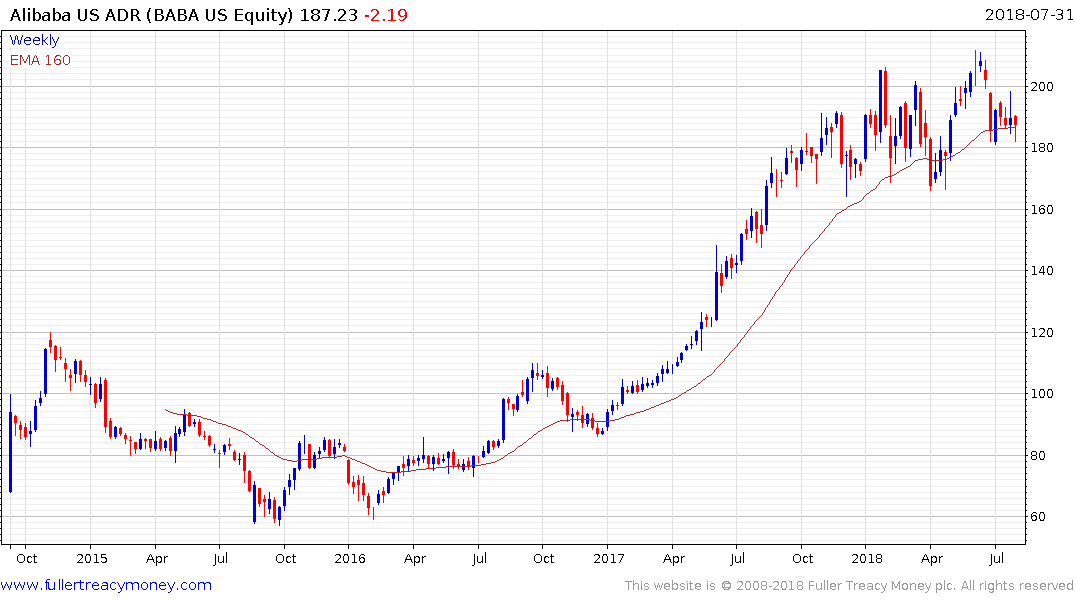 Alipay is ubiquitous, making your phone your wallet. It rivals Visa and Mastercard for convenience while having all of the online advantages of PayPal. The fact that it also offers interest bearing accounts and bank-like services makes the parent Ant Financial a potent financial services company and the jewel in Jack Ma's crown. The impending IPO of the company will be worth watching for the valuation the market attaches to the company.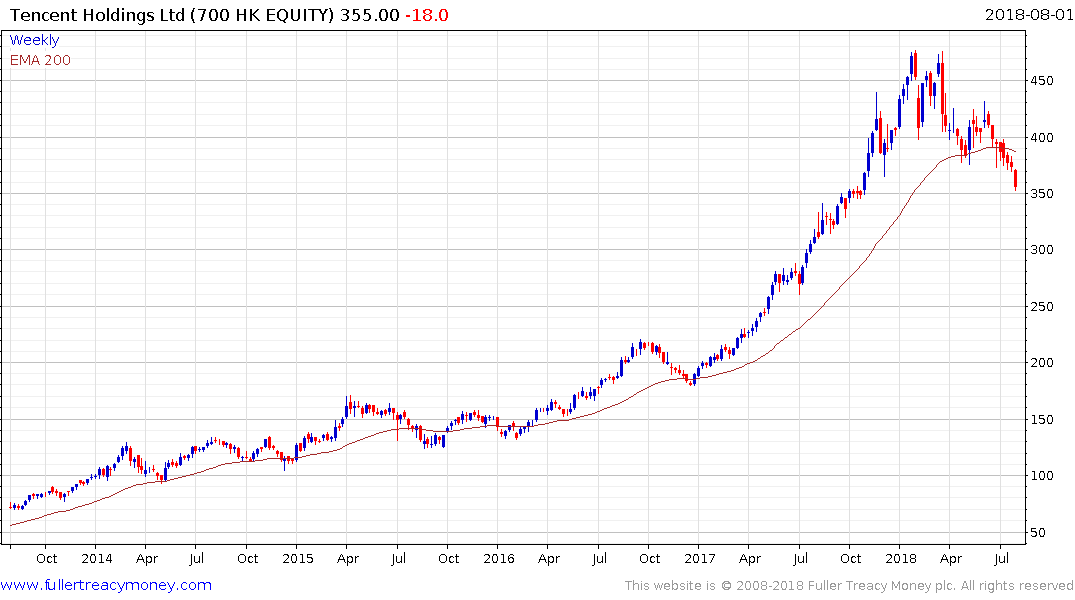 It seems to me that in the battle for online payments market share Alibaba has beaten Tencent to the prize of leadership.
I'd like to return for a moment to the review system. The hair salon my family visited had a photo studio attached so that the stylist could take photographs of their work and have the customer post them to their WeChat. Alipay regularly gave discounts of as much as 10% at retail stores and restaurants for using their service and additional coupons for discounts on future visits.
Fat and exercise - It occurred to me on this trip that Chinese people are getting fatter. The rising numbers of people with diabetes suggest that is not just an idle observation. The number of gyms has proliferated in the last 12 months and there are considerably more fitness apps, ads and how-to videos circulating. That Chinese market has been important for Nike, Adidas and Under Armour for years but that is likely to accelerate as government mandated fitness programs expand.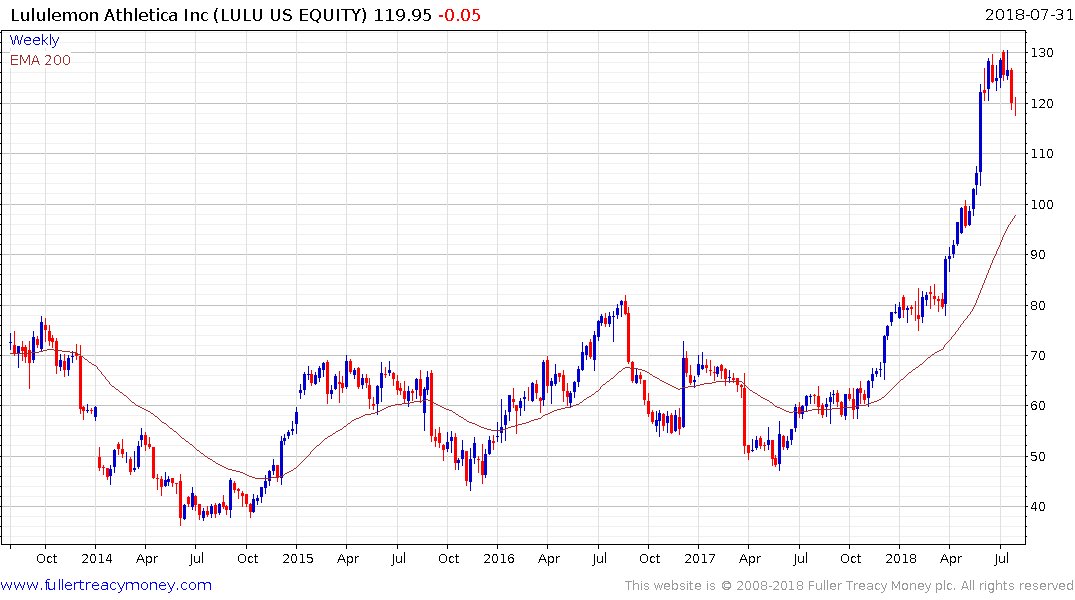 I saw a Lululemon store in China for the first time on this trip and its focus on yoga pants is potentially a good fit but the chart suggests a lot of that story may already be priced in.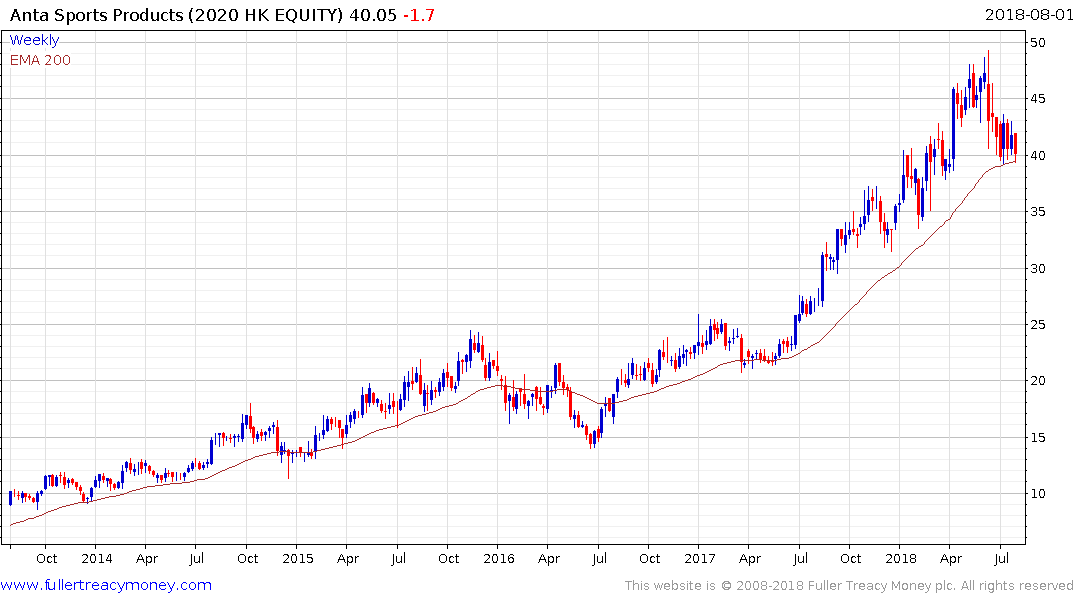 Anta Sport is back in the region of its trend mean following what has so far mean a reversionary pullback to the mean.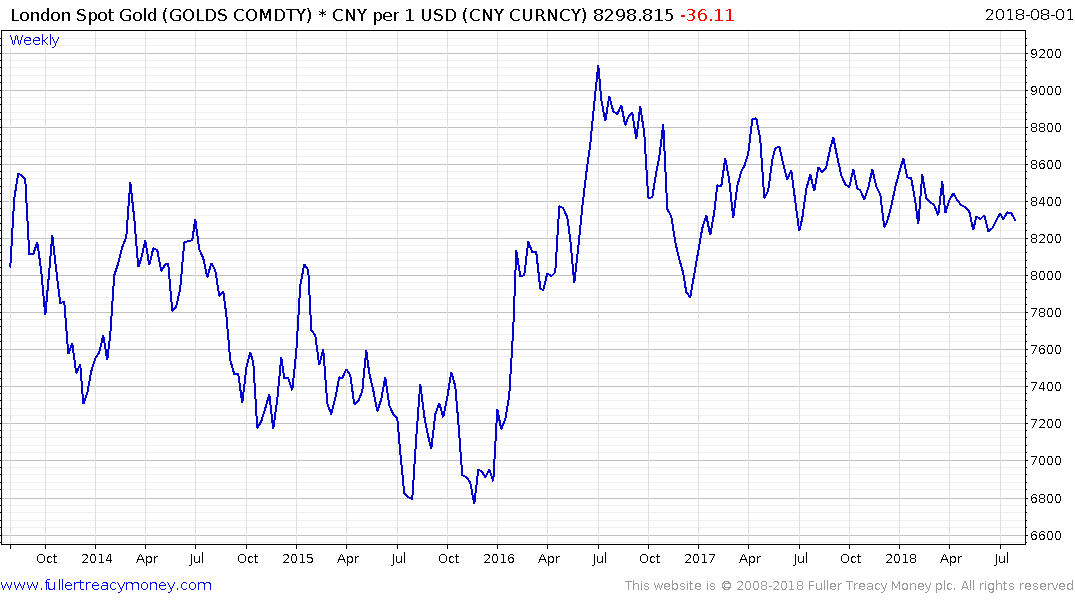 Gold in Renminbi has been rangebound as the decline in the currency has offset the decline in the metal price. Nevertheless, on visiting stores like Chow Tai Fook, I got a sense of desperation from the sales people I've not noticed before.
Back to top