China Tech Crackdown, a short-term pain for the new growth phase?
Thanks to a subscriber for this note from UOB which may be of interest. Here is a section:
As there is still no indication of the regulatory crackdown, investing in the tech sector at this current juncture could result in a high risk of catching falling knives. On the flipside, the attractive valuation and rapid growth of these China Tech companies may strike as a good bargain to long-term investors. The sell-off of some tech stocks were not a result of any fundamental changes, but rather investor sentiment, which could change again in a flash. First, we must understand the short and long-term impact of the crackdown. Here are 3 fundamental factors you may want to consider if you decide to buy the dip:

1. Will policy changes cause structural change to business's model?
2. Companies' valuation
3. Companies' growth
The big question for investors is whether the pullback in Chinese tech companies is just another short-term purge prior to re-establishing the prior growth trajectory or whether it represents deeper issues.
There is no doubt that a 50% decline in the price of any major asset should attract the interest of inquisitive minds. Alibaba is now trading on an undemanding valuation so there is an argument from a long-term investor could begin to accumulate around these levels if they believe the measures to neuter the power of the tech sector are transitory.
From a technical perspective, there is no evidence the decline is over. The price has declined meaningfully for the last couple of weeks and broke the very short-term upward bias. It is now back testing the lows from late August. This is still a consistent medium-term downtrend and a break in the sequence of lower rally highs will be required to begin to question that conclusion.
The Chinese market is closed Monday and Tuesday of next week and for a full week at the beginning of October. Those quiet periods could easily be used as opportunities to push out more bad news in the property market which would lead to additional selling pressure the wider equity universe and potentially deliver a more attract entry point for investors inclined to participate.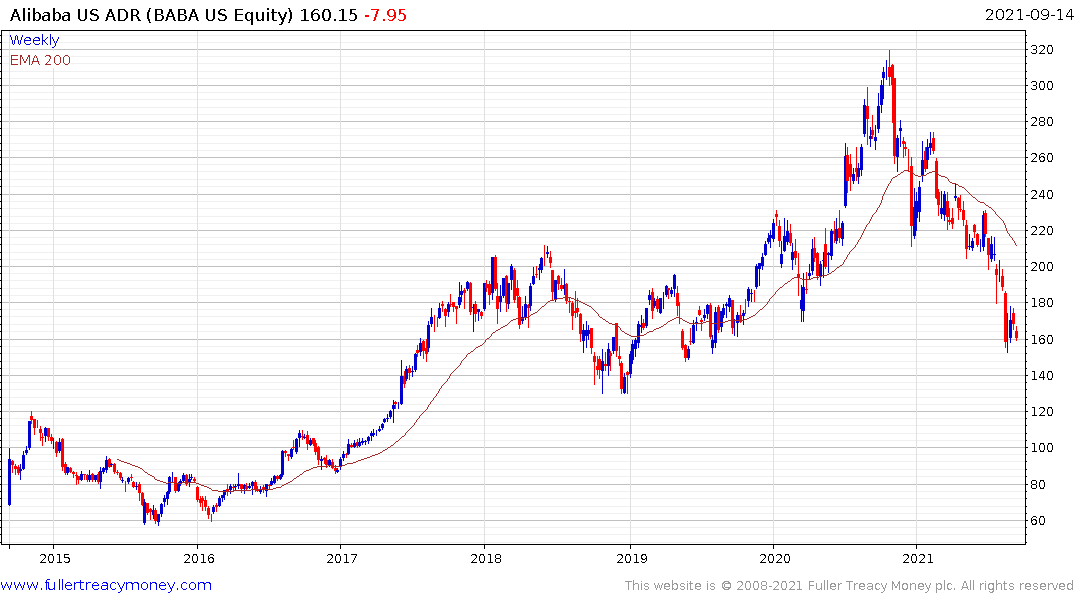 The major social media/ecommerce/payments companies have been decapitated with many founders stepping back from control of day-to-day operations. The message is clear for ambitious individuals. There are limits to growth and you had better have close connections to the centre of power and be in line with the current trajectory of official thought. Nevertheless, the tech companies are cheap right now so there is scope for a bounce when the dust settles.
Back to top