China Steps In to Support Yuan By Boosting Cost to Short
This article by Tian Chen for Bloomberg may be of interest to subscribers. Here is a section:
China stepped in to try to cushion the yuan after a record string of weekly losses saw the currency closing in on the key milestone of 7 per dollar.

The People's Bank of China will impose a reserve requirement of 20 percent on some trading of foreign-exchange forward contracts, according to a statement on Friday evening.

That will effectively make it more expensive to short the yuan, and is a tactic that the central bank used to stabilize the currency in the aftermath of its shock devaluation in 2015.

The change is aimed at preventing macro financial risks as the currency market shows signs of volatility amid recent trade frictions, the PBOC said. The yuan surged in offshore trading and U.S. stock-index futures turned higher after the news, though the moves pared after China detailed how it plans to retaliate against U.S. tariff proposals.
It's pretty clear that China wants a weaker currency, just not all at once. Today's action to pressure shorts should help to stem the decline but it does nothing to stop people simply converting currency. That point is unlikely to be a lost on those who continue to harbour bearish attitudes.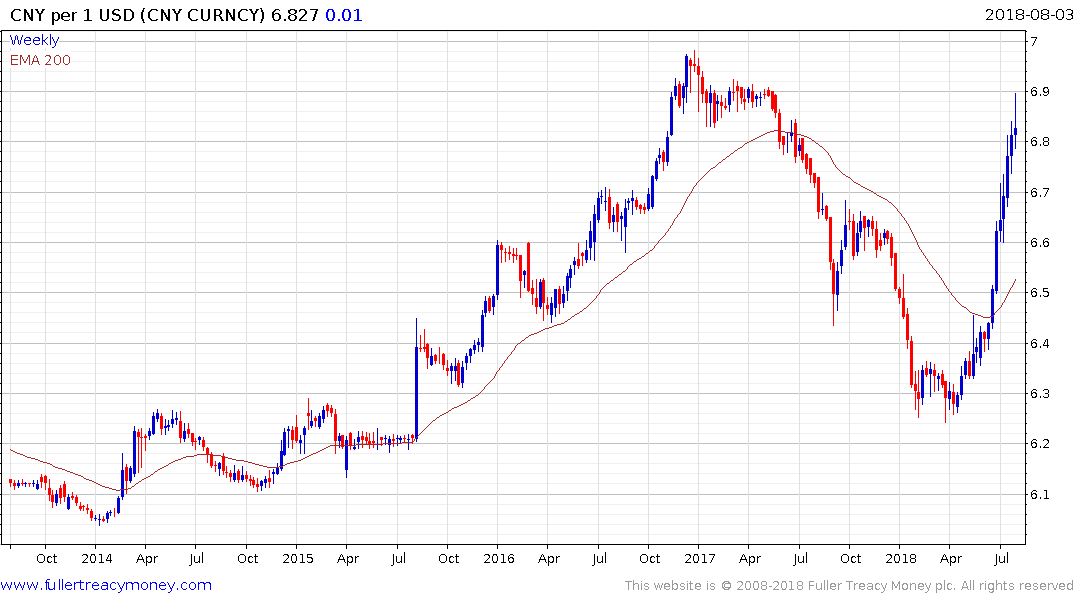 This blog post by Sam Crane is worth taking a look at. It highlights the growing sense of unease we experienced in southern China over the last couple of weeks and suggests that the decline in the stock market is a reflection of deeper issues which are assailing the Chinese economy. Here is a section:
A journalist friend, who works for a Chinese financial magazine, told me the other day that people here are increasingly worried about near-term economic prospects. Everybody knows the official numbers are fiction; everybody can see the need for some sort of policy change. But Xi Jinping is not exercising the leadership that he has claimed since he rose to power. Economic reform is required but all that is happening is economic drift.
And the recent vaccine scandal has only heightened public skepticism toward the powers-that-be.
Small political signs are starting to emerge, suggestions that people are questioning the power and wisdom of the supreme leader (lingxiu). Some could be people at the top of the hierarchy, those who encouraged the recent Xinhua article, since taken down, that reminded us of how former Chairman Hua Guofeng once apologized for creating a personality cult. In discussing Hua, the writer allegorically raises questions about Xi.
A few rungs down the power structure, a law professor at Tsinghua University, Xu Zhangrun, has just published an essay in which he warns of the revival of a personality cult - 个人崇拜 – and a "return to totalitarianism" - 极权回归. He doesn't mention Xi by name, but we all know what he is talking about.
Xu clearly crosses the lines that have been established in the past few years for how much criticism of the leadership will be tolerated. He even calls for a reversal of the verdict of the June 4th Beijing massacre, taboo for the past twenty-nine years. Either he is just personally fed up with the tightening political climate of the Xi years and is willing to risk his career and livelihood, or he has some powerful backers who have promised to protect him if he comes forward and starts a broader effort to rein in Xi's power. Whatever the case, his intervention is extraordinary. Does he reflect a broader public mood?
There are a lot of senior Party cadres discomfited by Xi's assumption of power for life because their route to promotion has disappeared. There have been issues with vaccines previously but one has to question why this issue is getting such publicity today? The temerity of Xu Zhangrun in writing such a critical essay is another symptom of rising disaffection with the overarching totalitarianism Xi is in the process of implementing.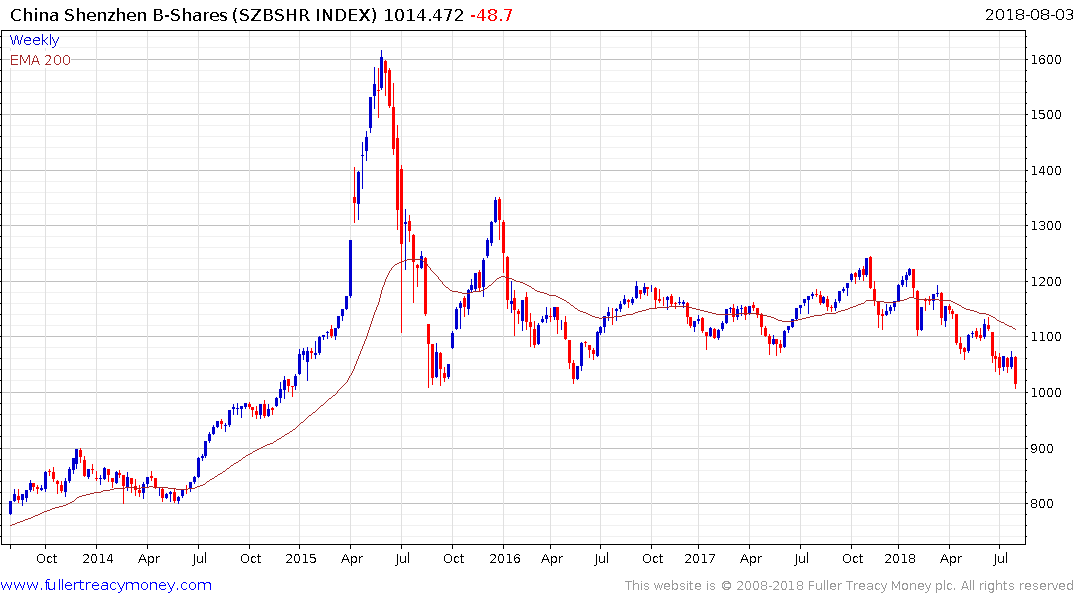 The Shenzhen B-Shares Index does not have any banks and is more influenced by private companies. It has been trending lower since late last year and is now testing the lows from 2015 and 2016. A break in the progression of lower rally highs will be required to question the downward bias.
Back to top