China Sends Top Diplomat to Begin Talks With Vietnam
This article by Jane Perlez for the New York Times may be of interest to subscribers. Here is a section:
But in the last several weeks, the situation appeared to have eased into "dangerous stability," said an American administration official familiar with the flotillas of Vietnam and China.
A foreign ministry spokesman in Beijing, Hua Chunying, said Tuesday that Mr. Yang would encourage a "frank and thorough exchange of views on matters of common concern to all."

"We hope Vietnam will focus on the broader picture, come together with China and appropriately deal with the current situation," she said.

The visit of Mr. Yang, China's top diplomat, comes as relations between Vietnam and China have been essentially frozen since the arrival of the rig on May 2. Anti-Chinese riots spread through several cities, and looting of factories believed to be Chinese-owned resulted in the deaths of at least four Chinese workers. China evacuated several thousand workers after the riots, leaving some companies in Vietnam, which are dependent on China for supplies and skilled labor, short of employees.

Mr. Yang is expected to meet with Mr. Minh, who is also Vietnam's foreign minister, but it was not known if he would meet with more leaders, officials said.

​Prime Minister Nguyen Tan Dung of Vietnam said that he would consider a legal case against China at the United Nations, in the same way that the Philippines has initiated an arbitration case against China. Beijing roundly criticized Mr. Dung's suggestion.
The annotated map, contained in the above article, of China's disputes with neighbouring countries over maritime assets illustrates the extent to which it is willing to ruffle feathers as it flexes its economic and increasing military might. The oil rig stationed in waters claimed by Vietnam on May 2nd is probably now a permanent fixture and since China has met with little more than verbal criticism, the dictum that "possession is nine tenths of the law" would appear to be very much in play with regard to these waters. What is to stop China deploying additional oil rigs? China is Vietnam's largest trading partner and this dependence will likely continue to be used as a none-too-subtle negotiating tool.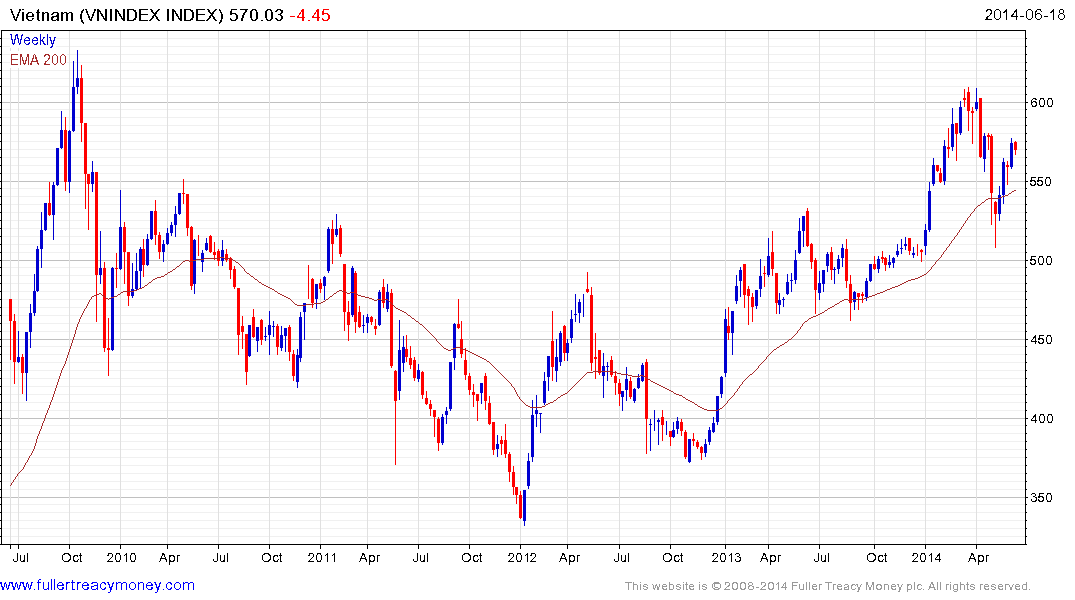 The wider Vietnam Index bounced from the region of the 200-day MA from early May and has unwound the majority of the short-term oversold condition. It will need to hold above 610 on the next significant pullback if medium-term potential for additional higher to lateral ranging is to remain credible.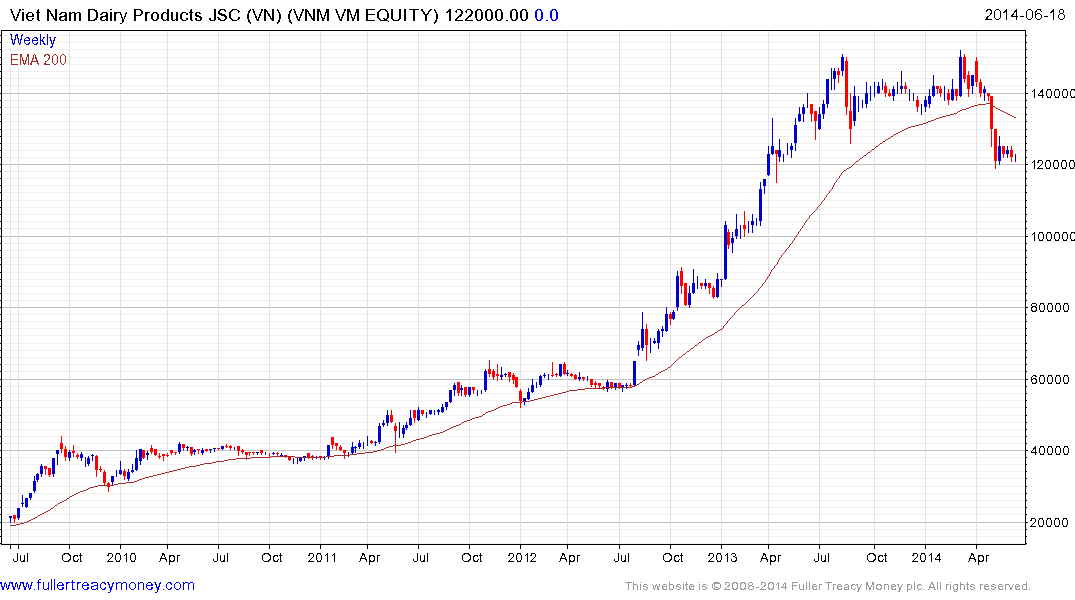 Vietnam Dairies is one of a number of companies where foreign ownership is at the maximum allowed. This leaves investors with a dilemma. Do they sell because the technical action has rolled over (with Type-2 top formation completion characteristics as taught at The Chart Seminar) and risk not being able to buy it back later, or wait out what looks like a medium-term correction because the growth of the domestic consumer market story is still intact?
It is impossible to say, at this stage, what lengths China is willing to go, to press its claim to large portions of the South China Sea. While there are good arguments for why the Vietnamese market should remain a recovery candidate, we can probably conclude that the deteriorating relationship between China and its smaller neighbours will at least contribute to volatility.
Back to top