China Sees Tough Battle in Boosting Growth Without Debt Blowout
This article from Bloomberg news may be of interest to subscribers. Here is a section:
In all, Li rolled out tax cuts worth almost 2 trillion yuan ($298 billion) and pledged further stimulus ahead. While that emphasis on stronger fiscal policy can be seen as a loosening from last year's vow to curb financial risks and trim the budget, the overall goal is still to buffer the economy without letting debt accelerate once more. That's a balancing act that will be severely tested should any new threats to growth appear.

"It's a big fiscal push," said Michael Spencer, global head of economics at Deutsche Bank AG in Hong Kong. "There's a reluctance to just turn on the infrastructure tap if they don't need to."

Li warned that China faces a graver and more complicated environment this year. He's trying to rekindle lending to the private sector, mindful that the total debt pile is approaching 300 percent of GDP. "China must be fully prepared for a tough struggle," he said.
Fiscal stimulus is in fashion and why should China be any different? The global economy is transitioning from a period of synchronised global monetary expansion to fiscal expansion. That is also stimulative but is likely to have more of an effect on consumer demand that central bank balance sheets.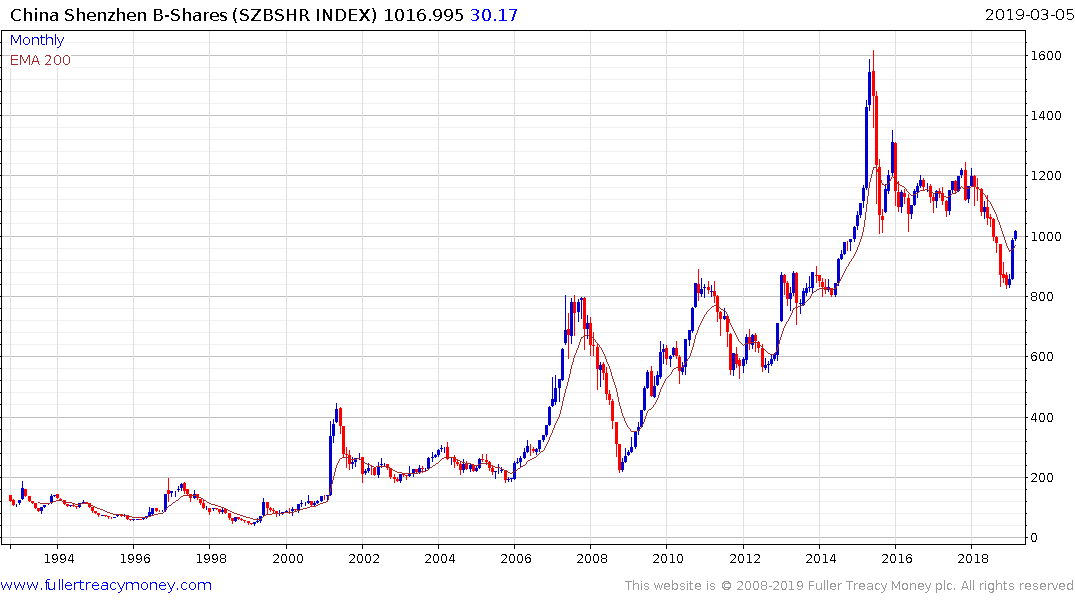 China has learned that massive stimulus packages tend to create bad lending practices. In fact, the campaign against the shadow banking sector has been aimed at trying to unwind that problem without causing a crash. At this stage, we can conclude the effort has been a success. The transition to a fiscal stimulus suggests the period of tightening is now over which represents a tailwind for the stock market.
Mrs. Treacy is in Guangzhou at the moment acquiring inventory for her business. One of the factories she deals with is late in delivery and the quality of the products delivered so far is way below what was agreed. It turns out that 80% of the workforce did not return after the Spring Festival holiday. Upon inquiring elsewhere, this is something happening all over Guangdong. This article from the globaltimes.com carries additional information. Here is a section:
"We increased salaries about 20 percent this year, but it's still hard to find a qualified worker," Wang Shi, general manager of the Dongguan-based Hongsheng Electronic Equipment Co, told the Global Times during a local job fair on Sunday.
"We have just got a bunch of orders, but not enough workers," Wang said.

Zhang Hongsheng, a 29-year-old electronics-sector worker from a county near Xi'an, Northwest China's Shaanxi Province, said "Many of my fellow workers stayed home, instead of coming back to Dongguan after the Spring Festival to find a job this year. You could see this because the train station was less crowded this year when I arrived in Dongguan on Friday."

Zhang said that as a production line worker, he has to work six days a week with two hours of overtime every day. But his monthly earnings of 6,000 yuan ($894) can only cover daily expenses for his family, who lives with him in Dongguan.

"In recent years, many new factories have been established in my hometown, and they also need a large number of workers. They [the new factories] may offer a bit less than those in Dongguan, but rents and living costs are much cheaper," Zhang noted. "I came back because my wife and child are here," he added.

Wang said that another reason it's tough to hire workers is that "Young people want to do more 'respectable' jobs now, such as being property agents. Factory work is boring and tiring for them."

A new recruit without any work experience can get about 3,500 yuan per month in his firm, but a year ago, the salary was just 2,000 yuan, he said.

Amid China's restructuring process, the trend that more factories and workers will move to inland areas is irreversible, Cong Yi, a professor at the Tianjin University of Finance and Economics, told the Global Times on Sunday.
One of the great strengths of doing business in Guangdong is everything is so accessible. If you want something made there is such a high concentration of factories that you can have anything produced in short order. However, rising wages threaten that ecosystem. If factories are moving to lower cost inland locations that will further fragment the industry.
I was speaking with a garment importer a couple of weeks ago who reported that the one reason they import rather than manufacture in the USA is because of the convenience. If a garment needs to be embellished in any way it is not problem to have it done in China whereas it is more difficult in the US. Other than that, the costs are pretty similar.
This suggests China really does have a challenge in front of it that is quite separate from the trade war. Wages are rising and the number of young workers is declining. Developing a services and high technology sectors and boosting the role of the consumer in the economy are national priorities. That only increases potenital for further stimulus.
Back to top