China Says Growth Is Fine. Private Data Show a Sharper Slowdown
This article by Mike Bird and Lucy Craymer for the Wall Street Journal may be of interest to subscribers. Here is a section:
SpaceKnow tracks about 6,000 industrial locations in China and analyzes data on night-light luminosity and infrared bands—indicators of heat produced by electricity or factories—from about half those sites roughly every two weeks. It produces a proprietary index that has become a leading Chinese PMI indicator used by hedge funds, central banks and policy makers, said CEO Jeremy Fand.

"You can see factories suddenly go quiet, giant subdivisions, huge construction projects just get halted," said Mr. Fand. In August, SpaceKnow's index pointed to a slight expansion, coming close to official figures that analysts said reflected a pickup in production before more U.S. tariffs came into effect.

Mr. Fand said the company is also working on a project for a U.S. government agency that is trying to analyze the impact of U.S. tariffs on China's economy and certain industries.

Last December, U.S. exchange operator Nasdaq Inc. bought an alternative-data business called Quandl Inc. Bill Dague, a data scientist leading alternative research at Quandl, has traveled to China in recent months to hunt for new data sets for clients.

"Because it is so hard to get data out of China, demand has surpassed supply," he said, adding that escalating U.S.-China tensions have made domestic data vendors less willing to share information with U.S. companies.
Nothing is ever as it seems in China. Investors were willing to look past that fact while the economy was posting world-beating growth. With the expansion slowing investors now have a clear incentive to do whatever is necessary to find accurate data on both the quality and quantity of the economic expansion.

The problem is a lot more nuanced than most people realise. The simple fact of the matter is concrete does not set and season faster just because it is poured in China. When Elon Musk stated last month that he has never seen a construction project be completed so quickly, he had better turn his enormous brain power to why that is? His words of praise helped the company score an important tax break but the factory will probably need significant remedial attention within the next 5 years.

The stories of concrete overpasses for motorways collapsing after the first shower of rain are legendary in China. However, it is now very difficult to find any mention of these kinds of events in Chinese language news outlets. This story is from seven years ago but it is not as if infrastructure has suddenly improved overnight.

Shoddy infrastructure is one thing but low quality pervades the economy. Mrs.Treacy is a very keen tennis player and joined a WeChat group in Guangzhou while over there for business. She had brought some tubes of balls with her from home rather than finding somewhere to buy new ones in China. When she opened the tubes to play doubles, after a few games the other players asked to go back to using Chinese balls because the Penn 2's bounced too high.
Last year we were in an upscale mall and my then 10-year old daughter was going up the escalator. Instead of stepping off at the top she was letting the last step push her along. The front of her shoe got caught in the mechanism and it cut off the first inch and half in less than a second. It is frankly a miracle she still has all five toes on that foot. That's another example of how everything looks the same but the build quality is just not the same.
We took a number of rideshares on our last trip so I travelled in a lot of different Chinese vehicles. The newer models from BYD and SAIC Motor feature large screens just like Teslas in the centre console. Some have vehicle detection hardware installed which is supposed to show a radar shadow of cars up ahead. The problem is when you marry up what the screen is showing with what is really on the road in front of you the hardware misses more than half the cars and offers no assistance of blind spot monitoring which I would have thought is the most obvious use of this technology.
One thing that is certain is a factory where Mrs.Treacy has been buying for the last few years experienced a 90% drop in workers returning from the New Year holiday and closed. The word around the factories in Guangzhou was that was a major problem this year.
The "Potemkin village" nature of Chinese official statistics is that if the economic malaise deepens, they will become even more sensitive to satellite data contradicting official claims. It is quite possible they will attempt to fake economic activity by ordering factories to keep the lights on over night or to run infrared heat spots to food satellites.
This article about the 98% success rate in killing fall armyworms caught my attention. Apparently drones spraying fields can get the job done where every other measure has failed globally. That is despite the fact the moths have a 100km range per days. I wonder where the drones hold a sufficiently large reservoir to cover the field and how have they handled the fact that most drones have a flight time of between 10 and 30 minutes.
I have been skeptical of the boom in consumer drones for years because we used to go to wholesale markets where there were always people selling remote control helicopters. They looked great but would fly into the wall and crash to the ground dead within about 10 seconds of taking off. In 2008 all the remote helicopter companies became drone companies but they are the same product.
There is certainly evidence of better flight control, software updates and use cases for drones but flight time is still a major obstacle. I read the Medium article which appeared in a number of other news outlets and my first instinct was to think this is propaganda. China has a serious issue with food price inflation. The cost of everything from rice to fruit and veg to pork and soy are rising. The weakness of the currency is not helping and with economic growth slowing the risk of stagflation is non trivial.
This article from Reuters last week reporting on China's plans to copy Facebook's Libra project is a typical of the copycat nature of China's tech buildout.
The only conclusion we can rationally come to is China is the epicentre of risk. If the economy continues to contract, a recession will have a knock-on effect for the global economy similar to the credit crisis for economies that are dependent on China.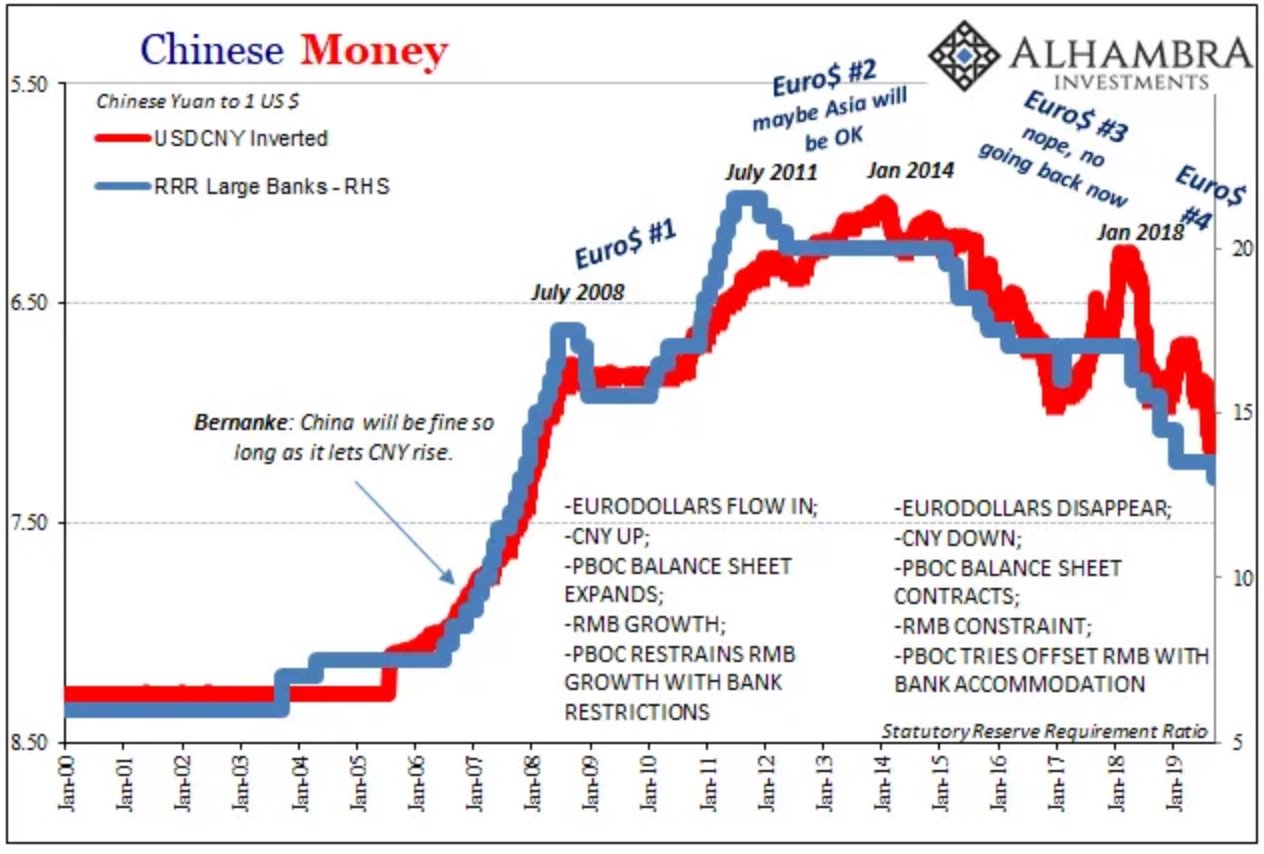 This chart from Alhambra investments overlaying the downtrend of the reserve requirements with that of the renminbi supports the argument China is heavily short Dollars. One of the reasons it is allowing the banks to run down reserves is because they do not want to use the $3 trillion in foreign reserves to shore up the currency. The longer the trade war persists the lower reserve requirements on the banks will need to be and the sooner China will need to take more extreme measures to insulate the economy.
Back to top