China's tech workers pushed to limits by surveillance software
This article from Nikkei may be of interest to subscribers. Here is a section:
In China, technology adoption promises its swelling middle classes an easier, more productive life. But as companies bring productivity-enhancing tools into everyday office life, their efficiency is being channeled, not into leisure time, but into squeezing ever more value from employees.

Just as algorithms have come to govern the workdays of blue-collar warehouse workers at Alibaba Group Holding and food delivery riders for Meituan, elsewhere, white-collar workers are becoming affected by the creep of software-driven management and monitoring into their professional lives.

This is particularly the case in China's tech industry, where rapid technological development, paired with poor labor regulations, has created a potential for labor abuse. The big tech companies themselves, locked in cutthroat competition for new business opportunities, are pioneering these technologies and tools in their own operations. From hiring and goal-setting to appraisal and layoff, productivity-enhancing technologies look to quantify workers' behavior by collecting and analyzing extensive amounts of personal data.

Some scholars warn that some practices can be unethical, invading employees' privacy and burdening them with greater workload and mental stress. Others draw parallels to the fatigue faced by factory laborers during industrial revolutions, where workers chased the pace of machines.

"I felt that I was getting busier and having less time for myself," said the engineer Wang, looking back on his five years at Chinese internet companies.
Asian work culture is not something many in the West are familiar with. Long hours, arriving before the boss and leaving after him are normal work practices. Not taking holiday, an expectation to do whatever is asked and the assumption of absolute loyalty are common characteristics of working in Japan, China, South Korea and elsewhere. When a Japanese newspaper talks about potentially overworking individuals it is worth paying attention. Afterall Japan has a word for being worked to death. (karoshi - death by overwork).
This article from business insider covering the facial recognition technology developed by Canon may also be of interest. It relies on the unique characteristics of every smile which can be thought of as a fingerprint. It does, however, give new meaning to the phrase "grin and bear it".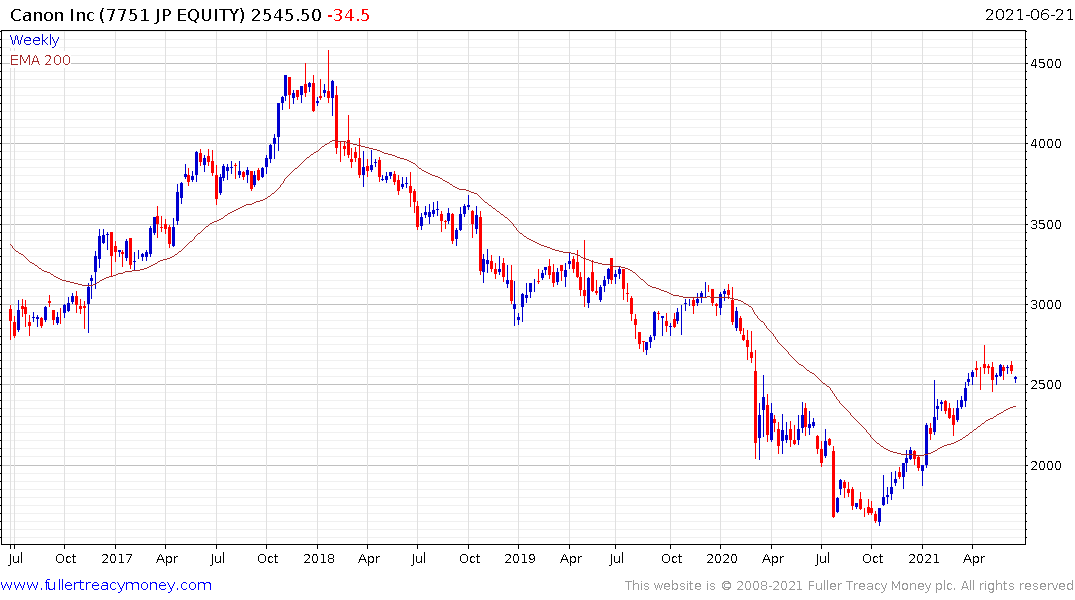 Canon trended lower for three years until the low in 2020. It has since rallied to break the downtrend and is now steading from the lower side of the most recent short-term range.
Companies always face the challenge of motivating workers and that becomes progressively more difficult as they grow. Key stroke log files have been around for years and monitor every input into a work computer.
When I worked at Bloomberg in the early 2000s, we did not have internet access. All work product was completed via the terminal and the internal apps. That ensured there was a lot of busy work and we were encouraged to arrive early and leave late. We were also told that a Bloomberg job could be for life if we were willing to meet the prescribed metrics. That had a lot in common with the Asian way of working.
Jack Welch fired the bottom 10% of the workforce at GE as part of the company's Vitality curve. https://en.wikipedia.org/wiki/Vitality_curve. The average Amazon warehouse worker doesn't last more than 3 years because the company is constantly looking for the vitality of new workers.
The carrot and stick approach of rewards and threats probably works best but it takes on a special importance for China. The only way the debt load built up over decades is manageable is because of productivity gains in the economy. That trend has to persist indefinitely for the current economic policy to remain credible.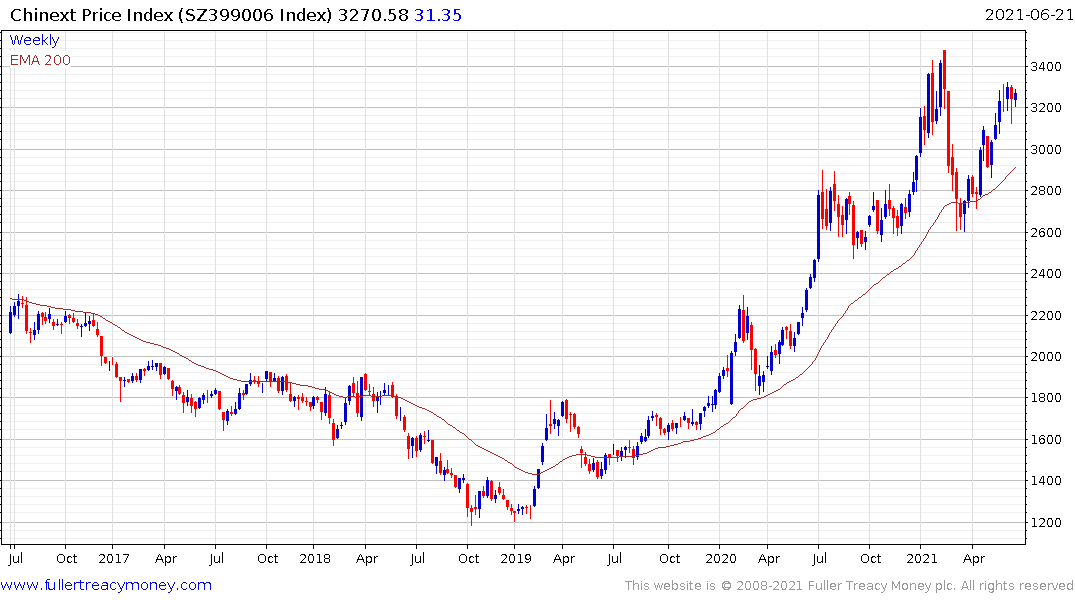 While the CSI300 continues to pause in the region of the trend mean, the tech-heavy ChiNext Index has rebounded and it back test the February peak.
Back to top