China's State Media Offers Some Clarity on U.S. Trade Deal
This article from Bloomberg news may be of interest to subscribers. Here is a section:
There's still no official statement from Beijing that the deal reached Saturday to not raise tariffs is only for a 90-day period and is dependent on the outcome of talks. China's government has been slow to formulate its response to the summit as senior officials were still out of the country with Xi,
Bloomberg News reported.

The Global Times is affiliated with the state-run People's Daily, and published a separate Chinese-language editorial on Tuesday noting that the U.S. had made no mention of Beijing's "Made in China 2025" plan in any statements after the Xi-Trump meeting, nor criticized China's industrial policy. China's government has yet to issue official comment on those details.

The day after Xi and Trump met, the WeChat account of the People's Daily's overseas edition published an article detailing some of what was discussed at their talks. The article was by Mei Xinyu -- a researcher at a think tank under the Ministry of Commerce -- and cited a White House statement.

It explained that China and the U.S. had agreed to work together on issues including widening market access, protecting intellectual property rights, avoiding forced technology transfers and jointly fighting against cyber theft.

The China Daily also published a commentary on Tuesday noting the 90-day period, explaining it was a truce and saying the U.S. would likely escalate the trade war if no permanent deal was achieved.
If we look at history, all emerging economies have engaged in some form of industrial espionage. China is bigger than other emerging market in terms of both population and market scope and likewise its concerted effort to acquire know-how by any means necessary has been epic in scale. A true signal China has all it needs in terms of technology expertise, as well as having the confidence that it can innovate on its own quickly, would be if did in fact start to uphold intellectual property rights. Quite whether that would be good or bad news is something I suspect has not yet been debated in government circles.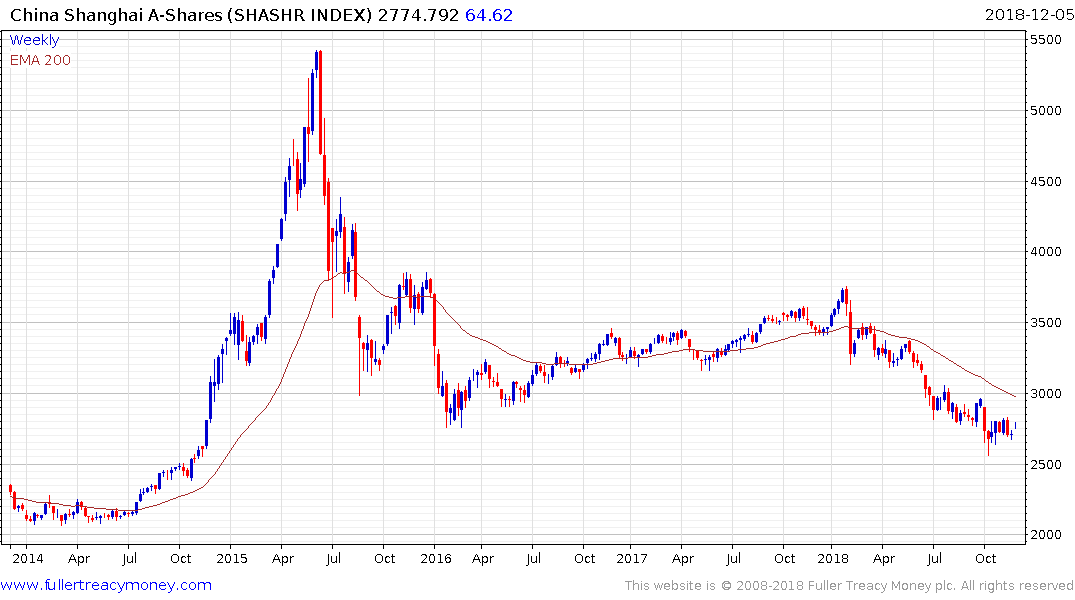 The Shanghai A-Share Index is was reasonably steady today against a background of pronounced weakness on Wall Street yesterday. That suggests government support but more is needed to clearly signal a return to demand dominance.
Back to top