China State Media Join Brokerages Saying Buy Equities
This article from Bloomberg News may be of interest to subscribers. Here is a section:
China's real-estate slump is spurring local investors to shift more of their money into stocks, according to Chen Xingdong, the chief China economist at BNP Paribas SA in Beijing. Signs of increased risk in wealth management and trust products may also make shares an attractive alternative, said Kathy Xu, a Hong Kong-based money manager at Aberdeen Asset Management Plc.

China's new-home prices fell in July in almost all cities that the government tracks, according to the National Bureau of Statistics. At least 10 Chinese trusts struggled to meet payments in the three months through August, sparking protests by investors outside banks that distributed the products.

Equities comprised 4 percent of Chinese households' total assets as of 2013, according to a June report from Credit Suisse. Bank deposits accounted for about 22 percent while property made up 55 percent.

The average annualized investment return on residential properties in China was 3.53 percent in July, down from 4.6 percent in June, according to Zhongjin Standard Data Research Ltd. in Hong Kong. The Shanghai Composite has an earnings yield of about 9 percent.

"You might even start to see retail money re-directed to equities after years of chasing real estate," said Michael Shaoul, the New York-based chairman of Marketfield Asset Management LLC, which oversees about $18.5 billion.
In 2005, the government announced it would defend a floor on the A-Share market. This acted as a catalyst to spark the impressive rally in Chinese equities until their peak in 2007. The change of sentiment towards the property market, disappointing returns from gold, risible deposit rates and an inability, until the Hong Kong link is opened further, to invest beyond the mainland suggest that the domestic stock market is one of the few asset classes which is both cheap and under-owned where investors can seek a capital gain.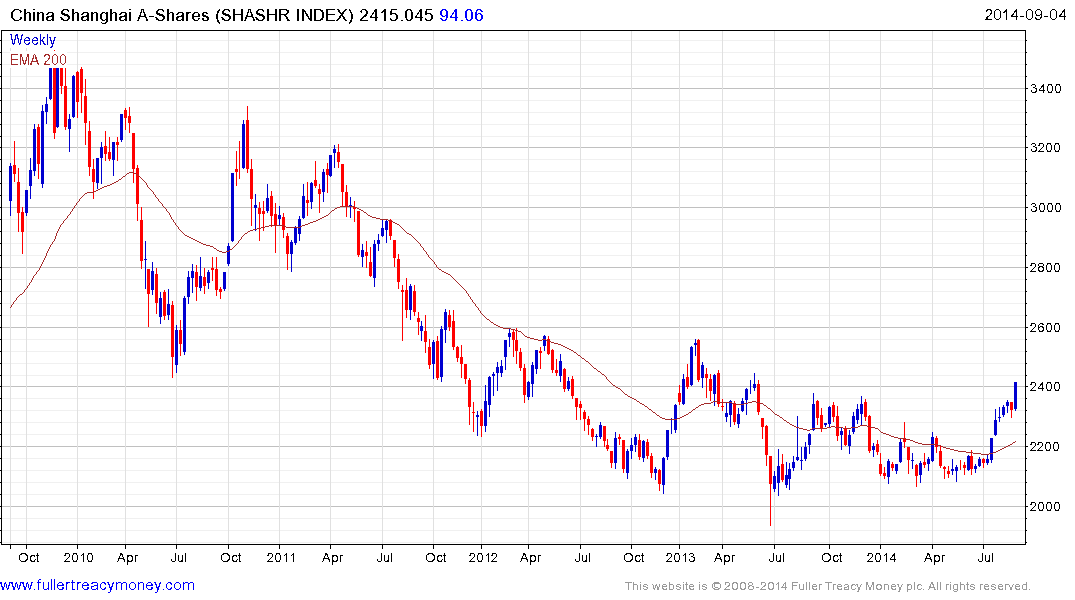 As the Index approaches the medium-term progression of lower rally highs the potential for a meaningful change of trend is improving.
Back to top