China's Slumping Trade Adds Pressure for Settlement With Trump
This article from Bloomberg News may be of interest to subscribers. Here is a section:
Chinese shipments are already under pressure from slowing demand from top trade partners -- Europe's recovery is under question, with Germany triggering recession fears, Japan is facing a tougher 2019 and the U.S. itself forecast to see waning growth after a robust 2018. China's exports to the U.S., European Union, Hong Kong, Japan and Taiwan all fell from a year earlier. South Korea's exports--often viewed as a bellwether for world trade--fell in December.

"There is a clear downward trend," said Zhou Hao, an economist with Commerzbank in Singapore who was among the few to accurately forecast a December contraction in exports. "This is not just due to the trade war and tariffs. On top of those, the major drag is slowing global demand."

While China is no longer as dependent on trade, as the world's largest exporter, factory output, profits and employment still hinge on demand from overseas. Its domestic appetite also affects production by commodity and machinery exporters around the world. Stabilizing trade is one of the goals the leadership set for 2019, on top of supporting employment, investment and the finance sector.
One of the primary reasons China was so willing to engage in outsized stimulus in response to the credit crisis was because of the impact the loss of demand in the USA and Europe has on the economy. The collapse in the oil price contributed to the loss of demand from the Middle East and other commodity producers. The loss so quickly of its traditional sources of foreign income both resulted in the stimulus and the commitment to support the growth of the domestic economy.
The repercussions of that unbridled stimulus continue to be felt with higher leverage in the economy, more debt, more overcapacity in the infrastructure sector and more overbuilding. The administration is understandably now rather reluctant to open the floodgates in terms of market support but this newfound fiscal and monetary probity is having a deleterious effect on sentiment, consumer demand and access to credit.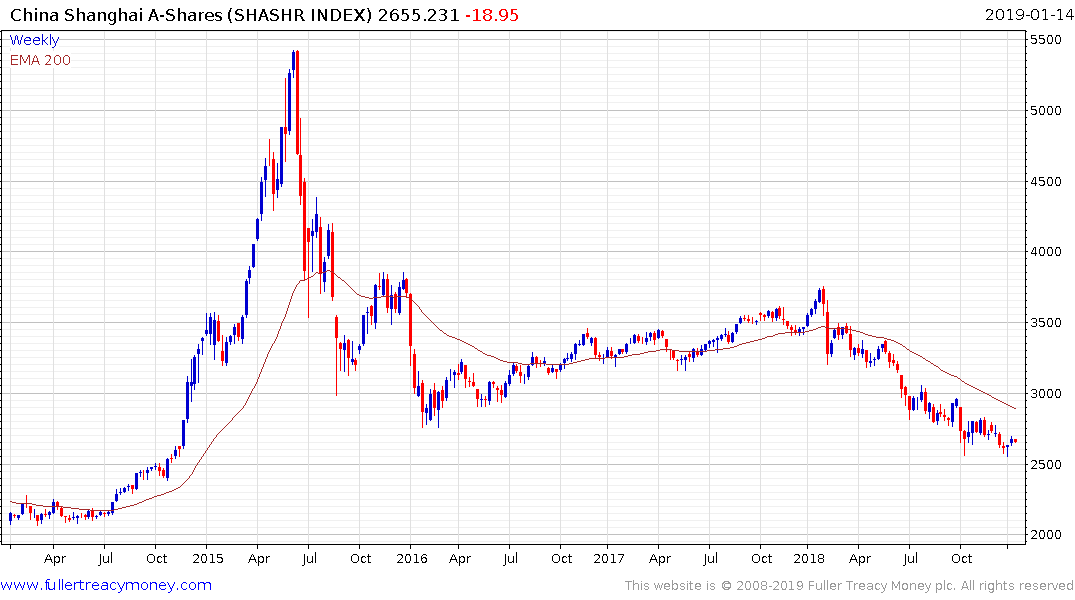 Bull markets in China tend to be state sponsored so a clear signal of a change to a more supportive stance will likely be required to break the downtrend in the equity market.
Back to top