China Monroe Doctrine
This article by Roger Cohen for the New York Times may be of interest to subscribers. Here is a section:
The seeds of conflict are evident. On his recent visit to Asia, President Obama made clear how the tensions between Japan and China over the Senkaku Islands (Diaoyu Islands to Beijing) could draw in the United States. His declaration that the Japan-administered rocks in the East China Sea "fall within the scope of Article 5 of the U.S.-Japan Treaty of Mutual Cooperation and Security" incensed China, which claims the islands. Mind your own business and get over the Cold War was the essence of the Chinese message to Washington.

Vietnam and China also have maritime conflicts that have flared in recent days as a result of a Chinese decision to place an oil rig in the South China Sea. Chinese ships escorting the rig rammed and fired water cannons at Vietnamese vessels attempting to stop the move in potentially oil- and gas-rich waters claimed by Hanoi.

The U.S. response in support of Vietnam, its erstwhile enemy turned pivot-to-Asia partner, was firm: "China's decision to introduce an oil rig accompanied by numerous government vessels for the first time in waters disputed with Vietnam is provocative and raises tensions," Jen Psaki, a State Department spokeswoman, said in a statement. "This unilateral action appears to be part of a broader pattern of Chinese behavior to advance its claims over disputed territory in a manner that undermines peace and stability in the region."
In a piece last week I argued that outsiders looking at the West's response to Russia's actions in Ukraine could only conclude that possible targets elsewhere might be softer than they might once have thought. China's actions in the South China Sea have been ramped up recently and the timing is hardly a coincidence.
Taken to a logical conclusion, belligerence is generally only contained once a country or alliance with sufficient military might is willing to commit people, money and time to combatting it. There is no sign this occurring at the present time.
This article on Vietnam from early January highlights a dilemma for a number of international investors in Vietnam. Here is a section:
Separately, Dung is considering raising foreign ownership caps at listed companies. A proposal calls for lifting overseas investors' holdings of voting shares in some industries to a maximum 60 percent from 49 percent, Nguyen Son, head of market development at the State Securities Commission, said Nov. 14.
There are about 20 companies whose foreign ownership is at the 49 percent limit, according to Ho Chi Minh City-based ACB Securities Co.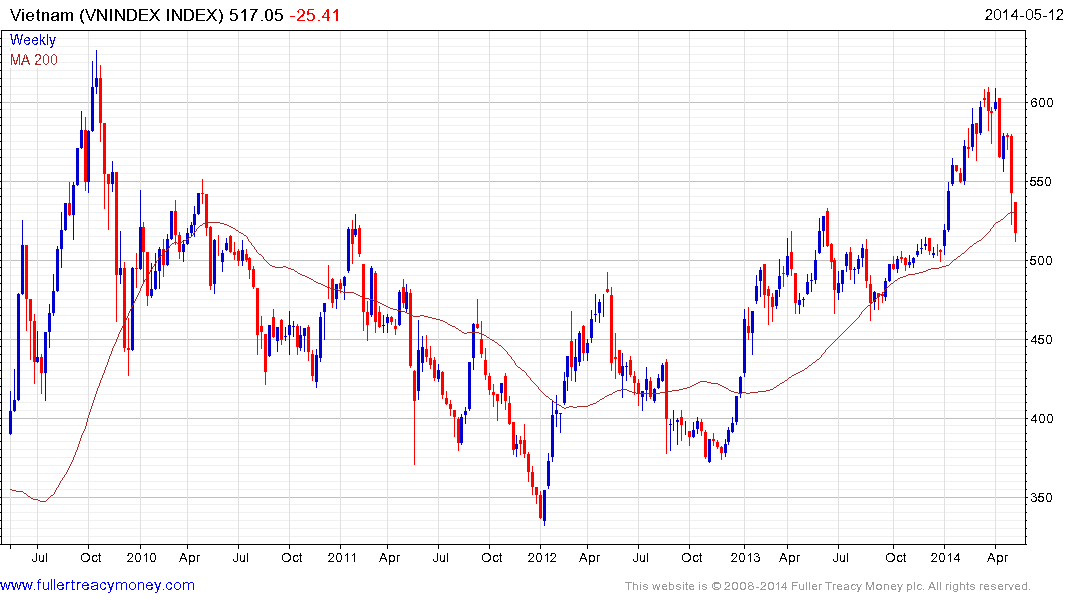 Foreign ownership of some of the largest companies is already at the upper limit. Investors have been slow to sell because they fear not being able to buy back later. In fact many have been hoping for a further easing of investment limits in order to increase their positions. As a result there is a lack of supply among foreigners. This effectively reduces the free float for the country's large caps but could also act as a powerful bearish catalyst if geopolitical perceptions deteriorate further.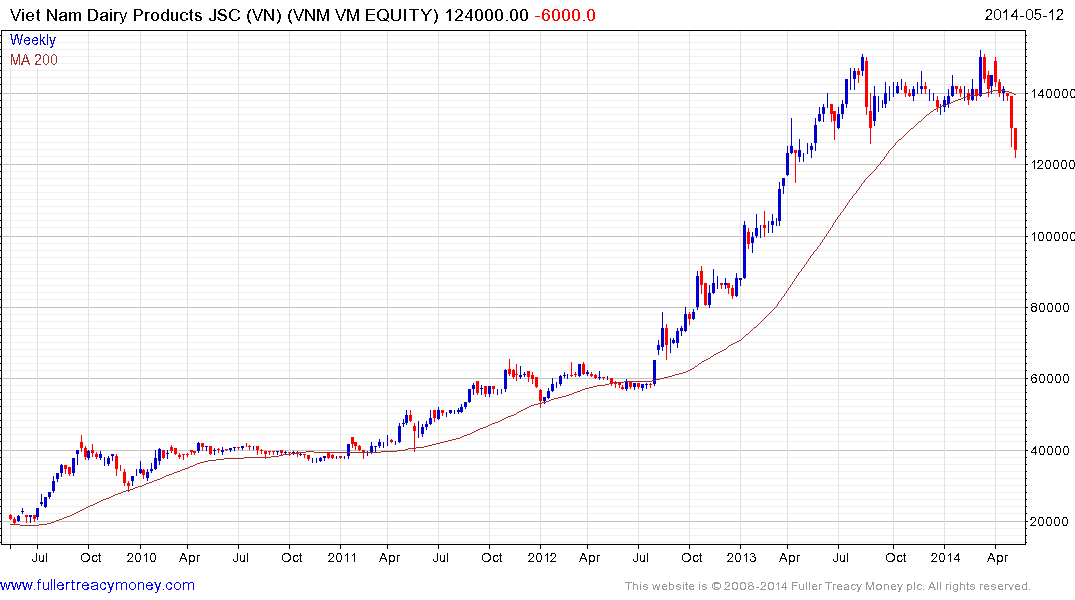 Vietnam Dairy has been among the most favoured shares but has type-3 top formation characteristics, as taught at The Chart Seminar. It will need to rally soon to check current scope for additional weakness.
Back to top