China's Factory to the World Mulls the Unthinkable: Price Hikes
This article from Bloomberg may be of interest to subscribers. Here is a section:
China's factories may be on the cusp of delivering a new shock to the global economy after years of undercutting rivals with cheaper costs. This time, increases in prices could reverberate around the world.

To understand why, consider the dilemma facing Jiangmen Luck Tissue Mfy Ltd., now caught in a squeeze between surging wages and tepid demand. The company has already slashed staff by half, shaved prices and automated production to survive. Now, with margins razor thin, it's weighing the first price increases since 2010.

"There's just no possibility for me to cut prices any more," says deputy director Roger Zhao, 52, whose company is based in the city of Jiangmen in southern Guangdong province.

"Because costs are already pretty high and I don't see any possibility they'll go down, I'm seeking opportunities to raise prices a little bit."

That push to recover lost margins -- even as demand remains muted -- was shared by exporters of everything from clocks to jacuzzis interviewed in Guangzhou last week at the Canton Fair, a biannual gathering where 25,000 exhibitors and 180,000 mostly foreign buyers ink export deals in booths spanning exhibition space equivalent to about 3,400 tennis courts.

For the world economy, decisions from companies like Jiangmen Tissue to stop cutting prices -- and even raise them where demand allows -- removes a source of disinflationary pressure. To be decided is whether China, the factory to the world, swings from becoming a drag on consumer prices to a source of pressure nudging them higher.
Chinese factories have been dealing with margin compression for years. Labour costs have been on a steady upward trajectory while commodity prices have been a mixed blessing. However right now both are increasing and despite the danger of losing their competitive edge the first signs of price hikes are emerging. This article from a couple of weeks ago highlights the first rise in China's producer price index in nearly five years.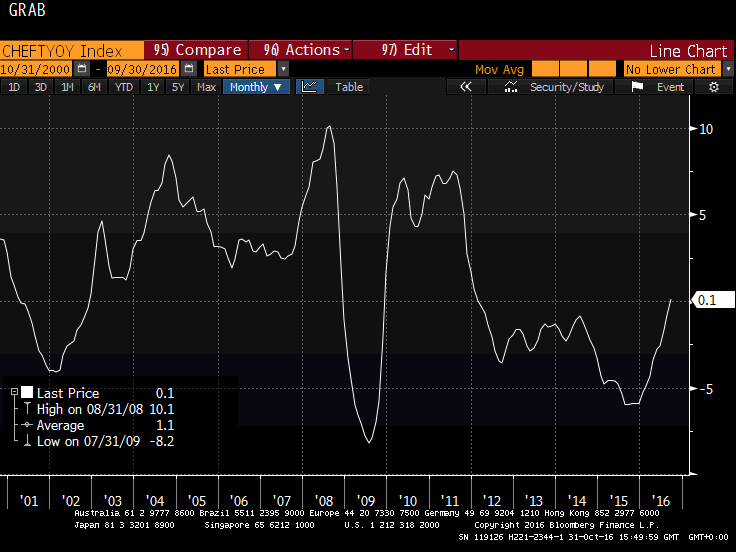 This chart offers a better indication of what is in fact going on. The year over year figure might have received media attention but producer prices have been rallying all year in line with commodity prices. That suggests factories have very little room to manoeuvre because their margins are so thin and if commodity prices continue to rise so will prices for finished goods.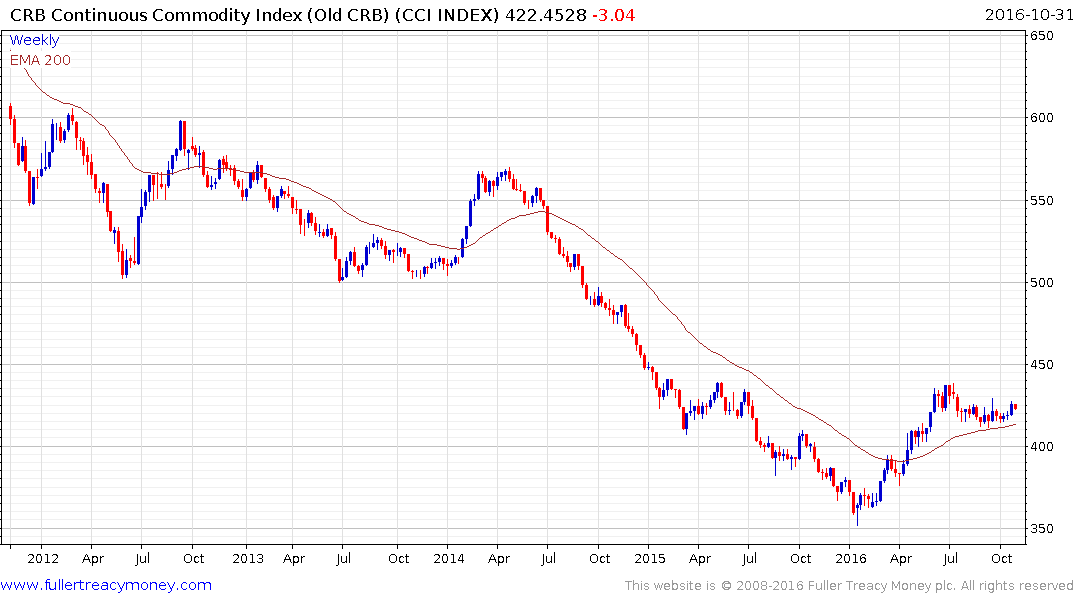 The Continuous Commodity Index continues to range above the trend mean, following an impressive rebound from early this year. While energy prices are weighing on the Index, the resilience of the industrial metals which broke out to new recovery highs last week as well as a number of the softs, not least coffee and orange juice, suggest this Index still has room to advance.
The low price of imports has allowed western companies to maintain pricing power but with rising inputs have pressured margins. Just in time manufacturing becomes less attractive as producer prices rise while warehousing becomes more beneficial. Perhaps most importantly, if wider inflation expectations increase the ability of companies to use those considerations as a way of boosting margins could help to drive profit growth.
Back to top