China's economy is 12% smaller than official data say, study finds
This article by Gabriel Wildau for the Financial Times may be of interest to subscribers. Here is a section:
For years, the sum of China's provincial GDP has exceeded the national figure, a clear sign of statistical inflation at the local level. The National Bureau of Statistics (NBS) has previously acknowledged that "some local statistics are falsified", and in 2017 the central government accused three provinces in China's north-east rust belt of fabricating data.

The Brookings paper highlights how the NBS in Beijing struggles to make adjustments to the inflated data it receives from local officials. The analysis finds that the central government's adjustments to local data are mostly accurate before 2007-08 but "after this date no longer appear to be accurate".

The NBS said last year that it would assert greater control over provincial data collection beginning in 2019 to eliminate discrepancies between local and national data.

"NBS has done a lot of work to weed out the fake numbers added by local government, but it just doesn't have enough power and capacity, nor the right incentives," Michael Zheng Song, economics professor at the Chinese University of Hong Kong and a co-author of the paper, told the FT. "It would be unfair to blame NBS for fabricating GDP numbers."
The reliability of Chinese data has been an enigma investors' have been pondering for decades. It's not really a question we can answer with any degree of confidence so the best course of action is to monitor the actions that can be backed up with some degree of confidence.
Lowering taxes, providing both monetary and fiscal stimulus are real phenomena that can be monitored and if the economy is in fact smaller than is stated then the effect of the stimulus should be larger than if the economy were bigger.
The other side of that argument is if the economy is smaller than first assumed and the debts are the same then leveraged ratios are higher than first assumed. Additionally, if growth is indeed in the order of 4% rather than 6%, while inflation is 1.5, that represents a much smaller margin of error for the economy. These points make the need for support for the market all the more urgent.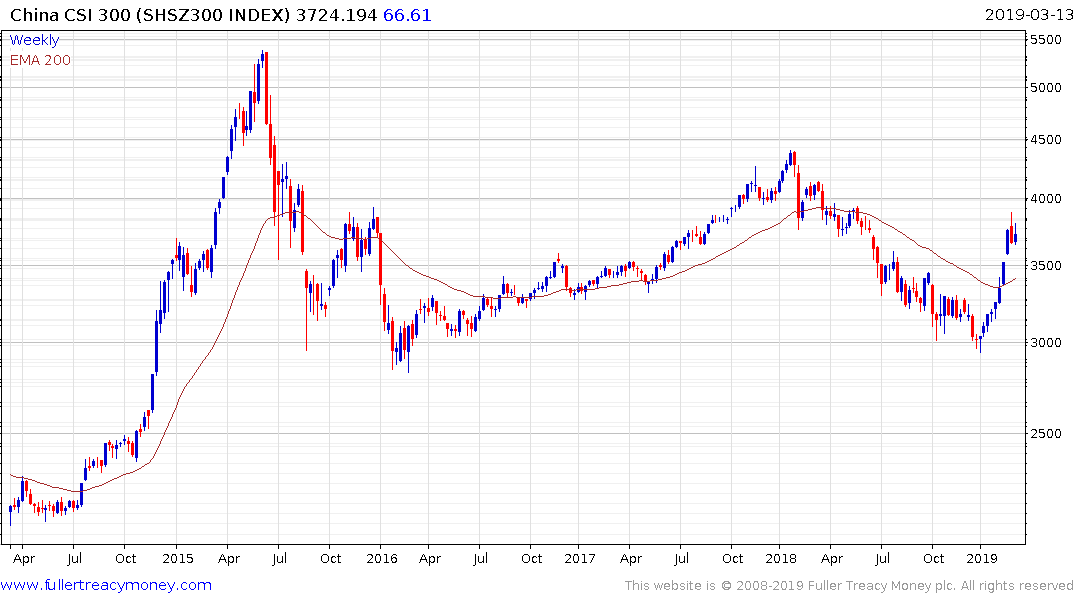 The CSI 300 Index is pausing following its impressive rebound and a sustained move below the trend mean wold be required to question recovery potential.
It's worth remembering that back in 2015 we were being cautioned the Chinese economy may be larger than we think.
Back to top