China's Economic Woes Are Multiplying and Xi Has No Easy Fix
This article from Bloomberg may be of interest. Here is a section:
If the government continues to sit on its hands, things could get worse. In a scenario where property construction crumbles, reduced land sales hit government spending, a US recession weakens global demand and China's markets shift to risk-off mode, Bloomberg's SHOK model shows another 1.2 percentage points shaved off growth.

"We're caught in a kind of vicious circle in the sense that you need a massive stimulus to create a little moderate impact," said Keyu Jin, an economics professor at the London School of Economics and Political Science who wrote The New China Playbook: Beyond Socialism and Capitalism.

"We have to be prepared for slower growth in the future because China is really in transition right now from industrialization to innovation-based growth," she said. "Innovation-based growth is just not that fast."

To be sure, China's policymakers have defied the doomsayers before and could do so again. A bigger-than-expected stimulus, proactive moves to resolve bad debts, a commitment to support entrepreneurs and extending an olive branch to the US could dispel some of the pessimism.
This is not the first time that the Chinese government has been faced with debt issues and a domestic slowdown. The massive devaluation of the Yuan over the New Year holiday in 1994 and subsequent fixed exchange rate was aimed at getting inflation under control. In the early 2000s most of the state owned banks had to be recapitalized and bad banks were set up to manage the debts.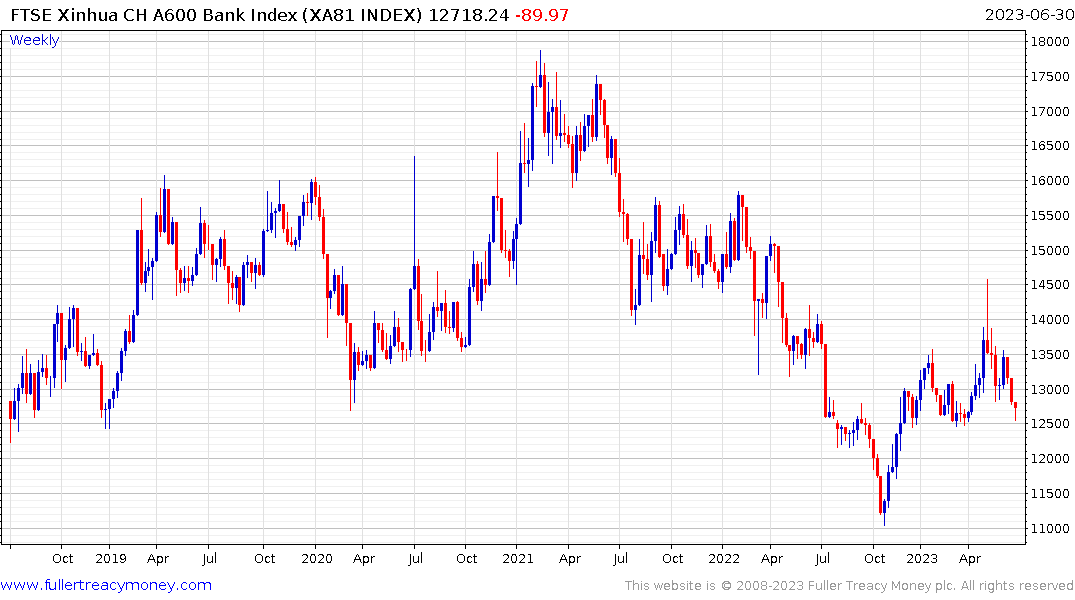 The post WTO accession boom led to an unprecedented period of growth. Over the last decade growth has been funded with debt. China is now faced with a potential liquidity crisis. They cannot overstimulate like in the past because asset prices are already at exaggerated levels. At the same time they cannot refuse to stimulate because they cannot tolerate a property crash.
That suggests managing the currency lower is the most likely scenario. This article discussing the accumulation of US Dollar assets within the banking sector suggests China has ample assets to avert a one-step devaluation.
However, the state-owned banks have been ranging for years. Without constant replenishment of patronage from the government they are incapable of independent existence.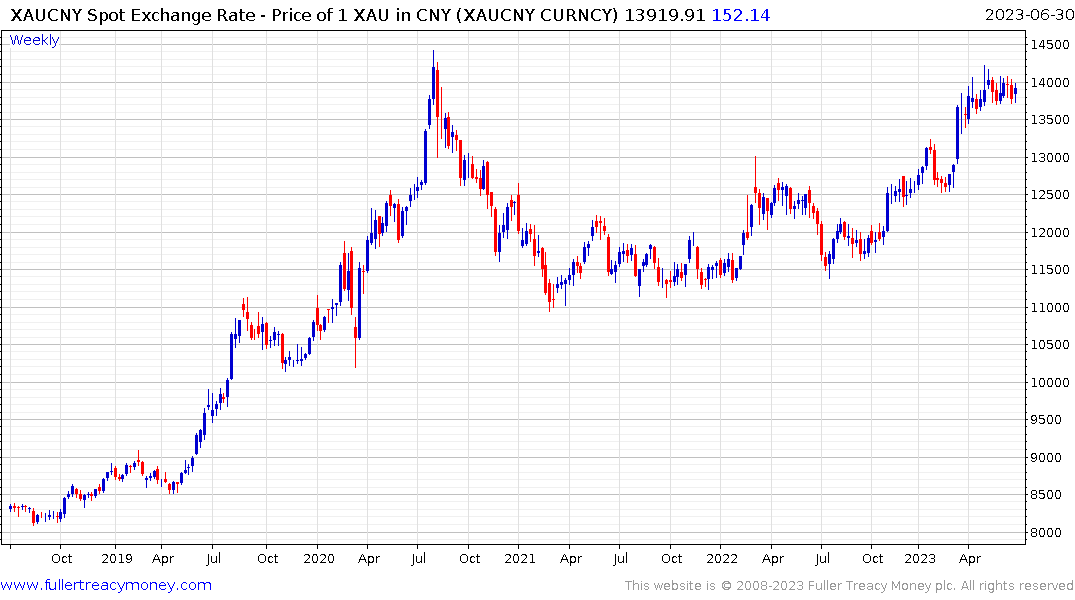 Gold in Renminbi has been ranging below CNY14,000 for two months. That also coincides with the 2020 peak. It is currently firming within the range and the Yuan could be among the first gold makes a new high against.
Back to top