China's CSI 300 Slides, Weighed Down by Moutai, Wuliangye
This article from Bloomberg may be of interest to subscribers. Here is a section:
Shares of Chinese liquor makers fall, with Kweichow Moutai and Wuliangye among the biggest drags on the benchmark CSI 300 Index.

Moutai drops as much as 3.3%, the biggest drag on the CSI 300 Index, which declines as much as 1.1%

Wuliangye also loses as much as 3.3%, Jiangsu King's Luck -6.2%, Shanxi Xinghuacun Fen Wine -3.7%, Anhui Gujing -3.9%

Moutai organized a week-long special training for its sales team, stressing on product price stability, ahead of the Mid-Autumn Festival next month and the National Day holiday in October, according to a Wednesday posting by a WeChat account on liquor industry news

Prices of all Moutai products have dropped marginally in Beijing recently, with its flagship liquor down about 200 yuan to around 2,800 yuan

Capital Securities analyst Gu Xiangjun says liquor shares have had sizable gains recently, adding pullback on Thursday could be "temporary"

Moutai added a total of 7.6% over a three-day rally through Wednesday and Wuliangye rose 5.4% during the period
Kweichou Moutai and Wuliangye are the largest and fourth largest stocks on the CSI 300. That might surprise some people since it is unusual for liquor companies to occupy such large weightings in large economies.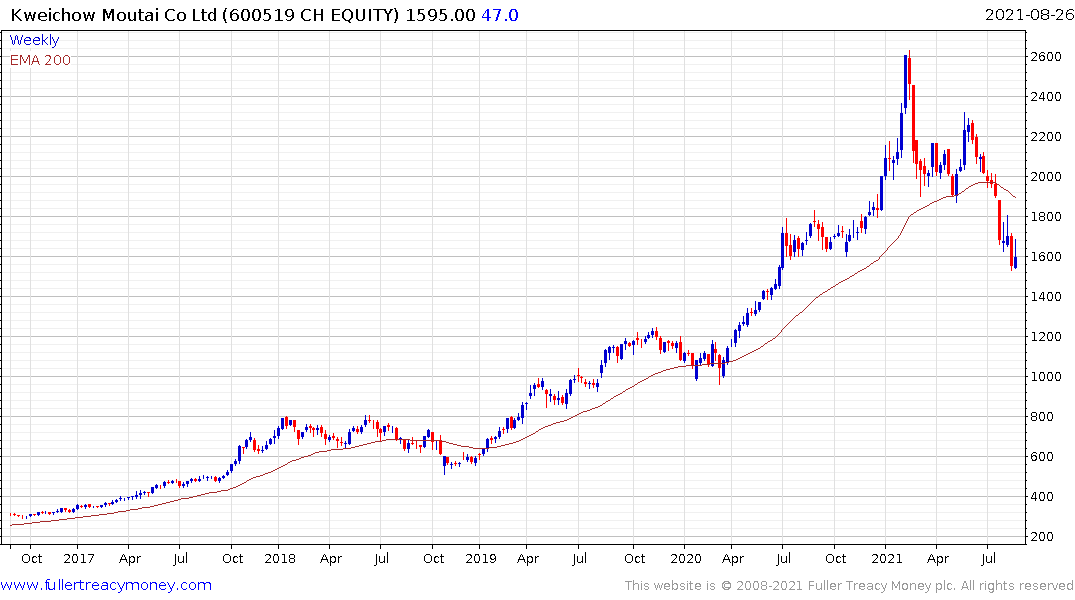 However, it is the result of idiosyncrasies in the Chinese market where investors favour stocks they believe will benefit from government largesse. Government officials, just about everywhere, tend to be heavy drinkers. The favouritism shown these shares is changing at present with the focus on "common prosperity". Both have corrected in a violent manner and are struggling to rebound.
Buying the dip in Chinese tech companies has been all the rage among hedge funds over the last week.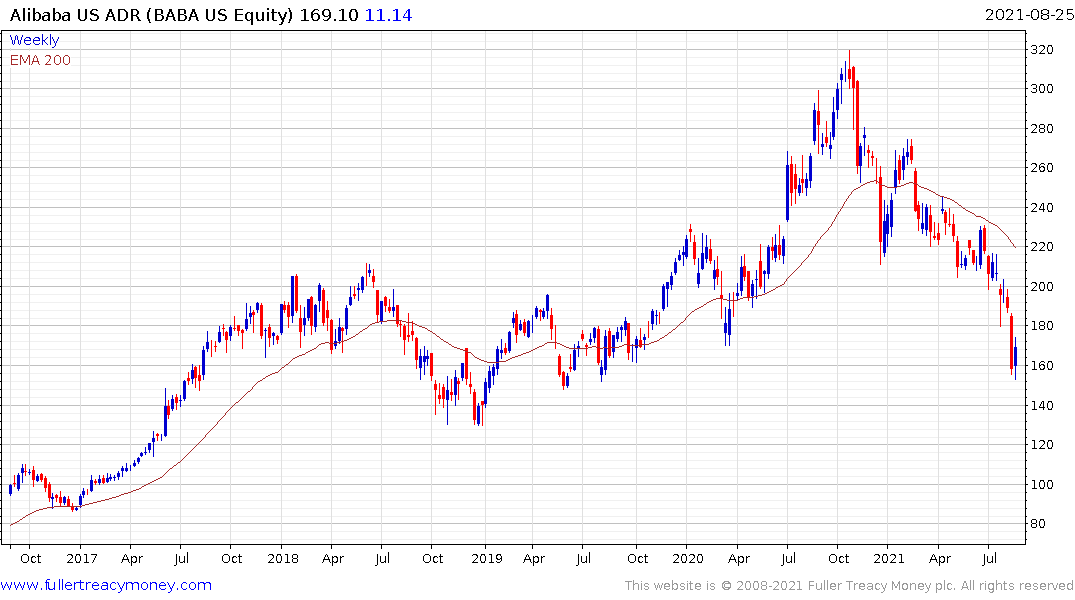 The speculation is that the greater than 50% declines for shares like Alibaba has created a value proposition provided earnings hold up. That's dependent on whether we are currently at a peak of government intervention. It's certainly possible and not least as it is looking likely the credit impulse has bottomed. Nevertheless, we may need some base formation development to help rebuild confidence.
Back to top