China's biotech revolution
Thanks to a subscriber for this report from UBS which may be of interest. Here is a section:
Here is a link to the full report.

Here is a section from it:

Connecting the dots with digitalization: the rise of China's telemedicine market Although not generally regarded as a field for biomedicine, the growth of telemedicine in China is creating a new platform for diagnostics, spurring the rapid development of the digital healthcare market in China1. In the longer term, telemedicine diagnostics have the potential to leverage future genomic databases to offer personalized diagnostics and treatment. The rapid growth of telemedicine, or online medical services, in China has emerged largely because of elevated broadband/
mobile internet penetration, demographic dispersion and the idiosyncrasies of China's medical system. The latter includes a lack of general practitioners (as most medical doctors are specialists) and problematic access to doctors, drugs and hospitals for residents in more rural or remote parts of China. Telemedicine, which can leverage artificial intelligence through the use of bots to collect basic medical information prior to diagnosis by a live doctor, receives strong policy support from the Chinese government, as it can potentially cut healthcare costs. It also strongly benefits the consumer, as online diagnostic costs at this stage are free. According to Frost & Sullivan, China's online consultations grew 49% to 148m between 2012 and 2016, and are forecast to grow at a compound annual rate of 40% over the next decade. By 2026, almost one-third of all consultations will be online.
China's telemedicine market is currently led by Good Doctor, a subsidiary of life insurance company Ping An Insurance. Two other key players are Wedoctor, operated by China's largest online messaging platform (Tencent), and Alihealth, operated by China's largest e-commerce platform (Alibaba). While the business models of the three leading players differ, it is significant that China's leading life insurance and internet platforms lead the telemedicine segment. By leveraging their existing information infrastructure, AI technologies, logistic channels and large captive online audiences, these companies offer consumers free diagnostic, appointment and drug-delivery services. They are also able to partially monetize these services through their respective core businesses – i.e. health insurance, online advertising, merchandising, etc. In the long term, as online consultations become more scalable and grow from a current low base, we believe they will be able to generate fees in their own right, and at a later stage potentially be covered by China's primary national medical insurance.
China's toxic air and rapidly aging population mean it has a higher incidence of cancer than most other countries. At the same time the country has an underdeveloped medical infrastructure, particularly beyond the tier-1 cities. There is every reason to believe China will approach the challenges of its healthcare system by co-opting the success it has had with its digitalisation so telemedicine and artificial intelligence will form part of the diagnostic process. Meanwhile the streamlining of the clinical trial system will ensure a lot more drugs make it to market. The big question for innovative teams will be how they can protect their intellectual property.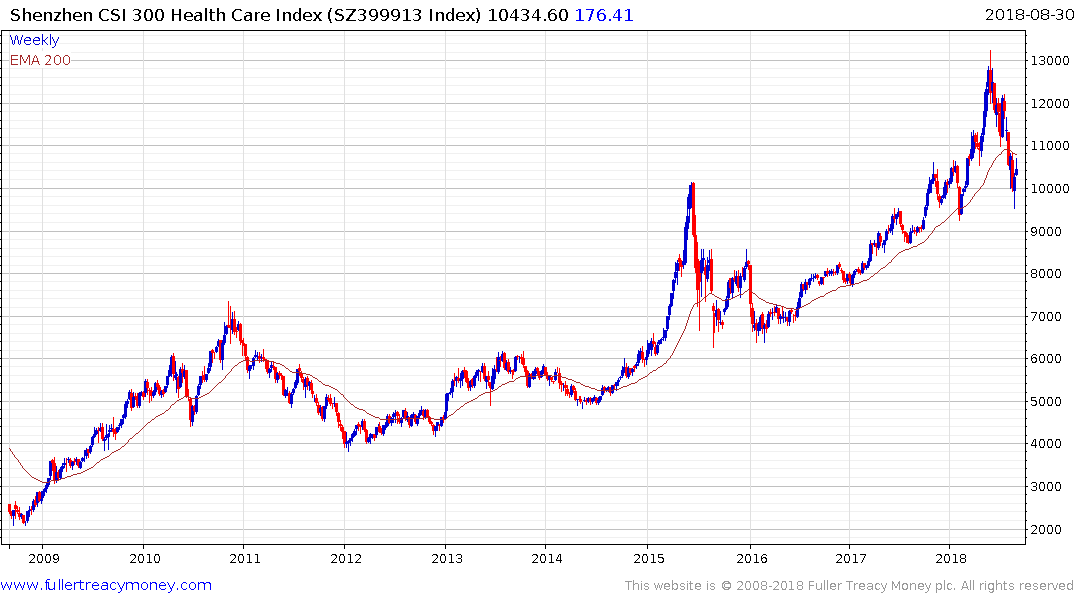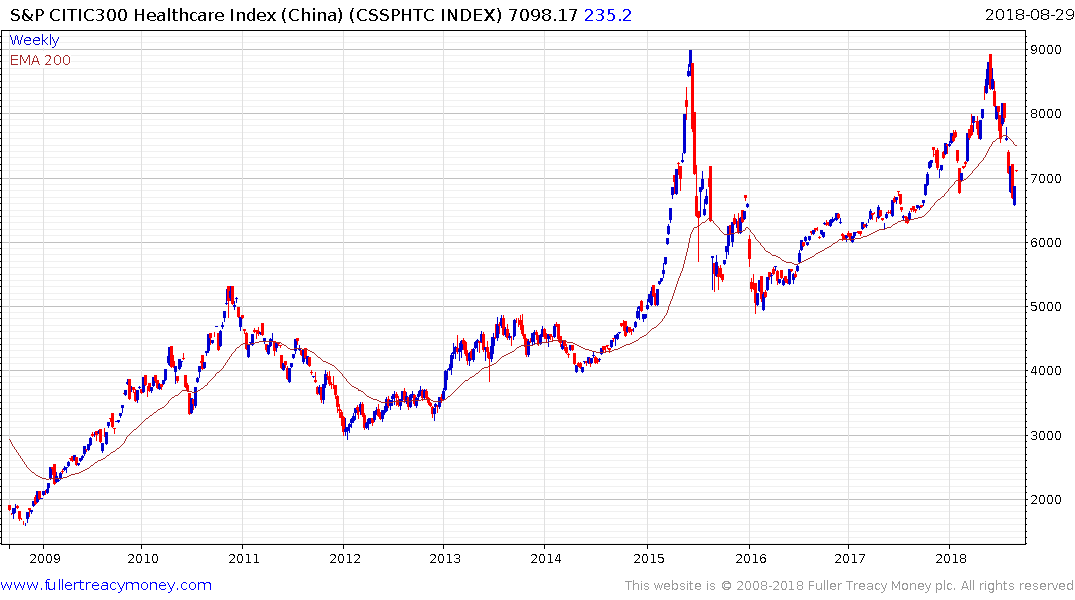 There is a wide disparity in the performance of the CSI300 Healthcare Index and the S&P/CITIC 300 Healthcare Index. Back when the CSI300 Index futures contract was initiated there was some confusion about which set of sector indices would become the market benchmark and it appears those linked to the CSI rather than the S&P supported version have gained market approval.
The CSI Healthcare Index broke out to near highs in November, consolidated for a couple of months, and surged to a peak near 13000. That peak was reached well after the wider stock market and it has subsequently found support in the region of the 2015 top. It needs to hold the 10000 level if support building is to be given the benefit of the doubt.
The relative strength of the healthcare sector suggests it will likely be one of the first to rebound when confidence returns to the Chinese market.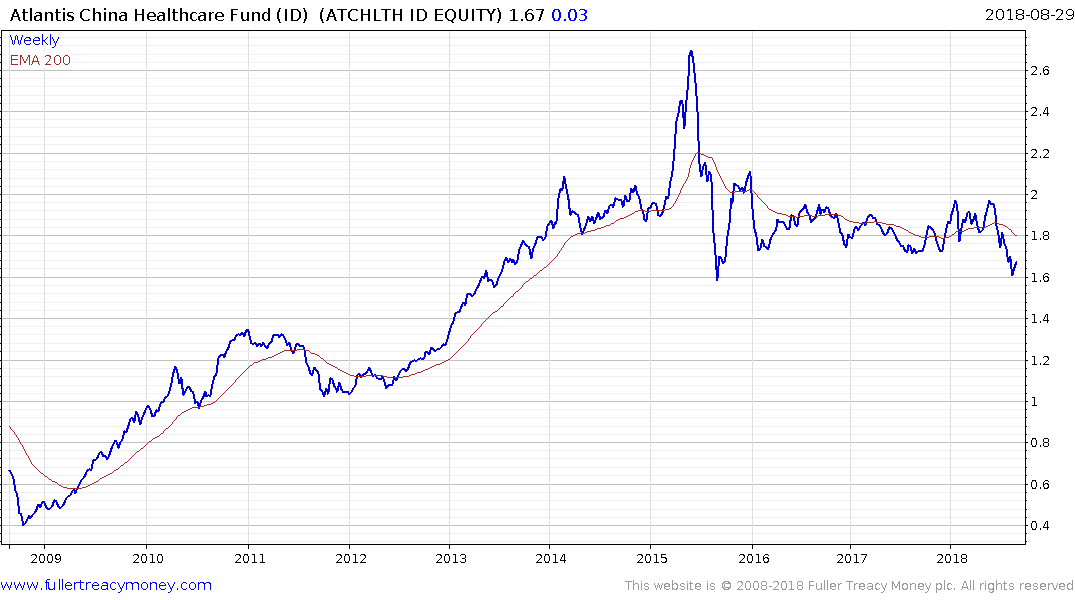 The Atlantis China Healthcare Fund has underperformed since hitting a medium-term peak in 2015 and is nowhere near justifying its 1% management fee and 20% performance fee.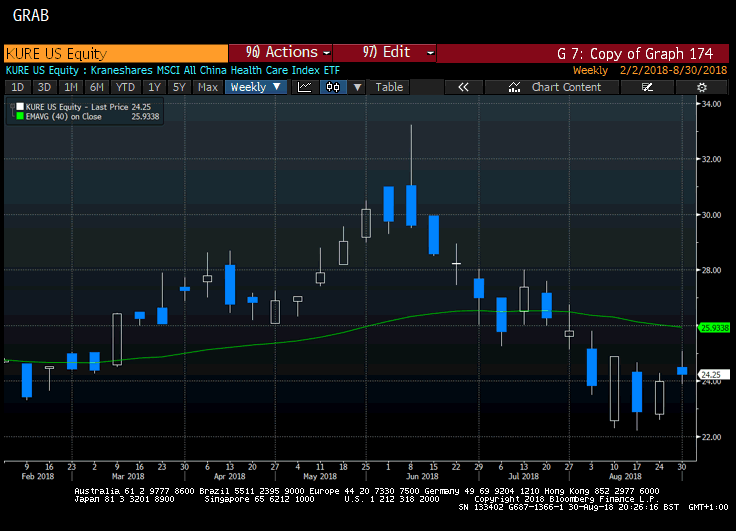 The Kraneshares MSCI All China Health Index ETF was listed in February and $32.7 million in assets. It appears to be in the process of building support following the drawdown from the May peak.
Back to top