China Presses on With Tax-Cut Strategy as Lending Stabilizes
This article from Bloomberg news may be of interest to subscribers. Here is a section:
China's government is turning increasingly to tax cuts as the first line of defense against a slowing economy, as credit data released Tuesday showed some vindication of its gradual stimulus strategy.

Further evidence of the dominance of fiscal measures emerged, as senior policy officials pledged that tax reductions on a "larger scale" are in the pipeline, amid worsening output and trade data. JPMorgan Chase & Co. economists estimate the total impact will be around 2 trillion yuan ($300 billion), or 1.2 percent of gross domestic product.

That's a departure from the infrastructure binges coupled with massive monetary stimulus that were deployed in the aftermath of global financial crisis. Beijing is trying to put a floor under the economic slowdown without another debt blowout, with some success: Credit growth exceeded expectations in December, and the central bank has managed to curb riskier shadow banking throughout the year.

"At the moment the room for monetary policies is limited, and fiscal policies such as tax cuts are the crucial tool," said Cui Li, head of macro research at CCB International Holdings Ltd. in Hong Kong. The high leverage and property prices have limited the chances of massive monetary stimulus, she said.

"But as a pro-growth measure, tax cuts will take effects at a slower pace compared to infrastructure binges," she said.
The influence of the consumer on China's economic future is helping to shape the policy response to the slowdown. Consumer spending now makes up a lot more of the economy than it did a decade ago. Meanwhile the consumer is considerably less levered than the corporate and semi-state sectors, so fiscal easing is less likely to create a disruptive bubble in the short term.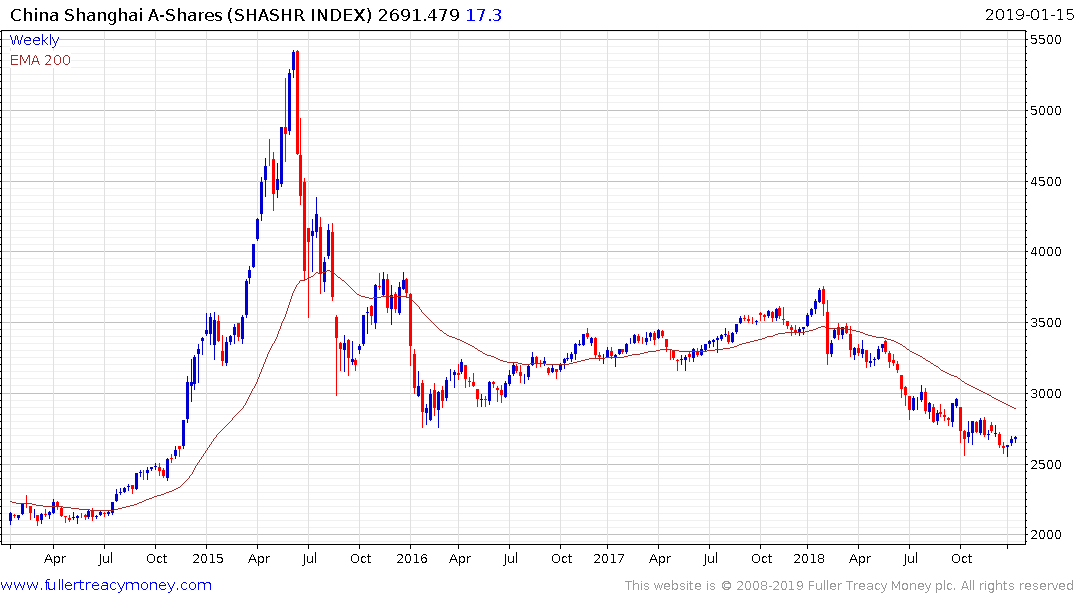 Talk about tax cuts has helped the stock market to at least pause over the last few months but substantive action is likely required to spur urgency among investors to participate even at today's much reduced prices.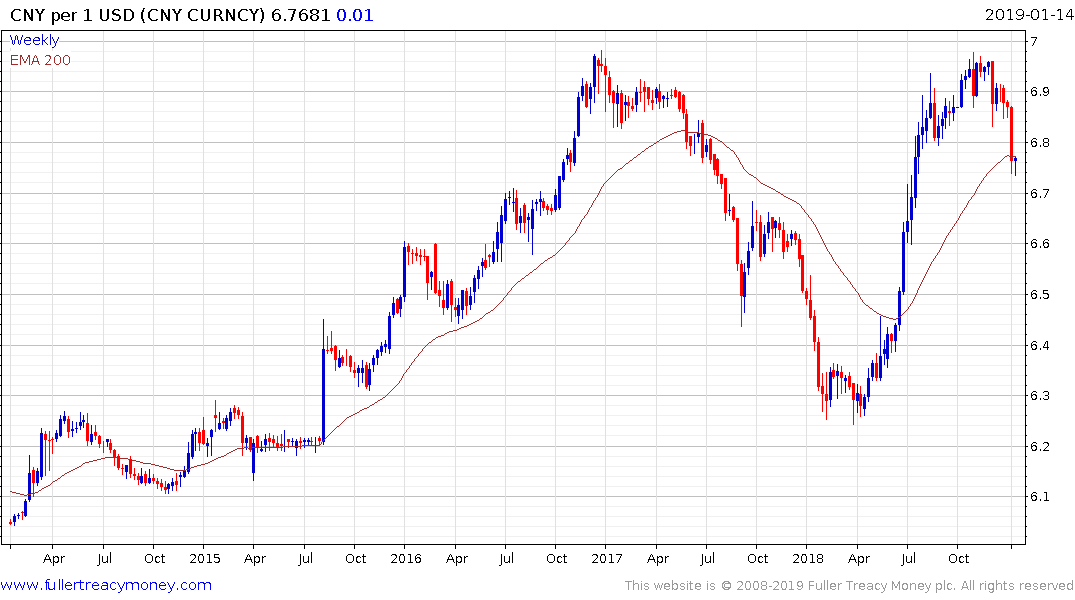 Talk of fiscal largesse is likely to represent a headwind for the Renminbi which is currently testing the region of its trend mean against the US Dollar following a reversionary rally over the last few weeks.
Back to top