China Is Breeding Giant Pigs That Are as Heavy as Polar Bears
This article from Bloomberg news may be of interest to subscribers. Here is a section:
High pork prices in the northeastern province of Jilin is prompting farmers to raise pigs to reach an average weight of 175 kilograms to 200 kilograms, higher than the normal weight of 125 kilograms. They want to raise them "as big as possible," said Zhao Hailin, a hog farmer in the region.

The trend isn't limited to small farms either. Major protein producers in China, including Wens Foodstuffs Group Co, the country's top pig breeder, Cofco Meat Holdings Ltd. And Beijing Dabeinong Technology Group Co. say they are trying to increase the average weight of their pigs. Big farms are focusing on boosting the heft by at least 14%, said Lin Guofa, a senior analyst with consulting firm Bric Agriculture Group.

The average weight of pigs at slaughter at some large-scale farms has climbed to as much as 140 kilograms, compared with about 110 kilograms normally, Lin said. That could boost profits by more than 30%, he said.

The large swine are being bred during a desperate time for China. With African swine fever decimating the nation's hog herd -- in half, by some estimates -- prices of pork have soared to record levels, leading the government to urge farmers to boost production to temper inflation. Wholesale pork prices in China
have surged more than 70% this year.
There is no cure of African Swine Flu and it is almost always fatal for pigs that contract the disease. That spread of the disease in China has put upward pressure on the price of pork and rebuilding the national herd is going to take at least a few years. That is assuming the necessary sanitation measures are taken to insulate the supply chain from cross contamination, which represents a significant additional cost.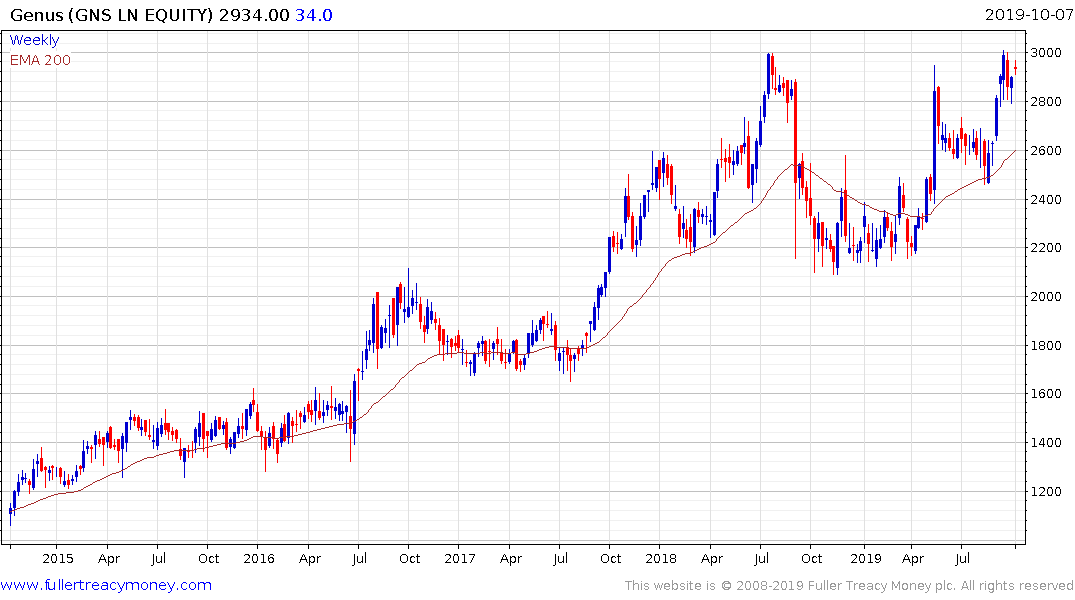 The UK's Genus Plc has developed a breed of pig which is immune to swine flu. The company's challenge is in breeding the pigs fast enough to meet demand before alternative solutions gain traction. The share has been trending higher since breakout of a multi-year range in 2016 and currently testing the all-time peaks near the psychological 3000p level.
Back to top