China coronavirus infection closes shipping terminal at massive Ningbo-Zhoushan Port as container rates soar
This article from the China Morning Post may be of interest to subscribers. Here is a section:
Nair was referring to massive delays at Shenzhen's Yantian port in May and June. Weeks of containment efforts following outbreaks of Covid-19 among dockworkers in China's Pearl River Delta caused global shipping delays, supply-chain disruptions and surging freight costs. The problems have not been fully resolved.

Lars Jensen, CEO of liner consultancy Vespucci Maritime, also said the Meishan terminal closure could have a similar impact on the Ningbo-Zhoushan Port that Yantian experienced when it was closed for more than three weeks.

"Significant problems, both for export cargo as well as for the movement of empty containers into the region, would then ensue," he wrote in a LinkedIn post on Wednesday.

With its zero-tolerance approach to the coronavirus, China is currently carrying out mass testing to contain the spread of the highly infectious Delta variant, which Ningbo authorities said the Meishan worker tested positive for.

However, the deputy director of the Ningbo Centre for Disease Control and Prevention, Yi Bo, said the worker may have contracted the virus from his interactions with foreign crewmembers of cargo freighters that he had boarded at the port. Video surveillance showed he had close contact with crews.

Meishan is one of the busiest terminals at the Ningbo-Zhoushan Port, servicing main trade destinations in North America and Europe. In 2020, it handled 5,440,400 TEUs of container throughput, or around 20 per cent of the total container throughput at the Ningbo-Zhoushan Port, according to official statistics.
Shipping rates from China to the USA and Europe are up 400% in the last year. A good part of the reason for that jump is because ports are having difficulty managing the volume of traffic. That's both a function of outsized demand during the pandemic and the infection rates among dock workers.
Mrs. Treacy's factories are currently a month behind on delivering her orders because they can't find workers. The migrants they normally rely on can't leave their home states because of lockdowns. Shipping companies will not commit to rates until the day the goods are taken possession of. Then there is no certainty on how long it will take the goods to be processed once they cross the Pacific.
Her competitors are already raising prices and she will be too. You'll notice on Amazon that items which used to cost $8 now cost $10 and that is applicable to higher prices items too. Financial conditions remain extraordinarily loose. That implies consumers will remain flush with cash. Retailers will have a lot more pricing power than they are accustomed to this coming holiday season.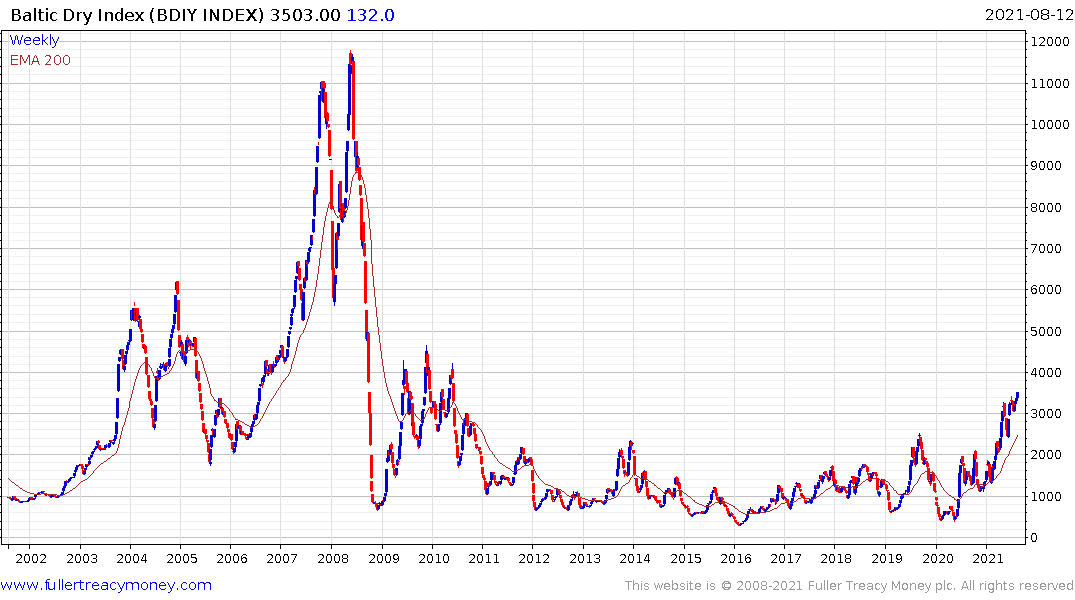 We can argue about whether the word "transitory" means a few months or a few years but inflationary pressures are rising now. If Ningbo remains shut down for a prolonged time that will have a particular effect on the price of low-cost goods. Zhejiang province produces a significant quantity of the low value/low quality items that are found in Dollar stores. Ningbo is the primary exit port for those goods.
The massive spending plans of the zero-carbon lobby are an additional source of inflationary pressures. Meanwhile the threat of strike action in Chile, as well as the continued spread of the lambda variant in Latin America continues to support the price of copper.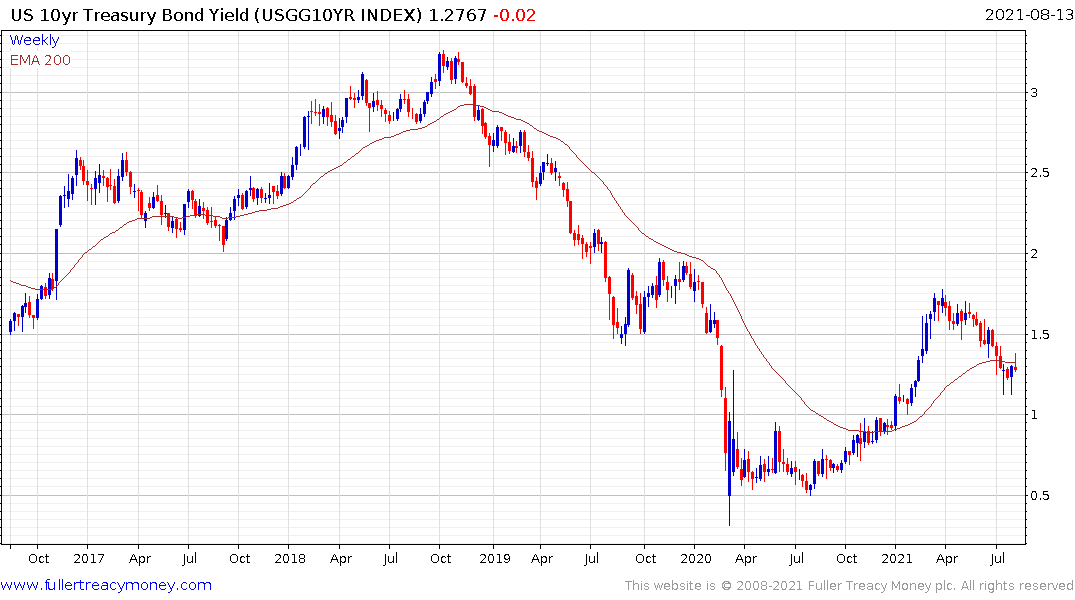 The strength of bonds against that background is an outlier until we realise the threat from current variants and future mutations have the real potential to delay plans to taper not to mind raise rates.
Back to top