China Cement, Sweet spot in the super cycle
Thanks to a subscriber for this interesting report from Deutsche Bank which may be of interest to subscribers. Here is a section:
Supply growth for cement has reached an inflection point The supply outlook looks particularly attractive with net supply growth of 1.9% and -4.0% for FY14/15E, as the cement sector faces the toughest measures in its history to rein in overcapacity. The State Council has issued guidelines under Document 41 to ban new supply approvals, control land and credit availability and to remove 32.5 grade (low quality) cement. The Clean Air Action Plan and new cement emission standards provide a catalyst for obsolete capacity removal and consolidation. We also see a more rational supply response being driven by 1) CNBM's diminishing potential in M&A, and 2) economic returns for new plants that look low, notwithstanding our view of the cycle.

Moderate demand growth to absorb excess capacity
Cement demand should moderate to c.5% CAGR in the next five years, declining from a high of 9.6% in 2013. Urbanization should continue to drive cement demand particularly in Western China. While investors are concerned about China's high cement consumption per capita, our study of developed countries shows that urbanization rates correlated strongly with cement consumption per capita until urbanization rates reached c.70-80%. China's urbanization rate will not reach this level for 10-15 years.

Structurally higher margins in the long run
Most would view 2011 as the peak of the cycle with industry margins at unit GP of RMB87/t and bellwether Conch achieving GP of RMB123/t. However, we believe there is room to exceed this in the next few years given the structurally better supply-demand. This is helped by structurally lower coal prices, now 40% below the 2011 peak. With more aggressive consolidation ahead, this should provide support for higher margins.
Here is a link to the full report.
At the Singapore venue for The Chart Seminar last week, we discussed the outlook for cement companies and other materials companies based on the fact that expectations are low and chart patterns generally supportive of a recovery hypothesis.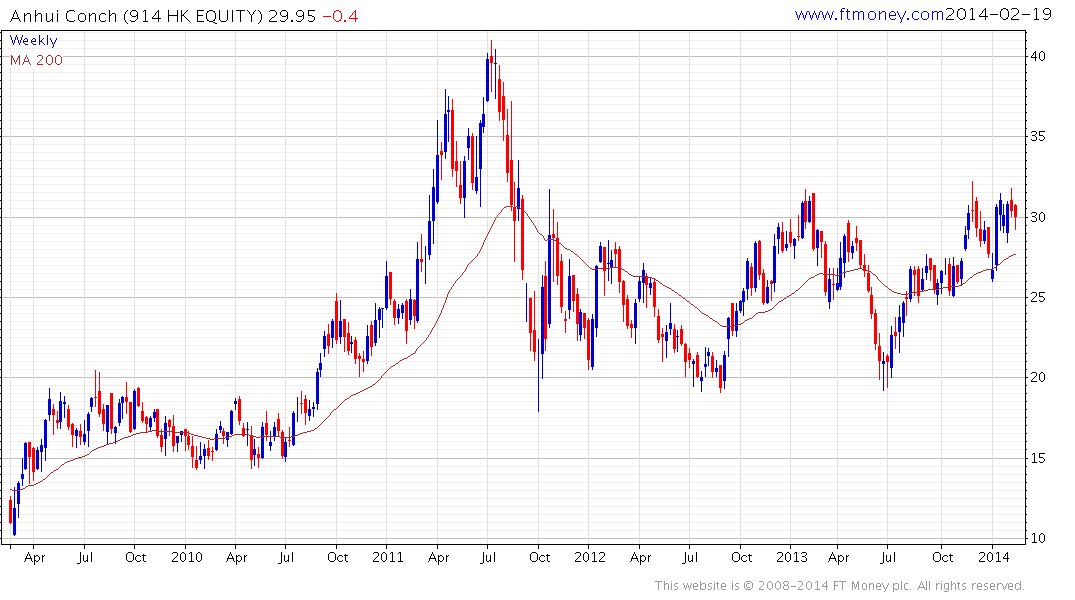 Anhui Conch is trading in the region of the upper side of a two-year range and will need to continue to hold above the 200-day MA if medium-term potential for additional upside is to continue to be given the benefit of the doubt.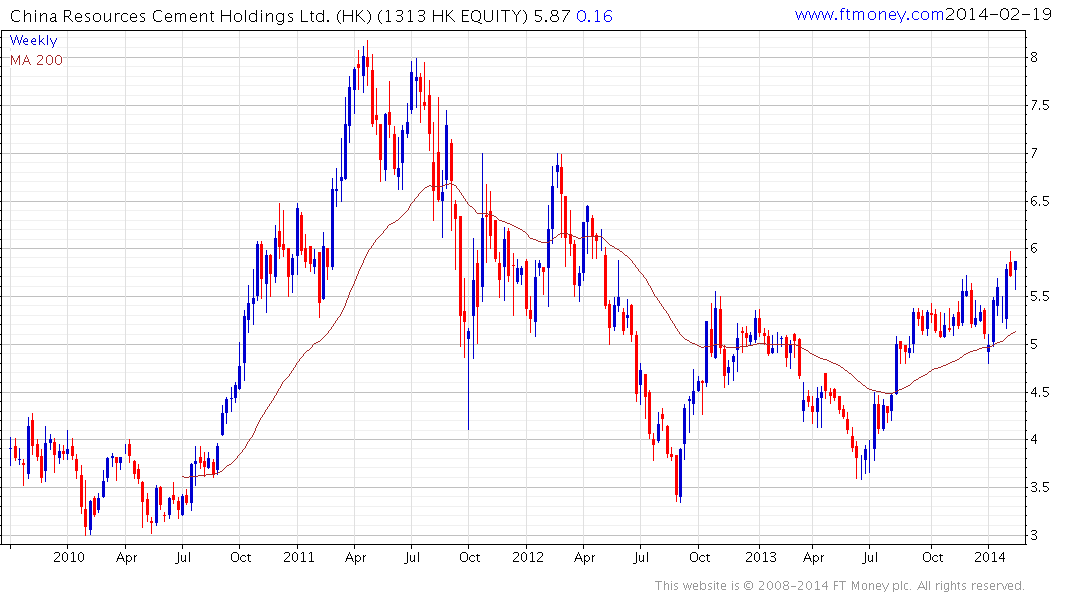 China Resources Cement Holdings found support in the region of the 200-day MA from January and broke out to new 18-month highs two weeks ago. A sustained move below HK$5.25 would be required to question medium-term scope for additional upside.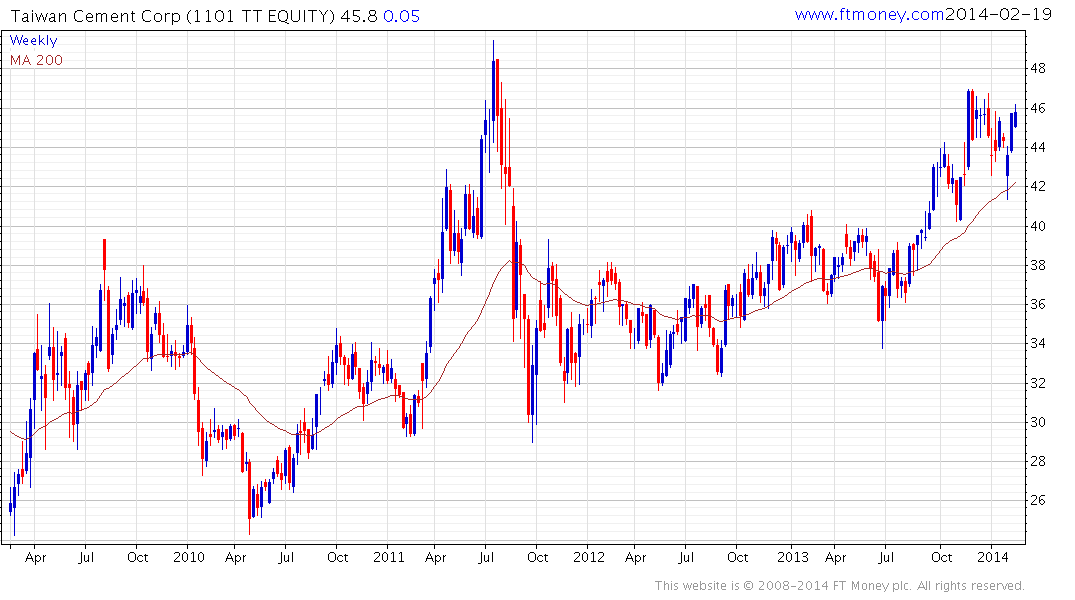 Taiwan Cement Corp has a broadly similar pattern to the TAIEX and most recently found support in the region of 200-day MA from early February. A sustained move below TW$42 would be required to question medium-term potential for additional upside.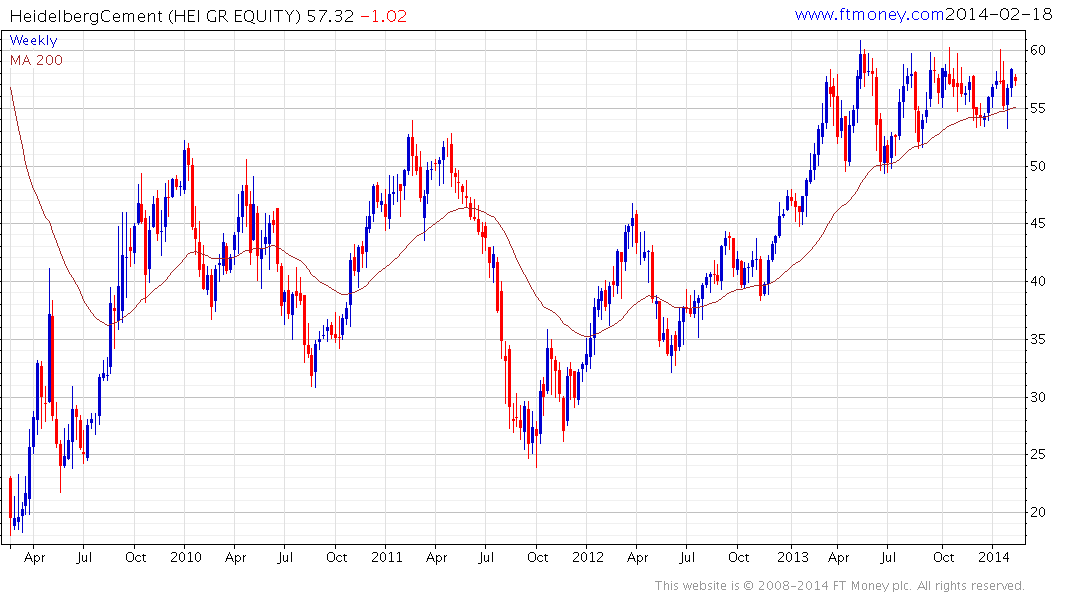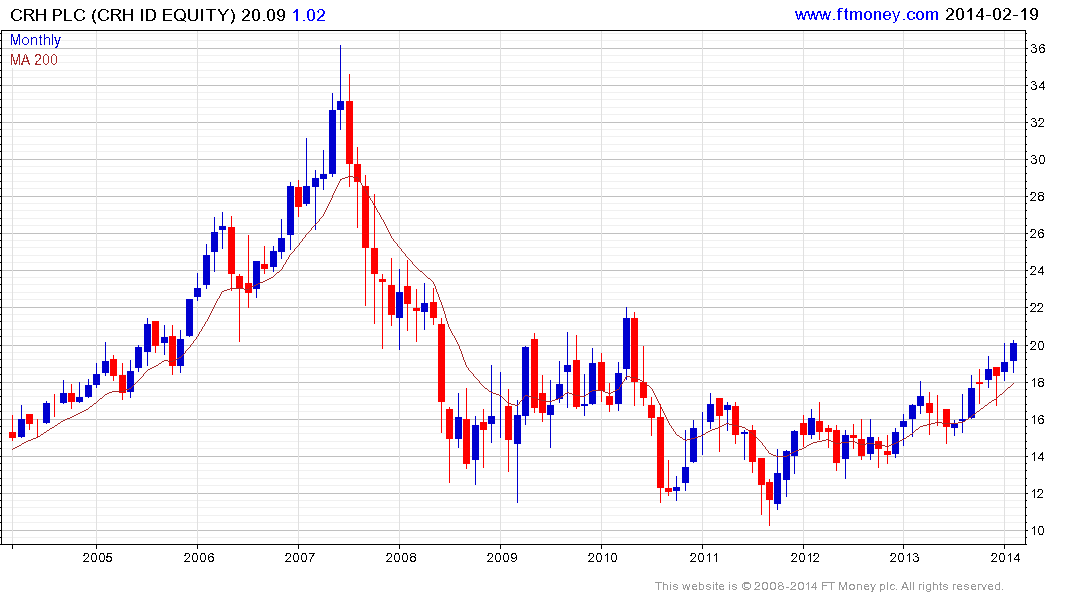 While not covered in the above report, German listed Heidelberg Cement is forming first step above its base while Irish and UK listed CRH has held a progression higher reaction lows since late 2011.
Back to top