China Breaks Silence on Evergrande, Says Risks Controllable
This article for Bloomberg may be of interest to subscribers. Here is a section:
Zou also said:

China's government has insisted that property not be used as a short-term stimulus for the economy
Cities have seen an excessive surge in property prices, which mortgage restrictions helped to curtail
Property investment has slumped recently after some developers faced credit problems, but this is a normal market phenomenon
Some banks have misunderstood macroprudential policies regarding the property sector.

"This is the strongest signal yet that authorities won't come to the rescue of creditors of Evergrande and other developers," said Travis Lundy, a special situations analyst who publishes on Smartkarma. They are sticking to the stance that there won't be any property-boosting measures, aside from small steps such as faster home-loan processing and efforts to alleviate mortgage limits at banks, he added.

Financial regulators have told some major banks to accelerate approval of mortgages in the last quarter, Bloomberg reported earlier Friday. Lenders were also permitted to apply to sell securities backed by residential mortgages to free up loan quotas, easing a ban imposed early this year, according to people familiar with the matter.
It's ironic that when China talks about market principles it means they are no longer willing to bailout failed ventures but are more than willing to curtail growth in successful ones; that do not gel with policy. The number of defaults has been trending higher since they were allowed a few years ago, and will surge this year.
The opposite approach to markets tends to occur in many developed countries. The US response to the credit crisis and Europe's to the sovereign wealth crisis highlighted unlimited upside and the downside was backstopped by taxpayers.
Neither conforms to what one might expect from capitalism under normal circumstances but both have contributed to bubbly activity. In an ideal world (which is a fairy tale) investors should enjoy the benefits from supporting risky ventures, in the understanding that they can go to zero. It seldom works out that way, and China is testing the limits of what is possible with its sudden appetite for asceticism.
Perhaps the more correct perspective is we have been living in a zero-discount rate environment for a long time. The Greenspan/Bernanke/Yellen/Powell puts, imposition of private sector debts on the public in Europe and China's long history of bailing out politically connected groups have conditioned investors to believe governments will always ride to the rescue. China is now testing that conclusion with its refusal to bail out bond holders as it squeezes highly leveraged property developers.
The wider Chinese market continues to behave as if this issue will successfully be contained within the property sector. The politically favoured electric vehicle sector, for example, was the leading advancer on the Hang Seng today.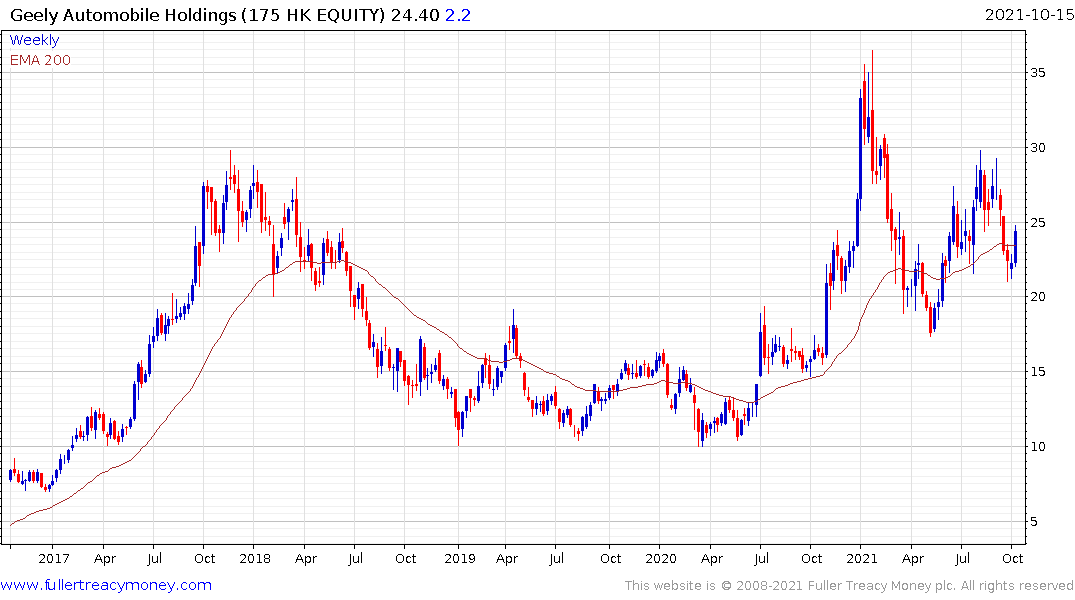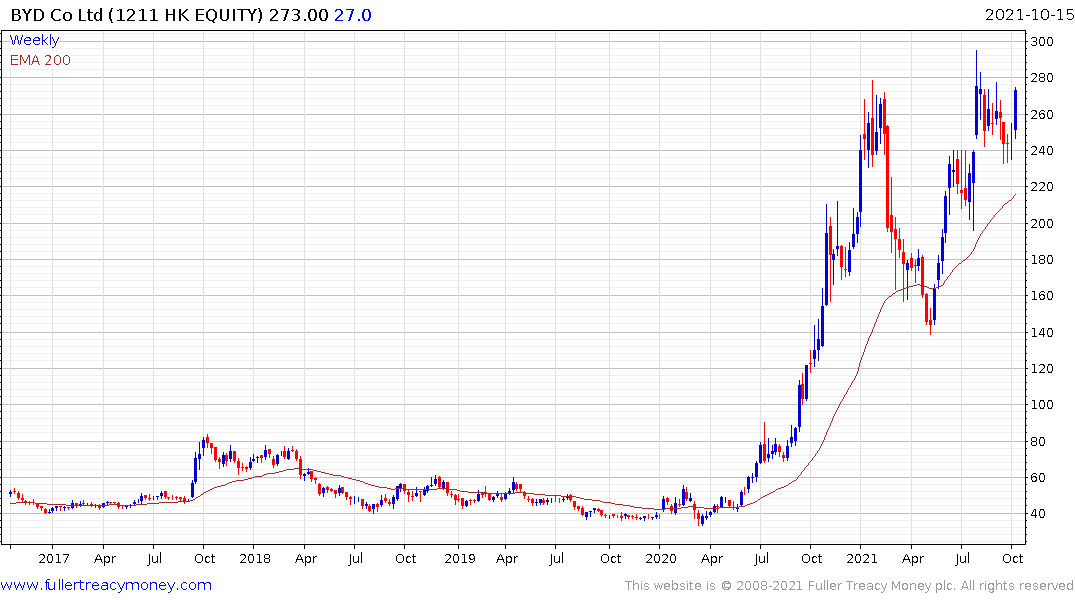 Geely Automotive is bouncing from the region of the trend mean and BYD extended its recovery to test its all-time highs.
Back to top