China Blasts Australia's Decision to Cancel Belt and Road Deal
This article by Jason Scott for Bloomberg may be of interest to subscribers. Here is a section:
The Australian federal government scrapped both the memorandum of understanding and framework agreement signed between Victoria and China's National Development and Reform Commission, Beijing's top economic planning body, Foreign Minister Marise Payne said in an emailed statement Wednesday. She described the deals as "inconsistent with Australia's foreign policy or adverse to our foreign relations."

The step "is another unreasonable and provocative move taken by the Australian side against China," the Chinese embassy in Canberra said in an emailed statement. "It further shows that the Australian government has no sincerity in improving China-Australia relations -- it is bound to bring further damage to bilateral relations, and will only end up hurting itself."

Australia "basically fired the first major shot against China in trade and investment" conflicts, Chen Hong, director of the Australian Studies Center at East China Normal University in Shanghai, told the Communist Party-backed Global Times. "China will surely respond accordingly."

China has lodged stern representations with Australia over the issue and reserved the right to take more action, Foreign Ministry spokesman Wang Wenbin said at a regular press briefing Thursday in Beijing.
China may successfully be able to cow smaller countries into submission by following a carrot and stick approach to infrastructure and trade development. Australia is a different story.
The early days of the Belt and Road Program were riddled with examples of debt entrapment for impoverished nations. More recently the Chinese government has given up any façade of attempting to hide its intentions. They want to secure the resources, trade and diplomatic dependency of as many countries as possible to help further their long-held ambition of global dominance.
Australian resistance to that plan is only likely to grow as China prepares its response to being cut out of infrastructure investment in Victoria. That resilience will come with a cost for both Australia and China.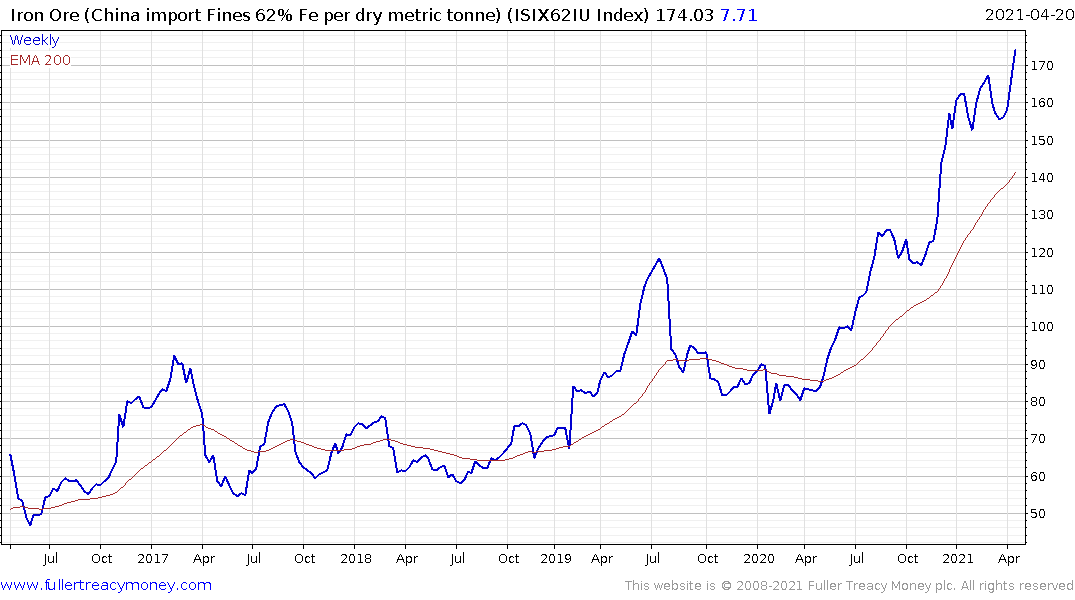 Iron-ore prices continues to market higher. China's eventual aim is to source much of its iron-ore from Simandou in Guinea (West Africa) but that is a medium-term ambition. In the short term they may have little choice than to buy from Australia and not least because Brazilian exports are being hampered by the pandemic.
Australia's significant investments in export facilities for natural gas and future exports of green hydrogen depend on China as a ready market for product. In additional the virulence of the domestic green movement it is taking a tool on Australian energy companies.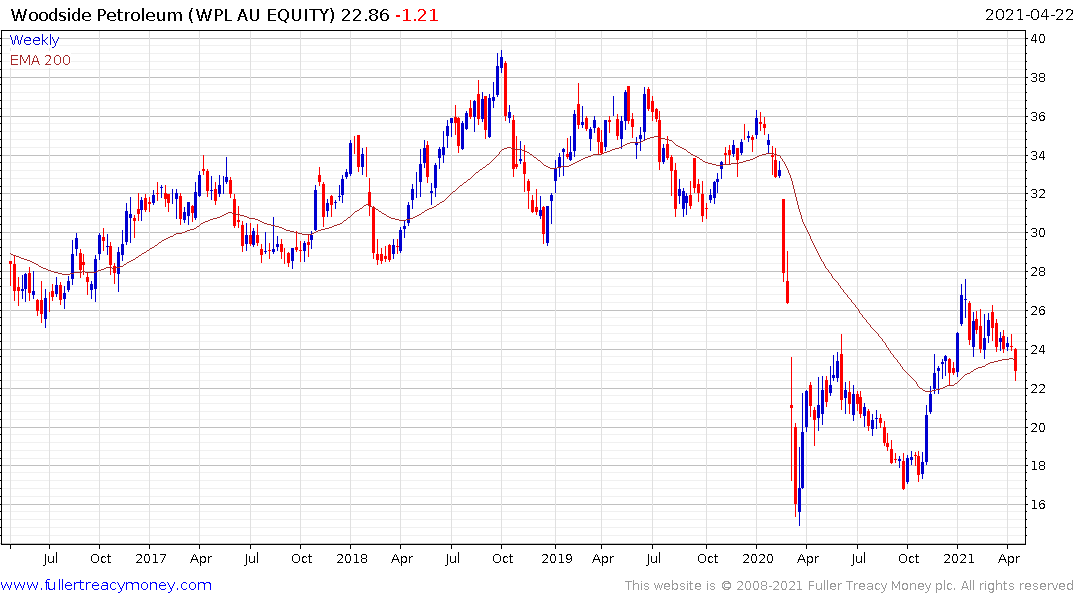 Woodside Petroleum broke downwards from its four-month range today to suggest at least an additional pause in the recovery.

Origin Energy is testing the lower side of a yearlong range following earnings downgrades. A clear upward dynamic will be required to signal more than temporary support in this area.
Back to top